'Marriage Boot Camp' May Not Save Cody & Michelle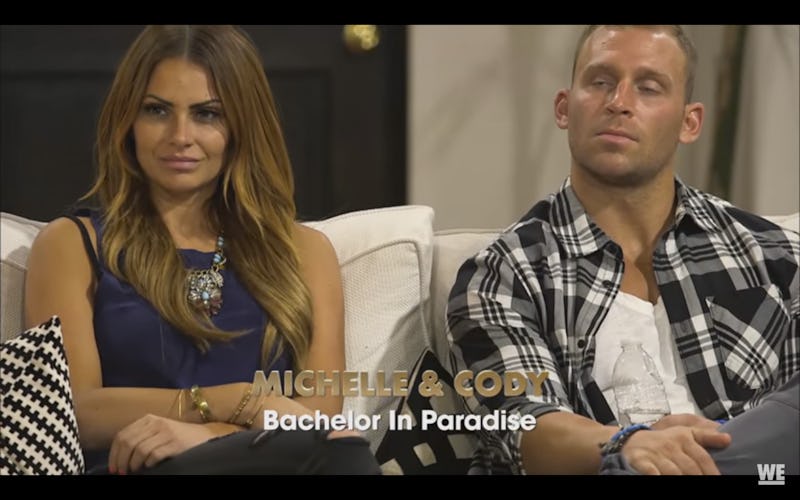 Marriage Boot Camp: Reality Stars Season 5 is attempting to repair the strained relationships of another crop of reality stars, with everyone from actress Tara Reid and her husband Dean to Bachelor in Paradise couple Michelle Money & Cody Sattler. Michelle & Cody may be stretching the definition of "married," since the two have been in an on-again, off-again relationship since they first met and costarred on the ABC series. But did the reality series help — are Michelle & Cody still together after Marriage Boot Camp?
The couple have been cagey about their relationship status lately, not confirming either a breakup or that they're still together, and while they were obviously back together when the season was filmed, according to Reality Steve, Bachelor universe blogger and reality TV expert, that Michelle and Cody's Marriage Boot Camp season was filmed back in July 2015. Since then, I'm not totally convinced that the show was able to save their relationship. However, the last time they split, they announced it with an article in People Magazine, so there may still be a chance that Michelle and Cody are together since no such announcement has been made this time. But after seeing some of the other evidence, I see far more evidence that these two are still incredibly close — but not in a serious relationship right now.
Marriage Boot Camp May Have Been A Year Ago
A lot can happen in a year, especially for a couple that's serious enough to be getting marriage counseling. If they really were still together romantically, I think there might be some serious progress like an engagement between the two. By the way, summer 2015 is when Michelle posted this ode to her relationship with Cody-Code. It could be a celebration or an obituary to their relationship... only Marriage Boot Camp will tell.
Michelle Hinted At A "New" Romance
In a Youtube video from January 2016, Michelle suggested that she was planning to do her hair in order to go on a date with a "magical" guy "who's really cute." If she was hinting about Cody, she might have thrown a suggestion out there that BiP fans would recognize... but she didn't.
They Don't Live In The Same State
It's not easy to maintain a long distance relationship, and Cody and Michelle are still living hundreds of miles apart. Michelle's life in Utah and Cody's life in Chicago both seem pretty serious, and because of Cody's business as a trainer and Michelle's daughter, it doesn't seem like either one can give up their life for the other just yet.
The Trailer Promises More Drama Than Reconciliation
A reality show ad probably isn't the best evidence in favor of these couples' relationship health. But, from what you can see of Michelle and Cody in this trailer, it looks like they are shedding quite a few tears.
They Could Be Starting Over
About four months ago, both Cody and Michelle each posted a single Instagram photo together with a hopeful message that hinted that they could be back together. And while those pics did have some romantic overtones, maybe they're just testing the waters again.
Michelle Doesn't Seem To Be Planning For Marriage
While it's possible that Michelle was just trying to throw her followers off, this post about gaining her confidence as a single mom implies that she's not looking for a man. If she turns out to be back with Cody, that's great — but as the past year has shown, both Bachelor in Paradise veterans are doing well, whether or not their stint on Marriage Boot Camp: Reality Stars works out.
Image: WE TV