12 Shoes For Fans Of Steve Madden Stretch Sandals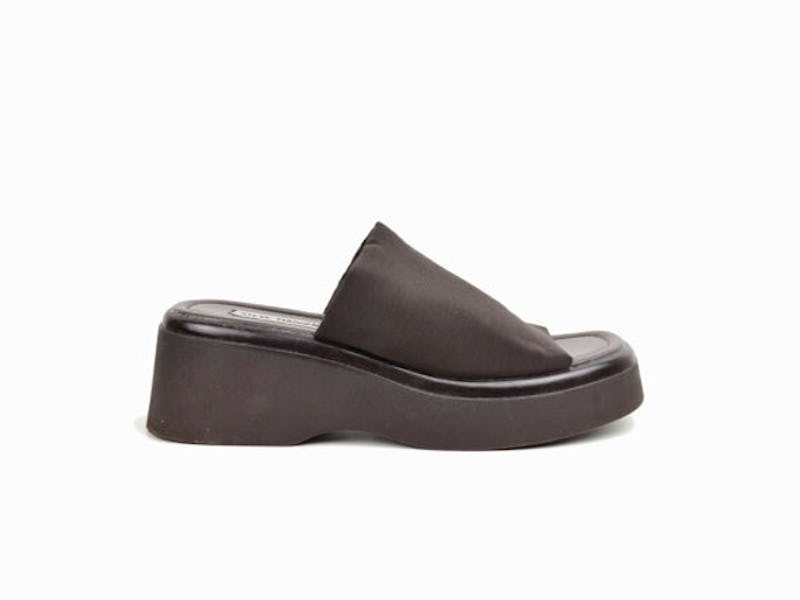 Do you remember the days when the Steve Madden stretchy sandals reigned supreme? They were quite the must-have, and as '90s redux grows ever larger, they're starting to come back in a big way — believe it or not, there are some pretty great 2016 shoes for fans of the iconic Steve Madden stretchy slides.
When you think about it, it's about time that the iconic shoe style came back into vogue in a major way — after all, there were so many reasons to love them, from their convenience and comfort, to their simplicity and bold appeal. In a nutshell, they were fun, and they matched everything — and now in 2016, they'll make for the perfect accoutrement for your retro tattoo choker.
If you're ride or die for the classic '90s look, you can purchase almost exact copies of the style (thanks to Steve Madden for re-releasing the look earlier this year) or you can go for a more updated take on the look, be it the form of platforms, chunky heels, or flats — whichever suits you best! Either way, fans of the Steve Madden stretch shoe, look no further — here are 12 chic throwback styles to take you into 2016.
Steven Beebe Slide Sandal, $69, Amazon
If you're a purist, you might have to check out these first — they're from STEVEN, a brand under the Steve Madden umbrella.
T.U.K. Slide and Seek Leather Flatform, $63, Nasty Gal
This ultra-chunky creeper-soled shoe is another fun nod to the original.
Jeffrey Campbell Maddie Suede Mule, $90, N asty Gal
They're not a dead ringer, but they've certainly got that unmistakable '90s charm.
DENVER Heeled Sandals, $10, Topshop
Chunky wooden sandals are always fun for summer.
FIREBALL Leather Mule Sandals, $18, A sos
These sleek minimalist numbers will add a fun spin to your look.
Talia Wedge Sandal, $19, Asos
So gloriously '90s redux it almost hurts.
Dupe Heeled Sandal, $48, Topshop
Cute with skinnies as pictured above, but also killer with sun dresses.
Dolce Vita Pace, $100, Zappos
Here's a slightly less in-your-face interpretation of the Steve Madden look.
Jeffrey Campbell Andra Suede Sandal, $150, Nasty Gal
The blocky heel and thick straps make these sandals quite the statement shoes.
MICHAEL KORS Millie Flat Leather Slide Sandal, $95, Amazon
These ultra-modern slip-ons still somehow manage to evoke the early aughts.
11. Darcie Black Suede Tassel Mid Heel Sandals
Steve Madden Darcie Black Suede Tassel Mid Heel Sandals, $95, Amazon
Always say yes to tassels.
Jeffrey Campbell Dola Jeweled Leather Sandal, $90, Nasty Gal
And last but not least? Why not try out a bejeweled version of the look?
Images: Etsy; Courtesy of Brands (12)