'The Voice' Is Baaaaaack!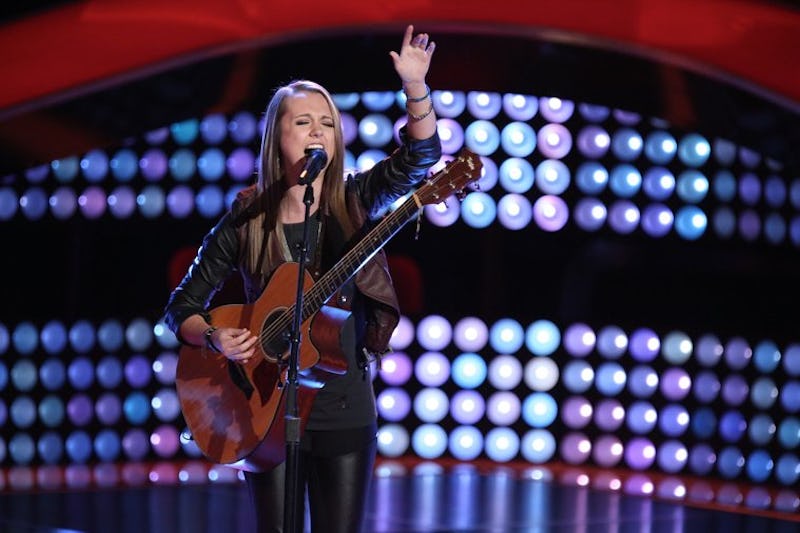 Hot damn! We're back in The Voice saddle again. Adam Levine and Blake Shelton are in the spinning chairs for a sixth time, and Season 4 coaches Shakira and Usher have returned to take another stab at the competitive singing show. Monday night's premiere reminded me just how much I missed Shak and Ush last season (they're the best), but it also reminded me just how much I miss Christina Aguilera and Cee Lo Green (they're the best, too). And yes, Blake and Adam are also the best. I love everyone so much. Six coaches, please! (Don't get me started on Cee Lo leaving the show for good. Can't deal.)
How was the ep? A solid start. The Blind Auditions are always fun, but I was really feeling Monday night's set of singers. Highlights? You want highlights? You got it. These are the performances that stuck with me/made me go "YAAAAS":
Christina Grimmie — "Wrecking Ball"
Her voice is really, really great. I'm always protective of this song (because it's very important to me, okay?!), but she did a nice job. She hit the big note toward the end so hard, and I was INTO IT. Usher stood up in his chair and cheered while she sang. All four coaches turned their chairs for her, which wasn't surprising at all. She has a strong voice, and I'm interested to see what/how she does on the show.
Adam commented that he dug her confidence and that she has star potential. Which, yup. She picked Adam.
Kristen Merlin—"Something More"
Okay. I couldn't put my finger on who she reminded me of, but I bet I'll wake up in the middle of the night and be like, "I'VE GOT IT!" Anyway, she sounded like someone, but I'm fairly certain it's someone I like. So yes, I really liked her. Her tone is just so nice and clear. Adam and Shakira hit their buttons for her. While she sang, Shakira stood and clapped, and Adam stood up and pumped his fist. After her performance, Shak and Adam went nuts. They begged for her to choose their respective teams. Adam told her she has great instincts and "dips in an out in a way that's so pro." I don't know what that means, but I'll agree because Adam is handsome and I can't help it. Shak saw his "dips" comment and raised him a "has more Twitter followers than the other coaches combined" comment. I about passed out. Hey, Shakira? You nailed it.
Blake said when he heard Kristen's fast vibrato, he thought she should go with Shak. And that's what she did.
Biff Gore—"A Change Is Gonna Come"
Biff might've run away with the episode. He's a father of five (soon to be six), and because his wife could've had the baby at any moment, his brother went to the audition with him. Before he performed, he warmed up with some high kicks in the contestants' lounge. SO GREAT. After he did his kicks, Carson played a video message from from his family. SO GREAT.
Enough about his kicks and his lovely family. How was his voice? SO GREAT. Adam, Blake, and Shakira turned immediately. Because how could you not?! Usher listened for something. He waited for something. He heard it. Or did he? He almost hit the button, stopped himself, and then went through with it. I guess he heard it, whatever "it" was. After the song, Biff did another high kick. His brother cried backstage. Everything about it was so fantastic.
All four coaches fought for him. He made a joke about people telling him to pick Usher because he has a six pack. Not one to miss a cue, Usher stood and lifted up his shirt. Biff patted his own stomach and said, "I've got you beat because I've got a keg." Biff is the best.
He chose Usher.
Dawn & Hawkes—"I've Just Seen A Face"
Dawn & Hawkes is a duo and a couple. They are very much in love and very adorable. I want to be a gremlin and say, "Ugh too cute for me. I'm a crummy old shoe who can't handle something this sweet. No thanks." But I can't. I can't deny how much I enjoyed Dawn & Hawkes. They were aces. Their voices sounded perfect together. Their harmonizing? Woo WEE. Shakira and Adam turned their chairs.
Adam talked about how much he loved the song, and I thought, That's funny! I love the song! Does that mean we're soul mates, Adam Levine?!?! I think it does!!!
Adam also said it's the best performance he'd ever seen on the show. Uh…? Yes, it was really wonderful, but that's a serious compliment, Mr. Levine. I must politely disagree. No disrespect to Dawn & Hawkes. Or to my soul mate.
Usher and Blake pushed for them to choose Shakira, the crowed chanted for Adam, and Dawn & Hawkes picked… ADAM. I reckon that mega compliment worked.
Bria Kelly—"Steamroller Blues"
This kid is 17 years old. Her voice... I... Oh my god. She is not real.
She opened with a gnarly, huge note. It didn't take long for all four chairs to turn. Her voice is so EPIC and good. It's gritty and raw and pure fire. When she was done singing, I noticed I'd started sweating. The coaches gave her a standing ovation.
Usher brought out a Grammy, walked onstage stage, and casually strutted around her. He told her he wanted to get her a Grammy. He was wearing gold shoes, so of course Adam joked that she could "turn her Grammys into shoes like Usher did."
She picked Usher. I mean, how could she not?
Tuesday Night: More Blind Auditions!
Image: Tyler Golden/NBC