How To Shop For +Size Denim Online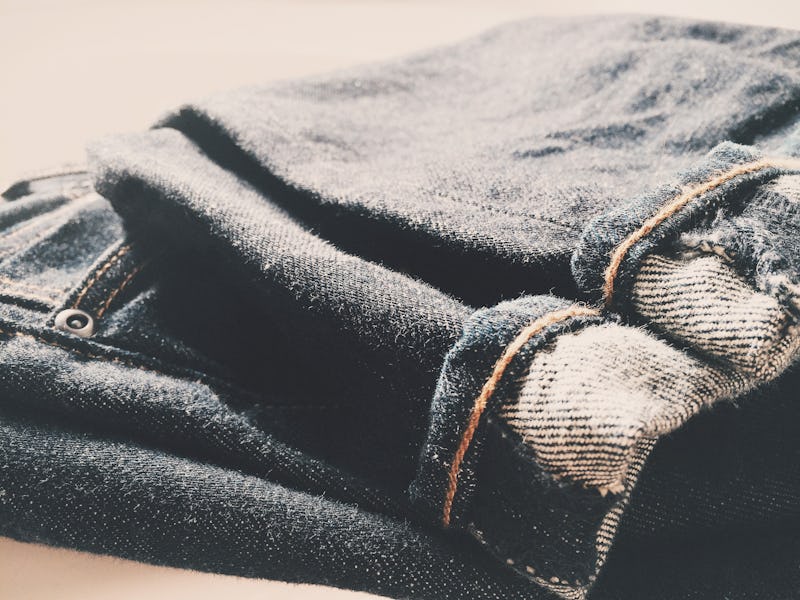 As any denim-loving individual knows, finding the perfect pair of jeans is always a bit of a fashion miracle. Plus size denim offerings have seen many improvements in the last several years, so there are lots of fun styles to try, from coated and colored denim, to denim joggers, to retro-inspired bell-bottoms and flares. Still, finding the right options for your unique body and style can take some time and experimentation.
Since there is still a dearth of good brick-and-mortar shopping options for plus size women, a great deal of our clothing purchases are necessarily made online. For denim, which is so fit specific and variable, this creates an additional challenge. It's hard enough finding the perfect jeans when you can try each style on in a dressing room. The difficulty increases exponentially when you're trying to guess how a style might look and fit when browsing through a brand's website.
There's nothing more discouraging than paying hard-earned money on an item that looks great online, only to have it fit poorly or look significantly different when it arrives in the mail. But don't despair; there are quite a few ways to increase your odds of finding the perfect denim online. You just need a little know-how and a bit of patience to discover your own ideal pair. Read on to discover all you need to know about finding plus size jeans you'll never want to let go.
1. Pay Attention To Sizing Charts
In the virtual shopping world, sizing charts are your best friends. Since "standard" clothing sizes vary so much from designer to designer, basing your choice on a rough idea of your own typical pants size is not the best way to insure an excellent fit. In my experience, even though sizing charts are not always entirely accurate, they're still your best indication of a retailer's typical cut and fit.
Take your measurements at home, or have someone help you. Generally for jeans, you'll want to know at least the circumference of your hips (taken around the widest part) and natural waist (measured right beneath your belly button). Knowing your inseam (the length from your crotch to the bottom of your feet) is helpful as well for gauging the correct length. With these measurements in hand, you can compare your numbers to online sizing charts for a more accurate estimate of your correct size in various different denim lines.
2. Read The Reviews
Another excellent resource for getting some extra insight into a particular style or brand is available in the form of user reviews. Many (although not all) major brands include a section for customer comments alongside their online product descriptions, and these reviews can be extremely helpful in deciding whether or not a specific style is what you're looking for.
For example, if you frequently find that jeans tend to run long on you, then reading a review that mentions that a certain style seemed a little lengthier than usual would be an important red flag. Conversely, if you saw comments that this style typically ran too short on other customers, that might be an indication that this particular design would work well for you. While reviews should be taken with a grain of salt — every shopper is looking for something different — hearing an honest appraisal of a brand's offerings can help you make informed decisions.
3. Know Your Fabrics And Fibers
Not all denim is made alike, and finding the right type of fabric depends heavily on your own unique clothing preferences. Miles Johnson, creative director at Levi's Made and Crafted says that, generally, denim with a higher cotton content will be sturdier and last longer than denim with added polyester, Lycra, or spandex. However, these other fibers tend to make jeans softer and more comfortable, so there is a trade-off. Stretchy fibers like Lycra or spandex also help denim keep its shape, so you'll need to decide what your priorities are when it comes to the construction and fabrication of your perfect pair. If you just want to be comfortable and don't mind regularly updating your denim wardrobe, go for jeans with a mix of fibers. If you prefer durability, stick to non-stretch cotton denim construction.
4. Find The Right Brands For Your Body
Genius Fit Destructed Boyfriend Jean, Sizes 14 - 28, $69.95, Lane Bryant
Because brands typically design their clothing around specific fit models, different lines will be better suited to different body types. There's no right or wrong denim brand, but there is the right or wrong denim brand for you. This is the part of the search that requires some extra experimentation. If you don't have access to in-person plus size shopping options, try to order from brands with easy return policies so you have the freedom to try on items at home and send back styles that weren't quite right. It also helps to pay attention to what your favorite plus size fashion bloggers and social media influencers are wearing. Try to find a couple of online fashionistas with body types that are similar to yours, and check out brands that they recommend.
5. Try Different Styles
Different Denim Styles By Torrid
For years, I limited myself to one basic type of denim: dark, fitted, and devoid of any embellishment. I was afraid to try other styles that seemed less "slimming" or professional, and so I boxed myself into a corner with very boring results. Don't make my mistake; try on as many different types of jeans as you can, even if you don't think they'll work for you.
With major brands like Torrid, Target, and Lane Bryant beginning to carry larger in-store plus size denim selections, there's no reason to limit yourself to one particular cut, color, or style. If you have a little free time, take an afternoon to try on a range of designs, from wide-leg trousers to cropped skinnies, boyfriend jeans to flares. You might be surprised at how amazing you look in something you would never have thought to try on.
6. Visit A Tailor
When you find a pair of jeans that's this close to being perfect, sometimes it pays to bring in a professional. If you love how a style fits in the hips and waist, but the legs are just a touch too long, a tailor can help turn a pair of almost-right jeans into a denim holy grail. A good tailor can also take in a too-loose waist, fix a torn belt loop, and repair loose stitching. While not every pair of jeans merits this kind of personal attention, when you find a style that's worth the investment, taking the extra step to ensure a custom fit can be well worth the small added effort and expense. And, it can save you the hassle of returning online purchases that were just a tiny bit off.
In case you do end up needing to return your purchase, make sure to keep your receipt on hand, and don't cut out any tags or hanger ribbons until you're absolutely sure you intend to keep a garment. Also, always read a brand's shipping and return policies before you buy; if I'm at all unsure about an item, I try to buy it from a retailer that offers free or in-store returns.
7. Details Matter
Never underestimate the power of the perfect details. Little things, like sturdy zippers, hidden elastic panels for a better fit, and just the right amount of stretch can make all the difference between your new favorite pair of jeans and a pair that sits neglected in your closet. Once you've taken fit, brand, and style into account, paying attention to the details will ensure you end up with quality, versatile denim you'll wear again and again.
For example, City Chic produces jeans based around different body types; their hourglass skinnies feature adjustable, hidden elastic inserts so that you can customize your waist fit. Carmakoma often incorporates small elastic panels into the back of their jeans to ensure a good fit. Although you won't always be able to check up on the more minute details of a pair of jeans online, pay attention to close-up shots and product descriptions to make sure you're getting the denim of your dreams. Look for things like rivets on pocket corners and straight, clean stitching if it's visible.
Shopping for the perfect plus size denim can be challenging, and online shopping rarely makes this process easier. However, with these helpful tips to guide you, you can find your ideal jeans with a little less fuss.
Images: Dawid Małecki, Dai KE/Unsplash. Pezibear, Fotocitizen, Snapwire Snaps/Pexels. Others Courtesy Brands.