Here's The One Show You Need To Stream This Summer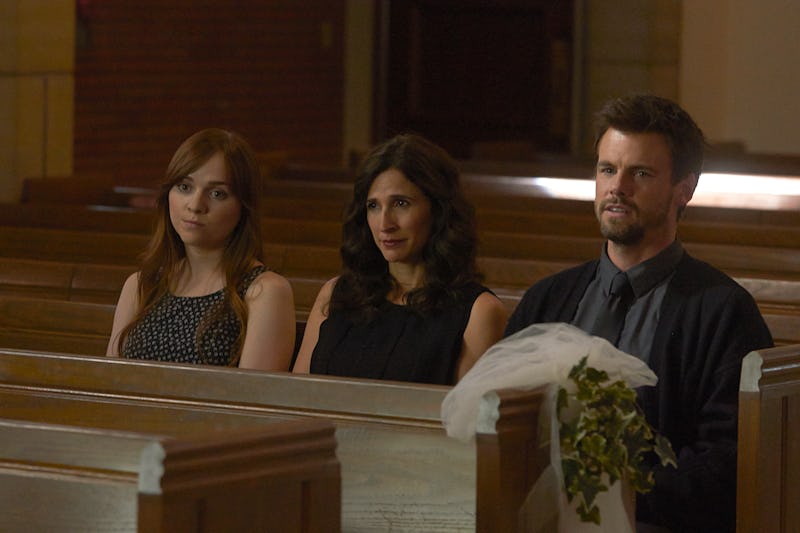 I'm sure you're exhausted from watching incredible shows throughout the 2015-2016 season, but you can't take a break yet. Because this summer, there's one show you absolutely need to stream: Hulu's Casual, which returned for Season 2 on June 7. It may not have the prestige of award-winning streaming series like Orange is the New Black or Transparent yet, but Casual is just as worth marathoning. In fact, I think Casual is the series that will finally bring Hulu the kind of acclaim Netflix has garnered over the past few years.
If you're not familiar with Casual, the story has a simple framework. A brother and sister, Alex and Valerie, live together with Valerie's teenage daughter, and while they certainly don't have everything figured out (he's a dating site inventor who's incapable of finding love, she's a psychologist with serious issues stemming from her divorce), they're not the type of totally clueless character that you see a lot in comedies. Though the first season of Casual wasn't particularly plot-driven, it had great character work, which is just one of the reasons why you should spend your summer streaming both seasons on Hulu.
Michaela Watkins Finally Gets The Right Role
Anyone who watched Watkins in Saturday Night Live, Trophy Wife, or one of her other performances already knows she's a hilarious comedian. And like many other funny people, she's equally adept with dramatic material. Playing Valerie gives her the most screen time she's ever had, and while the character is frequently feeling down in the first season, she's never better than when she's excited about something, like hooking up with a much younger bartender.
Jason Reitman Has Reclaimed His Signature Style
For a few years, Reitman, the director of movies like Juno, Up in the Air, and Young Adult, seemed like he may have lost his way. Men, Women & Children was a bafflingly slow and unobservant sort of satire about as far away from the fast, funny Thank You for Smoking as possible. But Casual shows that he's still wonderful at coaxing lived-in performances from actors and creating an inviting atmosphere.
Alex Is A Twist On An Established Trope
If you had to describe Alex with a single word, it might be tough. You could call him a "bro," or a "dude," but even though he might superficially match that description, Casual avoids giving him cliché qualities. For example, while he's obnoxious at times, it's never in the shouting, high-fiving kind of way. And he's not averse to debauchery, but it's always in a fun way, rather than predatory. He's a softer, gentler "bro" then you'd usually find on TV or in movies and it's endearing.
Modern Dating Isn't Reduced To Clichés Either
Along with Bravo's Girlfriends' Guide To Divorce, there's a small wave building of shows about dating after divorce. Even if you can't personally relate to that experience, it's an interesting look at a form of dating that comes with unique challenges. It's also a nice alternative to yet another story about dating in your early 20s, which has been a staple of TV for decades.
Valerie's Daughter Brings A Realistic Look At Being A Teenager
Casual manages to balance a respectful portrayal of Laura as a sexually active teenager while showing the consequences of underage drinking and sex tapes. Laura may be way cooler than I was as a teen, but her confusion about the right thing to do and constant search for boundaries to test ring true.
It Shows Different Types Of Relationships & Sexual Encounters
Alex falls in love with a woman who's in an open relationship (and struggles with his feelings about it); Leon, who befriended Alex after coming home with Valerie for a one night stand, has a threesome; and Valerie has a same-sex hookup in Season 1. All of those events are shown as the totally normal parts of dating that they are, showing a much wider spectrum of relationships and sex than most sitcoms. In Season 2, I would like to see it take this even further and represent more relationships not often seen on TV.
Fred Melamed Continues To Take Over Hollywood As Charles
Fred Melamed, the character actor who plays Valerie and Alex's emotionally torturous father, has been in just about every single project with an emotionally torturous father (or father figure) lately, from Girls to Lady Dynamite to In a World... to New Girl. If this guy makes an appearance, it's almost always a great one, and Casual is no exception.
It Walks The Line Between Funny, Sad, & Smart
Casual is melancholy without becoming dour, deeply funny without getting too wacky, and most of all, manages to keep complete control over its tone. The story it's telling is small right now — just how this family struggles to balance their relationships with their search for romance — but its resonance is huge.
Though Casual isn't generating spoiler-filled headlines and millions of tweets every week, it's one of the best constructed shows out there. If you only want to keep up with one show this summer, make it Casual.
Images: Hulu; Giphy (8)