See The Coolest Thing About Tarte x Graveyard Girl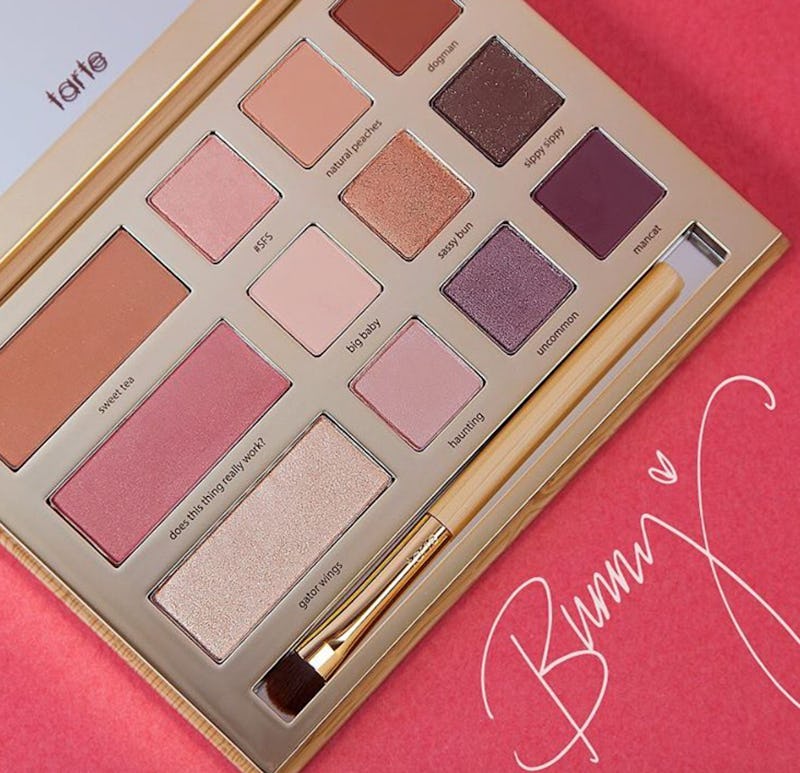 As if I needed yet another reason to love the Tarte x grav3yeardgirl Swamp Queen palette. From the shimmery and matte neutral eyeshadows to the alligator-adorned packaging to the badass shade names, I was already stoked about this palette and partnership. But have you seen the coolest detail about the grav3yardgirl Swamp Queen palette? The Tarte x grav3yardgirl Swamp Queen palette has a simple but effective phrase stamped across the top of the mirror. It will be a source of inspo for all makeup junkies and artisans as they get creative and apply the products to their faces.
According to the photo posted by Trendmood, the mirror quote reads: "Believe In Yourself. Love Yourself. Embrace Your Individuality." Amen to that. The palette, which also includes blush, bronzer, and a highlighter, serves to boost the user's confidence and reminds them of the importance of body and beauty positivity. Since Meyer herself is edgy, unique, and goes against the grain with her look and style, the quote is another reason this bound-to-sell-out palette is a beautiful thing.
The palette goes on sale online on June 6 at 4:30 p.m. ET/1:30 p.m. PT via the Tarte Cosmetics site before becoming more widely available online on June 13 via Ulta. It comes with a $45 price tag.
You can see the quote in this awesome and unapologetically adorable video review of the palette.
Check the screen grab. This reviewer also points out that the phrase is stamped on what she jokes is a generously-sized mirror. I didn't see this quote in previous photo posts of the Swamp Queen palette.
Here is another look at those gorgeous neutrals that comprise the palette. If you have been thinking about crafting the still-popular sunset smoky eye look, these are the shades with which to do it.
I pretty much became enraptured by this palette the day that grav3yardgirl aka Bunny Meyer revealed the shades in heart-shaped swatch form.
There's the screen grab from the Trendmood post, with all the online dates and locations, for your quick reference. There are two liquid lipsticks that are also a part of this overall collab.
Happy shopping later today. Remember to believe in and to love yourself and embrace your uniqueness. Bunny and Tarte won't let you forget it.
Images: grav3yardgirl/Instagram (1); YouTube (1)