Your First Look Inside 'Trouble Makes A Comeback'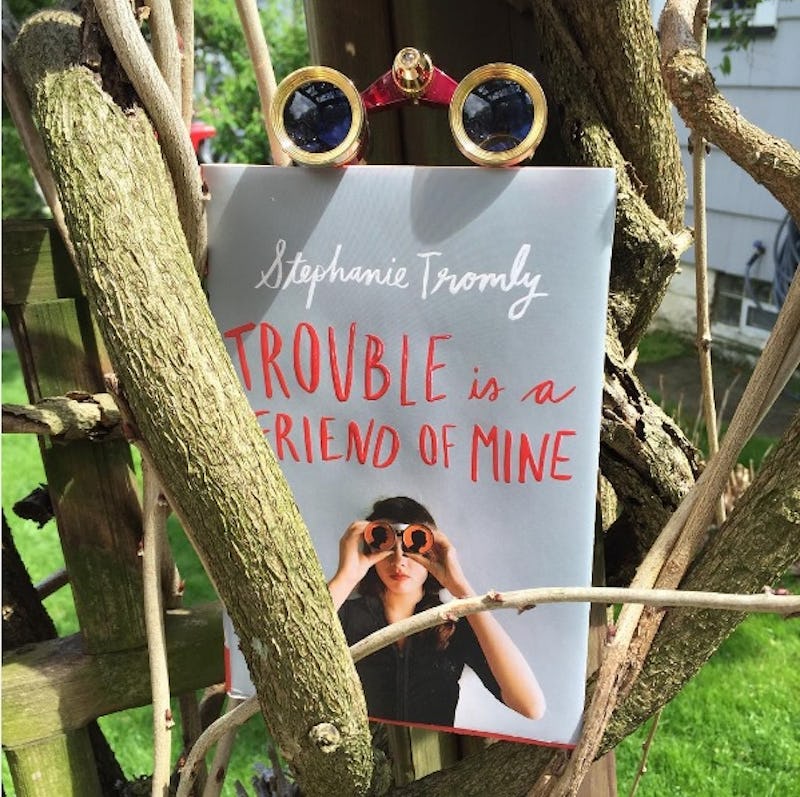 Just like Zoe Webster herself, how could we readers deal with an existence without any more Philip Digby, who quickly joined the ranks of our favorite teenage sleuths? Luckily young adult author Stephanie Tromly is totally feeling us and announced her Trouble Is a Friend of Mine sequel Trouble Makes a Comeback , where both Zoe and Digby make a comeback, too. And yes, exciting news: Tromly, her publisher Kathy Dawson Books, and Bustle joined forces to give you all an exclusive look at the first two chapters in Trouble Makes a Comeback . Go ahead, I know you want to scroll down already.
Minor spoilers ahead for Trouble Is a Friend of Mine , so beware if you haven't read it yet. (Oh, and get on it, too, because it's fresh, smart, witty, and you'll think you're watching some Veronica Mars-level quippy dialogue.) When we closed the final pages of book one, our main man Digby left Zoe and left town, following a lead on his missing sister, who he was searching for in the first book of the series. Zoe makes an effort to return to "normal" life, whatever what means. But when it comes down to it, how can dating high school boys, SATs and college applications, and passing in your homework ever compare to the thrill of scheming and sleuthing? So when Digby returns asking for her help, I bet you can guess what Zoe does.
Now that the infuriating and irresistible Philip Digby has left town for a lead on his sister who disappeared years ago, Zoe Webster is looking forward to a quiet spring semester. She's dating a cute quarterback, hanging out with new friends, and enjoying being "a normal." Which is of course when Digby comes back. He needs Zoe's help, and not just to find his sister. Because let's face it: These two high school Sherlocks practically define the term "dynamic duo."
Without further ado because I know you're salivating, here's an exclusive excerpt of Trouble Is a Friend of Mine sequel Trouble Makes a Comeback. You can read the rest when it hits bookshelves November 22.
Image: readertravels/Instagram