Why Being Single In NYC In The Summer Is The Best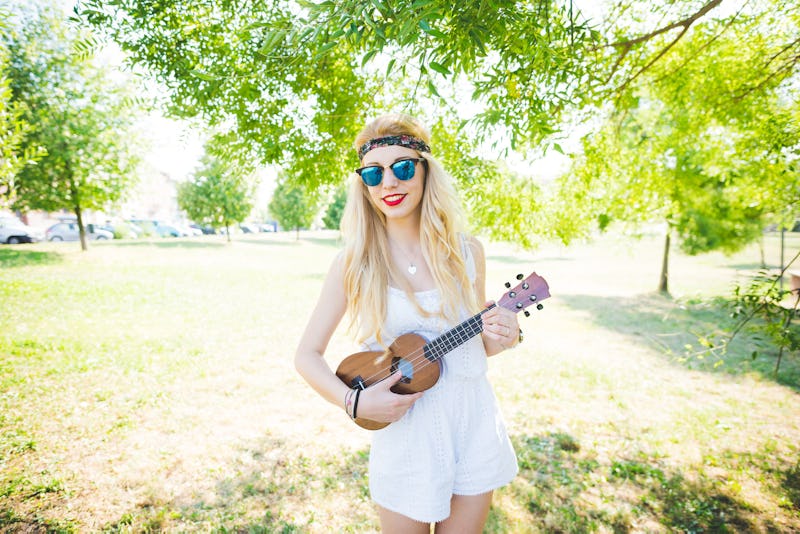 If you've lived in New York for at least a year, then you've witnessed the strange phenomenon that happens when that first 70-something day comes along after a very (very!) long, cold winter. While you spent many months wondering where all of the attractive, fun singles are, suddenly, at the first site of sunshine…
...everyone comes outside. They emerge with cloudy eyes and huge, charming smiles, working on their Vitamin D deficiency. Though it can be absurdly hot, insanely sticky and humid and OK, a little smelly — summer in New York City is one of the best times of the year. And not just because of Summer Fridays and Trader Joe's being less crowded on the weekends, but as a single person, finding a fling between Memorial Day and Labor Day isn't so far fetched. And hey, that fling might even blossom into a relationship in Autumn.
If you're experiencing your first NYC summer single, here's what to expect (and enjoy) in NYC:
1. Dates Are Almost Always Outside
Unlike the winter when you have to put on layers to go one subway stop or two blocks, the summer makes it easy to find a place to meet for a drink or a bite. With so much outdoor seating, rooftops and events beyond buildings' walls, almost all of the dates you'll go on will be under the sun or the moon. This makes them a little more casual, not so serious and more relaxed.
2. Going Braless On A Date
While you can certainly go braless whenever you want, if you typically wear a bra, you might be more tempted to take it a step down and ditch the bra on a summer date. With really high temps, wearing a bra can be a major pain, and thankfully, flowy, easy summer dresses and jumpers make it easy.
3. People Are Happier
Winters in New York can make even the most easy-going and positive people feel trapped and isolated. It's not that there isn't still a ton to do when it's snowing outside, it's that putting on pants and leaving the warmth of gas heat to retreat to below 20-degree temps is a lot of work. The mood of the whole city changes when the sun starts to shine: blankets are laid out in Central Park, people smile more at folks they walk by and overall, New Yorkers are just thankful to be rid of back-to-back snowfalls. It's a great time to tempt love.
4. You Have More Time To Date
Though it might not be true for every type of business, generally speaking, summer is a little slower for most. You might find yourself with a little less deadlines and a less stress at the office, meaning you're not rushing home after your post-work workout to check your e-mail.
5. Lots of Visitors Means Lots Of Opportunities
If you're into casual sex, summer is a good season to go for it. With tourism at it's highest peak and visitors from every country and state touring the sites of New York, you could meet a one-night-stand or weekend fling, well, anywhere. (And they're especially lurking on Tinder!)
6. Two Words: Summer Fridays
Quick drink with a new date at 4 p.m. on a Friday? No problemo.
7. Less Action Online Forces You Offline
With so many people traveling and heading out of the city on the weekends, you might notice your once bustling dating apps are a little quieter now. Though you might have depended on Tinder and Bumble during the colder months, you might be forced to leave your apartment and meet someone IRL during the summer.
Images: Giphy; Fotolia