Chris Finally Got Involved On 'The Bach'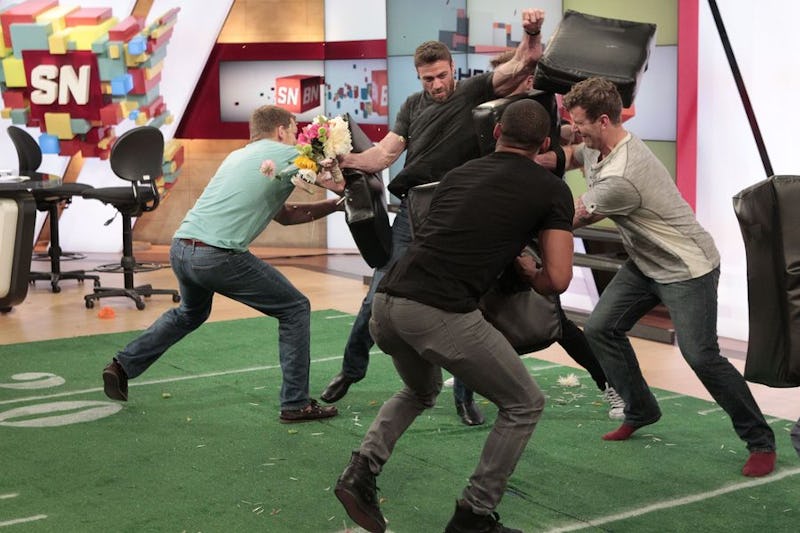 You know things are bad when Chris Harrison has to get involved — the patriarch of The Bachelor and The Bachelorette, whom we really haven't seen at all this season, stepped in for JoJo and the other man-testants on The Bachelorette to put out the fire between Chad and, well, everyone else. Chad's boisterous nature was fun before, but lately, it's gotten violent and sad. Though JoJo opted to keep Chad, can Chris Harrison send Chad home on The Bachelorette ? It's happened before.
Chris Harrison totally has veto power over Bachelor and Bachelorette contestants — remember when Ryan M. got too drunk on the Kaitlyn Bristowe/Britt Nilsson season of The Bachelorette? He slapped both girls on the butt, made rape jokes, and made a drunken mess of himself, and Chris kicked him right out of The Bachelorette and back into whatever sorry existence he had before. Now that Chris knows about Chad's violent behavior and just how unsafe the other guys feel with him around, Chris totally could take Chad down. Chris is the end-all be-all in Bachelor Nation, and what he says goes. I think his attempt at mediation between Chad and Evan was smart, but I don't think it will work. After this, it will be easy to get rid of Chad if he needs to.
I hope by now Chad knows that he needs to tone down his crappy attitude. Sure, he's confident in himself, but there's a thin line between confidence and complete, unending hubris. Chad can't get physical with any of the other contestants, and he has to at least to pretend to play nice (there are ratings involved, after all). Those are the guidelines I would set with him if I were Chris Harrison. Will Chris do it? Of course it's all "to be continued," but I think the next time we see Chris, he'll be telling Chad to pack his bags for Bachelor In Paradise.
Images: Rick Rowell/ABC