Chad & Evan's 'Bach' Rivalry Is Far From Over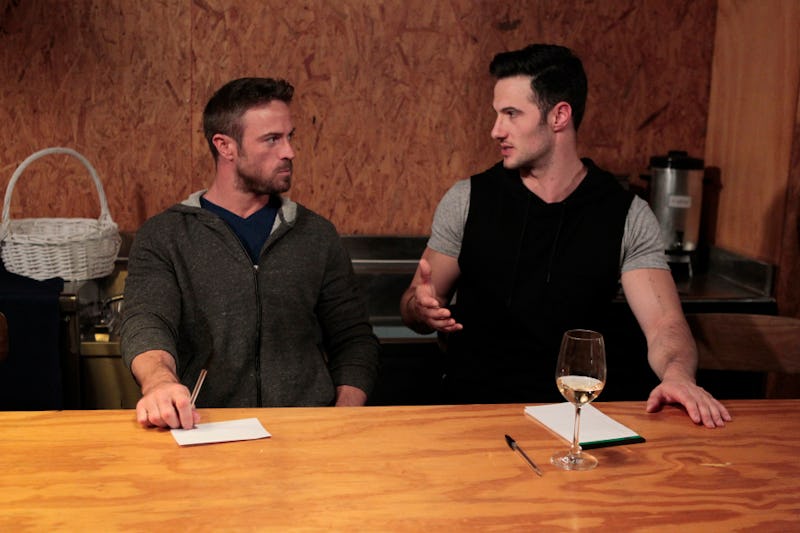 There have been so many rivalries in Bachelor Nation history, but I have a feeling the one between Chad and Evan on The Bachelorette could be one of the worst. Evan isn't impressed by Chad's outspoken nature and weight lifting habits, and Chad isn't impressed that Evan isn't impressed, so their relationship has become pretty volatile — and what we've seen so far is nothing compared to what the trailer for the next episode promises. So will Chad punch Evan on The Bachelorette ? I don't know about you, but it seems like things are getting a little bloody.
In the promo, Chad says that if he can't get someone to stop saying things about him, he will have to "physically hurt" him, followed by footage of him menacingly marching toward Evan as a voiceover plays of Chad talking about dismembering the other guys in the house, limb from limb. Yes, this is real. No, I'm not making this up. It seems pretty heavily insinuated that Chad and Evan are going to get into yet another altercation, but there's a chance it could be nothing. After all, what is this show's editing if not the best at tweaking reality to keep us coming back for more?
There's the chance that Chad really does hit Evan — and that seems more possible than ever after seeing the scarier, more violent side of Chad on Monday night's ep. But I'm reserving judgment until after the episode airs, because it's relatively likely the events that are to come have been exaggerated by the show, if only just a little bit.
No matter what happens, I have a feeling that Evan and the other guys are going to be thankful for Chad's new security team during the pool party that's taking the place of this week's rose ceremony. Things are going to get dramatic, so make sure you pop plenty of popcorn on Tuesday night. You're going to need it!
Image: Rick Rowell/ABC