What 'Me Before You' Gets Wrong About Disability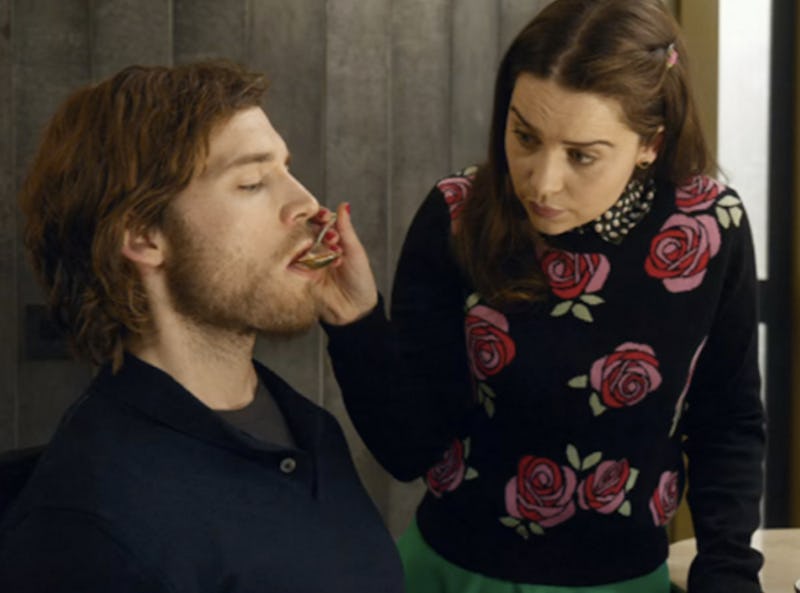 I have to confess something. I genuinely love romantic comedies — even the ones designed to make the audience cry their way through a box of tissues — and Me Before You fits into this category easily. If you've already seen the much talked about movie, you'll understand why. An unconventional love story between a quadriplegic man named Will and his caregiver, Lou, Me Before You shows that love can happen when you least expect it and that disability is a complicated issue. I've seen the movie, and it has so far caused widespread controversy for its portrayal of the disabled community. It is because of that controversy that I wanted to write about what Me Before You 's depiction of disability means to me as a disabled person.
I was diagnosed with multiple sclerosis three years ago. My disability is very different than Will's in Me Before You, but I recognized many of the thoughts, feelings, and frustrations experienced by the character. Although I can never understand exactly what life is like from Will's unique perspective, I have shared the experience of transitioning from being able-bodied to becoming disabled. Every person experiences illness in their own way, but adjusting to life with a disability is often an excruciating process, one in which a person mourns the life they led before. This is something that is discussed in depth in Me Before You, but in a mostly negative way. The movie depicts disability as a hinderance, and something that can't ever be adjusted to, but is that really the case?
I've mostly come to terms with my disability now, but it's been a long process. I still have moments when I waver and wonder if my life is worth living when I will never have the level of health I once did. There are so many things I will never do because of my disability, and my life has changed irreparably since my diagnosis. I also live with the fear that one day my multiple sclerosis will deteriorate, or that the potential risks of the treatment I'm on will strike and cause me to contract a fatal brain disease. I understand the desire to want to go back, to start again. But that's not how life works.
Using the hashtag #MeBeforeEuthanasia, disability activists have highlighted the fact that the movie's pro-choice argument is flawed. Ultimately, people living with lifelong conditions often have important choices to make. As Will's doctor says in the movie, "I want him to live. But only if he wants to live." Objections to Me Before You aren't regarding whether or not the character should have the choice to end his life, but whether the reasons he gives are an accurate representation of being disabled. After all, if every disabled person chose to end their life, isn't that the equivalent of saying that being disabled is inadequate and pointless?
As Aspire, a charity that supports people with spinal cord injuries, notes on the organization's blog,
It is extremely disappointing that the moral of Me Before You is that life for a disabled person must be so awful that the only option is to end it... For many people this film will be the only insight they ever get into disabled people's lives... At Aspire we believe that people with high level injuries are able to lead full and independent lives.
The lack of alternatives that are suggested to Will is dangerously misleading, and implies that there are no other options for him.
Following my diagnosis, I felt submerged in a mourning period for a really long time. Although knowing exactly what was wrong had some benefits, the slow realization that I had a very real set of limitations imposed on me forever was devastating. Wanting to go back to who you were before you became disabled, as Will did in the movie and as I did after my diagnosis, is a natural part of grief. It's the only way that, as human beings, we can begin to process what has happened to us. But does that mean that we should opt for euthanasia rather than exploring what the next chapter of our lives might entail? I don't think so.
Despite falling in love with his caregiver, Lou, Will is adamant that he wants to end his life. And, on my worst days, it's not difficult to understand Will's decision. However, Will's reasons appear to revolve around solely the fact that he is no longer the person he was before. When Lou begs him to consider changing his mind, especially because of the connection they share, Will says, "I don't want you to miss all the things someone else could give you." Here, the movie's focus is firmly on Lou's future, Lou's life, and Lou's wellbeing. Will is disabled, has already attempted suicide, and constantly implies that his life is not worth living if he can't get better. Video clips show how physical he was prior to his accident, and flashbacks show him in the high-powered job that he loved. He is not the man he once was. Conversely, according to Will, Lou has her whole life ahead of her. But as far as he's concerned, his life is over already, and, as a disabled person, that's an issue for me. Disability and illness often feels final, but is a person's life really over when they're no longer able-bodied?
Another aspect of the movie that is problematic is the fact that there is no sex in Me Before You , despite it being a love story. While there may be limitations to that person's sex life, a person with a disability doesn't have to forego all intimacy. It's possible to rewrite the rules of sex, and make it work for you, regardless of the obstacles. In showing the romance as chaste, Me Before You misunderstands and misjudges what it means to live with a disability. As Kristen Lopez writes for Flavorwire,
It's the tired old "Pinocchio principle," wherein Will is only a "real man" if he's able to have sex... No matter that Lou mentions quadriplegics can have sex — there's no discussion between her and Will on the subject.
By avoiding the issue, Me Before You fails to explore what it means to be disabled and be in a relationship in any real way. The Fault In Our Stars is similar to Me Before You in many ways, except that the John Green story managed to feature a sex scene that was totally fitting for its characters, and was unafraid to show disability up close.
Aspire also points out that "Will does not come into contact with anyone else who has a spinal cord injury." This is particularly important because it gives the audience no point of reference. As the only disabled person in the movie, Will is isolated, and hence there is no wider understanding of what it might mean to live with a spinal cord injury or a disability.
There were several moments in Me Before You that did manage to capture how it feels to be disabled. For instance, Lou's hapless boyfriend, played by Matthew Lewis, is a fitness fanatic who instructs Will on healthy ways he can get better. Disabled people are often on the receiving end of unwanted and unhelpful advice such as this, and the scene really rings true. Similarly, Will often finds himself in awkward conversations with people who don't know what to say to say to him now that he is in a wheelchair. Friendships can drift due to illness and disability. Finding out who your friends really are is a natural part of the adjustment process.
In The Hollywood Reporter, the director of Me Before You, Thea Sharrock responded to the detractors of the movie and said, "The disappointing thing is when people make a protest when they haven't either read the book or seen the film. It has big themes in it that are very easy to make quick judgments on." As a person living with a disability who has seen the movie, I'm sad that the way illness is represented in Me Before You isn't more positive, realistic, or at least more well-rounded. People live with medical conditions and disabilities on a daily basis, and their life isn't worth any less than that of an able-bodied person. Instead of suggesting that disabled people's lives aren't worth living because their abilities have drastically changed, there should be a focus on what life with a disability is really like. It's not possible to be positive everyday, and I'm certainly not, but there needs to be a new normal, in which no one is made to feel inadequate because of the things they can't do.
Life is challenging. No one knows what will happen to them, or what they might have to face in the future. The best anyone can do is find the people that they love, and the things that make their lives better, and hope that one day movies get made which represent disability more fully. Personally, I'd love to see a movie which spoke to my experiences as a disabled person, and explored all of the good, bad, and ugly versions of the story. Becoming disabled hasn't stopped me from being the person I've always been. In fact, it's helped me to express myself more fully and not settle for less than I deserve. Importantly, I no longer consider my past to be better than my future. Because it's not. Disabled people are more than their histories, and the able-bodied abilities they once possessed. It's time to reflect that.
Images: WarnerBros.UK/YouTube (4)