11 Ways To Keep Your Hair Looking Amazing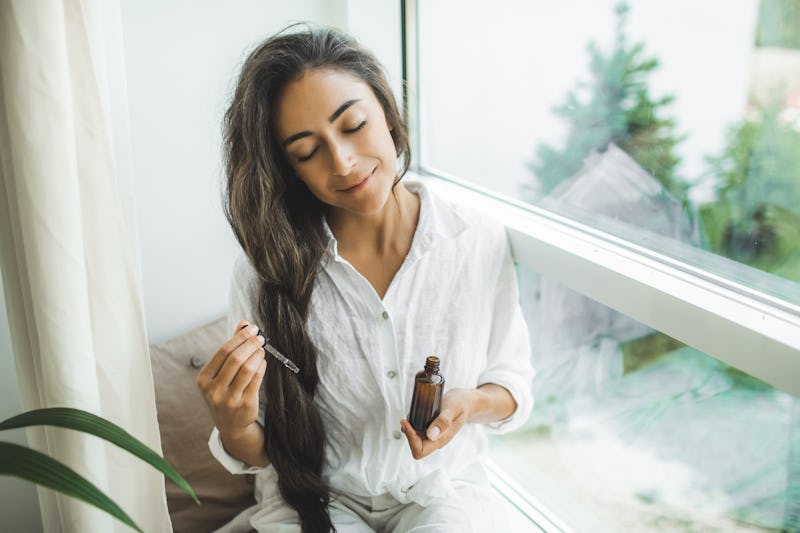 Anastasiia Krivenok/Moment/Getty Images
Nice hair may not be the most important thing in life, but it's amazing how lush and healthy hair can make us feel unstoppable. Personally speaking, there's just something about feeling like I'm having a great hair day that puts a little extra spring in my step and makes me smile inside every time I glimpse myself in a mirror. And this all starts with solid hair health.
I never fully appreciated just how big a difference healthy hair can make until I utterly and totally damaged by hair with an ill-advised dye job. I had already been dyeing my hair various shades for years, and I finally decided that I wanted to go blonde. Really blonde. And because I was utterly impatient and didn't want to lighten my hair gradually as my stylist recommended, I ended up dramatically lightening my entire head of hair in a single day, which required some pretty severe chemical processing.
And while I liked the results at first, within literally a day I began to notice how absolutely fried my hair was. It was impossible to keep the frizz out and it tangled constantly because it was so dry. Running a brush through it was nearly impossible, and no matter what I did I just couldn't get it to have any semblance of a healthy shine. Any enjoyment I would have gotten from the new color was quickly overshadowed by how dissatisfied I felt with the look and feel of my hair overall. I eventually lopped a good portion of it off so that I could start a desperately needed regrowth process.
Basically, noticeably damaged hair can make you kind of miserable. If you're looking to avoid my particular hair health faux pas, or just want to ensure your hair stays healthy to begin with, here are 11 of the top tips for keeping it looking awesome.
1. Wait To Blow Dry
A piece for Prevention on the healthiest ways to dry your hair recommended waiting until your hair is 70 to 80 percent dry before blow drying. You'll get the exact same end results, but you'll expose your hair to way less damage-inducing heat. The site also recommended always keeping your blow dryer on the coolest setting possible.
2. Experiment With No-Heat Style Techniques
No-heat styling techniques have been a game changer for my hair. Instead of drying out my hair with daily blow drying and straightening, I often just apply a smoothing serum and moose and allow it to dry naturally, or sometimes put it up in a bun at the top of my head and let it dry while I sleep. There are a ton of no-heat styling options out there, and they'll keep your hair way healthier in the long run.
CHI Thermal Protectant Spray, $16, Amazon
OK, this is the last heat-related tip, I promise. In a piece for NewBeauty.com, professional hair stylist Michael Duenas stressed the importance of a heat protectant product when styling. "A heat protectant adds moisture to your hair, preventing the natural moisture to evaporate," Duenas said. "It also forms a protective barrier over the cuticle on the hair strand, preventing heat damage and enabling your hair to keep its high shine."
SheaMoisture Organic Raw Shea Butter Deep Treatment Hair Masque, $10, Amazon
In a piece for The Huffington Post, British celebrity hairstylist Mark Hill noted that while a hair mask won't cure split ends, it will definitely hide their effects and make the rest of your hair look and feel super healthy. "It won't cure them, but it will help prevent any more damage," he said.
5. Get Your Vitamins
A piece for Everyday Health noted that biotin and iron are known to help strengthen skin and nails. You can get these through foods like peanut butter, bananas and spinach. Or if you're looking for something fast and easy, there are vitamins especially formulated for your hair in most health food stores.
OGX Organix Moroccan Argan Oil Renewing Shampoo, $10, Amazon
The American Academy of Dermatology recommended focussing your shampoo at the roots of your hair and generally avoiding lathering all the way down to the roots. Shampoo is designed to help reduce excess oils, which makes it best suited for the sections of your hair most affected by the oils from your scalp. Shampooing the ends often just dries them out.
7. Watch Out For Sun
According to dermatologist Wilma Bergfeld in a piece for the Cleveland Clinic, sun doesn't just damage your skin; it can damage your hair too, making it feel dry and frizzy. Bergfield recommended always wearing hats whenever possible, especially if you have bleached or color-treated hair that's more prone to dryness.
8. Be Mindful Of Ingredients
I once used a moisturizing product that claimed to be made of an oil that's supposed to be great for my hair type. However, after a week or two of use I started noticing that my hair was looking dry and frizzy. The "healthy oil" appeared to be causing noticeable damage. It was then that I took a closer look at the list of ingredients. It turned out the main ingredient was a cheap chemical that's known to dry out hair over time, and it contained relatively small amounts of the nourishing oil I thought I was buying. Let this be a lesson to always make sure you check the ingredient list before shelling out money on beauty products!
9. Clarify Your Hair
Heinz Apple Cider Vinegar, $10, Amazon
According to the hair health site NaturalHealthRules.com, our hair's natural pH balance is usually around 4.5 to 5.5, but many shampoos and conditioners have a pH of around 8. This can throw off our hair's natural balance, making it look dull. To help rebalance our hair, they recommended rinsing with apple cider vinegar (which has a pH of 2.9) once a week or so. This should help brighten your hair and prevent product buildup.
10. Schedule Regular Haircuts
According to Meri Kate O'Connor, senior colorist and educator at Eva Scrivo Salon in New York City in a piece for Good Housekeeping, we should be getting out hair cut every six to eight weeks. She explained that this is the only true way to prevent split ends, and that, "When the split goes up the hair shaft, it becomes so thin that it breaks — that's when people get breakage. Once you split your hair there's no way to repair it." I find the best way to stay ahead of split ends is to schedule your next cut as you're leaving the salon; that way you definitely won't wait longer than you meant to.
11. Take Extra Care Of Processed Hair
I've said it before — I've had just about every hair color known to humankind. And it means I've learned first hand that keeping processed hair healthy takes work and vigilance. That's not to say it's not worth it (I have zero regrets!), but the reality is if you don't invest in color-protectant shampoos and conditioners, high quality hair masks, and effective heat and weather-protectant products, dyed hair will inevitably incur damage. So make sure you're prepared!
These tips should help keep your hair lush and healthy, even throughout dye jobs and processing. And remember, at the end of the day, it's just hair and it will grow back. So don't stress about it!
Images: Getty Images (5); Giphy (1)