Bookworms Will Love These 23 Movies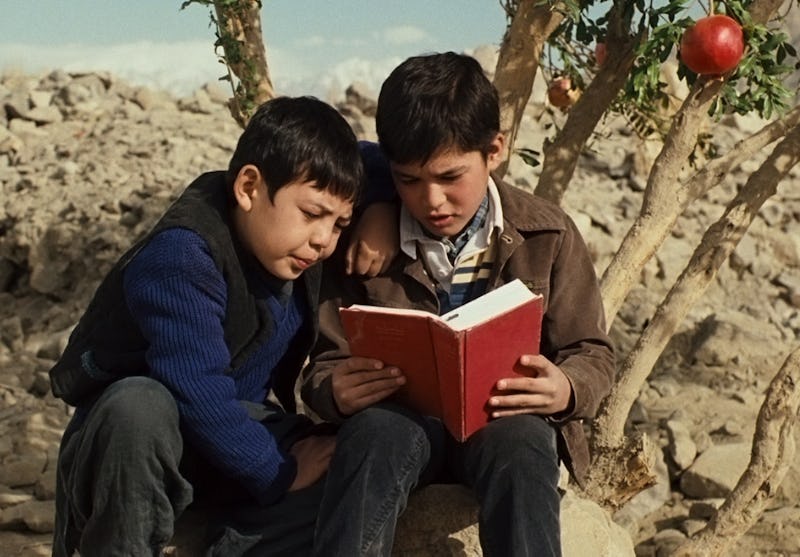 There are a wide variety of movies based on books on Netflix, so that means there are plenty of chances to either love or detest seeing your favorite literary works in cinematic form. After all, bookworms often have a love-hate relationship with movie adaptations of books. On the one hand, there's the excitement of seeing your favorite authors' work get recognized in such a big way, and watching their stories and characters come to life on the big screen. On the other hand, there's an uncomfortable conflict if the portrayals onscreen don't match the story you pictured in your head, particularly if it's a book that you've read many times (and therefore probably have some very set feelings about).
Additionally, sometimes a movie is already "ruined" for you if you've read the book and therefore know how the story ends. For example, the movie Fight Club would have a very different impact on someone who had already read the book than it would on someone who was going in fresh. It's also worth nothing that not all book-to-movie adaptations are created equal, and sometimes the screen version of a certain novel is just bad. It's disappointing when that does happen, but the good news is that there are plenty of other adaptations that are worth watching. Here are some movies available to stream on Netflix that any bookworm will enjoy.
1. The Color Purple
Whoopi Goldberg and Oprah Winfrey both made their film debuts in this adaptation of the Pulitzer Prize-winning novel.
2. The Girl With The Dragon Tattoo
Before the American adaptation with Rooney Mara, there was this Swedish version with Noomi Rapace.
3. Forrest Gump
The movie is so iconic that you might not have even known that it was based on a novel.
4. Into The Wild
Emile Hirsch is absolutely captivating as Chris McCandless in this adaptation of Jon Krakauer's nonfiction book.
5. A Walk to Remember
Even if you're not normally a Nicholas Sparks fan, you know you cried when Mandy Moore sang "Only Hope" in this movie.
6. Silver Linings Playbook
The book was published just four years before Bradley Cooper and J.Law brought its protagonists to life on the big screen.
7. A Clockwork Orange
Anthony Burgess hated Stanley Kubrick's adaptation of his novel, but hey, you might like it.
8. The Shawshank Redemption
One of the most highly-acclaimed films of the '90s was adapted from a Stephen King novella called Rita Hayworth and Shawshank Redemption.
9. Anna Karenina
They somehow made an 864-page novel into a 129-minute movie, with Keira Knightley as the star.
10. The Kite Runner
This moving film was based on the novel of the same name by Khaled Hosseini.
11. The Great Gastby
Fitzergald fans might find that this 1974 adaptation with Robert Redford feels a little more faithful to the famed novel than the 2012 remake does.
12. Full Metal Jacket
Kubrick's famous war film was based on Gustav Hasford's semi-autobiographical novel The Short-Timers.
13. To Kill A Mockingbird
Gregory Peck gave an unforgettable performance as Atticus Finch in this 1962 film.
14. The English Patient
This adaptation of Michael Ondaatje's novel won the Academy Award for Best Picture in 1996.
15. The Boy In The Striped Pajamas
I would only recommend watching this movie if you've already read the book and know exactly what to expect.
16. The Perfect Storm
This movie was an adaptation of the nonfiction book of the same name by Sebastian Junger.
17. Philomena
You'll fall in love with Judi Dench as Philomena in this adaptation of The Lost Child of Philomena Lee.
18. What's Eating Gilbert Grape
Leonardo DiCaprio received his first Academy Award nomination for his role in this movie.
19. Valley Of The Dolls
This cult film is almost as famous as the 1966 book upon which it was based.
20. Twelve
I'm still not totally sure why 50 Cent was in this adaptation of Nick McDonell's book.
21. Atonement
Saoirse Ronan was only 12 when she won the role of Briony in this dramatic film.
22. As I Lay Dying
William Faulkner's famous 1930 novel was the basis for this film, which James Franco wrote, directed, and starred in.
23. Holes
Shia LaBeouf starred in this beloved '00s adaptation of Louis Sachar's YA novel.
You really can't go wrong with so many options for great movies that are based on books. Who said that the words "Netflix" and "literature" have to be mutually exclusive?
Image: Paramount