What We Teach Our Children About Sexual Assault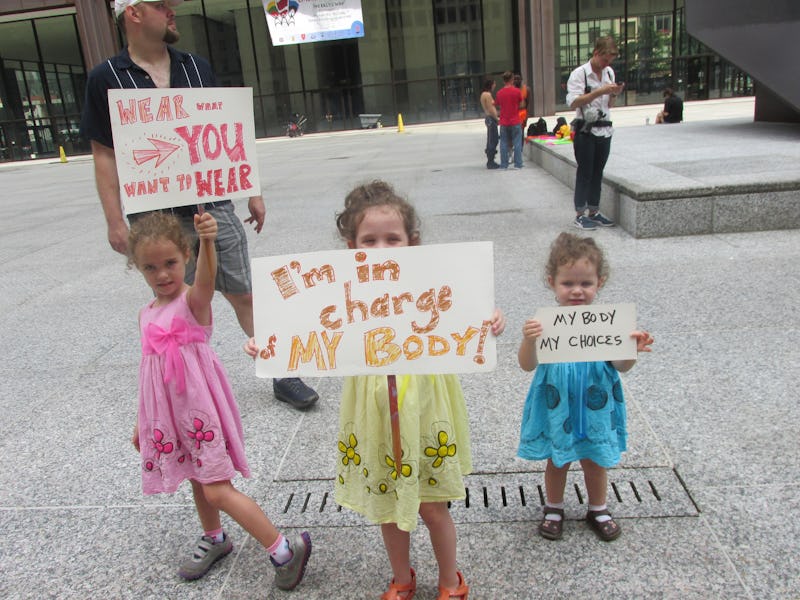 I grew up in a progressive town. During seventh grade, my friends and I went to "Take Back the Night" rallies, and I enjoyed surging to the front of the crowd, clutching a megaphone to my face, screaming into the night.
WHAT DO WE WANT?
SAFE STREETS!
WHEN DO WE WANT IT?
NOW!
I shouted until my voice was hoarse, then handed over the megaphone and fell back in the ranks, smiling and laughing with my friends as we threw our fists in the air with our arms around each other. We were safe. We were making the world safe. We wouldn't need the endless list of tactics we were already being taught — travel in packs, cover drinks at parties, refuse food or beverages from strangers, refrain from wearing a skirt too short or a décolletage too deep. We believed we were free from these things, because obviously the world was changing. The streets full of women had to be fixing things.
Our silence is the price of our survival.
That summer, I learned of a girl in my town who had escaped from a kidnapper who plucked her off the street. She was my age, and had brilliantly counted street lamps out the rear window of the car as she was being abducted — she was bound and blindfolded, but able to distinguish the flash of brightness when they passed by. After being raped and left in a garage, she fled and followed the lights back. This was something my friends and I were told to aspire to — if we were ever presented with the same fate.
Somewhere between being 12 in a protest in the middle of the night and being 14 in high school, I stopped scoffing. Somewhere in there, cars started pulling over so strange men could shout at me about my body and what they wanted to do with it. Somewhere in there, I learned to recognize a prickling feeling on the back of my neck when a man stood too close to me in an elevator, when groups of older boys snapped my bra straps, when teachers sent me away for having parts of my maturing body visible to them.
During the fall of ninth grade, the radio news was full of a story about a judge letting a rapist go, because the victim's blue jeans couldn't have been forcibly removed.
The story of Brock Turner doesn't surprise me, and my own apathy is heartbreaking to me. The child I was 20 years ago would scream in my 32 year old face, "How could you let this HAPPEN?" And I'd tell her, "I'm trying. I'm trying so hard, but there is so much more to this story than you know." I'd tell her, things change when sexual assault goes from being theoretical to a reality.
There was the time when, as a 14-year-old girl, I agreed to go to a party with my friend, because I was afraid that if my friend attended alone, something bad would happen. There was the time when the friend didn't show up, and something bad absolutely did happen.
I'd tell that 12-year-old me to never go to parties, never accept drinks from strangers, even if she knows they haven't been drugged. I'd tell 12-year-old me to especially not go to a New Year's Party at a senior's house, where she must not accept glasses of beer and cognac, where she should keep her coat on and her eyes clear so she can run into the snow and face frostbite and maybe death, instead of staying and facing maybe death but definitely the shattering of everything she's ever been.
Women learn to navigate this world in a state of waiting. Preparing for the moment of indecision, fight or flight, the "This Is My Rape" moment when they find out if they fight and scream, or if they are made unable.
We understand there are things worse than death, but death isn't worth the risk, most of the time. We understand that our rapes are both inevitable and somehow a best-case scenario — we could have been murdered. We could have been burned with acid. We could have been burned at the stake or bludgeoned with stones. Our silence is the price of our survival.
At 18, I moved in with a friend, a gay man, and my mother warned me about men. "They're all men," she said, "No matter who they are or what they are. They could be gay, or your grandfather, or a friend. It doesn't matter. They all have it in them," she said. And I learned that inside my mother there was a trusting 12-year-old girl who did not understand what was happening to her.
This is what we learn. What we don't learn is how long a lifetime of silence can be. We don't learn that when the waiting game has ended, when we're faced with the moment of decision, of screaming or vomiting or running alone into the snow, we are not done. To have been raped once doesn't excuse you from the rest of your life of waiting. You can be re-victimized a million times, and it doesn't change the fact that the night is still full of hazards.
I became a woman after becoming a victim, and a survivor. I learned to love my body, to accept it, and to open myself to love and romance. I learned to be a complete person, almost, and the whole of it was taken from me again. In the midst of a snowstorm, in my own home, I faced that moment when you learn you have no choice, when you can not plan for what you will do when your rape approaches because by definition nothing you do matters. And again, I couldn't scream. I couldn't fight. I had done everything right and everything wrong. You cannot avoid what you will not consent to.
I became a woman after becoming a victim, and a survivor. I learned to love my body, to accept it, and to open myself to love and romance. I learned to be a complete person, almost, and the whole of it was taken from me again.
Preventing my own rapes should not have been my responsibility. Saying "no" a thousand times at 14 did not negate a culture that believed if I was drunk enough, it could have meant "yes." Saying "no" a thousand times at 20 did not negate a culture that believed if I was dating him, it could have meant "yes."
The truth is that my words meant nothing, because they came from me, the woman taught through necessity to be victim-in-waiting. We tell ourselves it will happen to us, and we steel ourselves for the moment the footsteps behind us are too close, the day a friend carries our Rohypnol-limp body to his car and gently removes our clothes, the day a lover ends an argument with his fists, the day our terrified, miserable faces become invisible and drag our bodies to the nowhere that our brains cannot reach them.
We read the news, about Steubenville or Daisy Coleman, or now about Brock Allen Turner, and feel sick because we know someday it might be us. And maybe we want to take to the streets and scream into the night, but what would we say?
What chants are there to sum up the feeling of being made less than a person? Of the complete destruction of your mind and soul through non-lethal action against your body? Of your trauma mattering less to a judge than a man's promising future?
What can we shout into the void to explain we have a future, when that future is ripped from us again and again and again?
WHAT DO WE WANT?
RELIEF FOR THE EXISTENTIAL DREAD HANGING OVER OUR ENTIRE LIVES THAT DEHUMANIZES US AND SILENCES US AND EVICTS US FROM PEACE AND SECURITY AND HAPPINESS UNTIL WE ARE CRUSHED BENEATH IT!
WHEN DO WE WANT IT?
WHEN WE WERE UNTAINTED BY OUR OWN SELF LOATHING AND SHAME AND THE BLAME OF THE WORLD AND THE CYNICISM OF SURVIVING ASSAULT AFTER ASSAULT IN A WORLD THAT SHRUGS OFF OUR EXPERIENCE AS THE PRICE OF BEING FEMININE!
I imagine myself standing alone in the dark, rending my clothes, sobbing into the night that I was robbed of myself, that we have all been wronged, that this is not the future I was promised, that this is not the society I wanted, that this is not the world as it should be. I imagine myself standing on the judge's lawn for every day of Brock Allen Turner's laughable sentence, recounting the details of my assaults. Of Daisy Coleman's assault. Of Madonna's, and Oprah's, of my mother's and my sister's and my friends' and carving our names into the soil wherever he stands.
Instead, I look down— not in shame, but in desperation. Not to the ground, but to the upturned faces of the children I had through consent and love and and joy, and I teach them.
"Who's in charge of your body?" I ask, and they grin without understanding how vital their knowledge is. "I am!"
"Nobody can touch your body unless you want them to," I tell them. I tell their friends. I tell my friends' children. I tell all the children. I tell everyone.
I will also teach them to travel in packs. To cover their drinks. To be cautious of men, all men, always. I am 32 years old. The girl who laughed in a rally has been dead longer than she lived, buried within me with her ghost screaming forever behind my eyes. And still, when I walk the streets at night, I wonder what will happen if, when, the moment comes. If I will scream. If I will fight. And, once again, if it will make any difference.
Image: Lea Grover