Original 'Ghostbusters' Support New Female Cast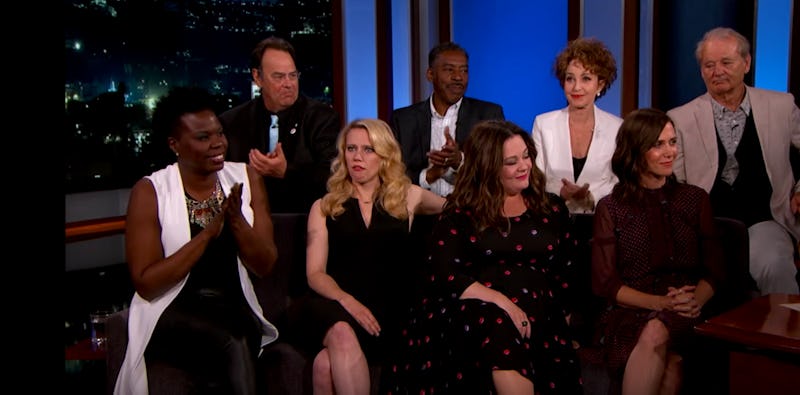 The cast of the new Ghostbusters reboot was on Jimmy Kimmel Live following the third game in the NBA finals to promote their new film and celebrate the 32nd anniversary of the original Ghostbusters' release — aka Ghostbusters Day. Funny ladies Melissa McCarthy, Kristen Wiig, Kate McKinnon, and Leslie Jones took over Jimmy Kimmel's show on Wednesday night, where they were joined by four members of the original cast, Bill Murray, Dan Aykroyd, Annie Potts, and Ernie Hudson — all of whom are rumored to have cameos in the new film. The original and new Ghostbusters casts responded to the backlash from the all-female Ghostbusters team, joking about the sexist comments lofted their way by fans on the Internet.
In a special Game Night episode of Jimmy Kimmel Live that aired before the game, the new lady ghostbusters were "surprised" by the original cast. But, moments earlier, they spoke to Kimmel about the sexist reactions to the all-female Ghostbusters movie. McCarthy, who plays scientist Abby Yates in the film, called the misogynistic critics "terrific fellas," adding, "What they don't say when they're typing is that one minute after they type that, their moms are like, 'Get upstairs and take out the garbage! You're 45 years old!"
After the game, Murray and Aykroyd made light of all the skepticism surrounding the all-female Ghosbusters team. When asked about their reaction to the film, Aykroyd said, "First of all, these women performers are great actresses... And, by the way, all the guys in the movie are just fine too. There's men and women in the movie!" Murray also praised the new cast later in the show. When asked why, after being resistant to other Ghostbusters reboot ideas, he had jumped on board for this one, he said, "It was only 'cause I knew these girls were funny."
Despite Aykroyd and Murray's blessing, the new Ghostbusters movie is still under attack from fans of the original who want to keep the legacy of their childhood favorite in tact, and from fans who think women can't bust ghosts. Somehow, I think McCarthy, Wiig, Jones, and McKinnon will have the last laugh.
Images: ABC; Jimmy Kimmel Live/YouTube