We Need Diverse Books — And Here's Why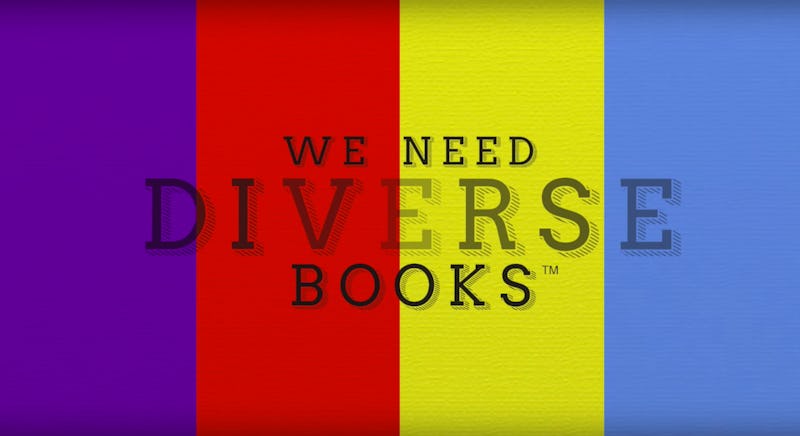 In a moving new video, the We Need Diverse Books organization has broadcast a powerful message about why representation matters. The video shows a range of authors talking about their own experiences reading books in their childhood — and they all felt like there was something missing. YA books tend to focus on the experiences of white, straight, cisgender individuals — and if you don't fit into that narrow mold, it can feel pretty isolating.
Ellen Oh, the CEO of We Need Diverse Books, explains it best: "Not seeing yourself [in books] is like being told that you don't exist."
I certainly turned to books to make sense of my own experiences growing up, and it was incredibly comforting to find that there were other people, even fictional ones, who were going through similar things. It's pretty heartbreaking, therefore, to hear from so many of these authors that they didn't get that same comfort.
"I didn't get to see any sort of queer characters until I was 19 or 20 years old which is far too late in the game," says Adam Silvera, author of More Happy Than Not. Valerie Tejeda, author of Hollywood Witch Hunter, didn't have much more luck: "I looked everywhere for a book with a Latina character and I couldn't find one anywhere and it was all that I wanted."
In this beautiful video, the authors share one promise: "We write for you."
"Every kid deserves to be the hero of their own story," says Dhonielle Clayton, the vice president of librarian services at We Need Diverse Books. And that's why these authors are committed to making things better — right now. "We want it to be better for you than it's been for us," vows Kirsten Hubbard, author of Like Mandarin. "Not in the future, but literally today."
Image: We Need Diverse Books/YouTube