Louboutin's New Lip Gloss Isn't Budget-Friendly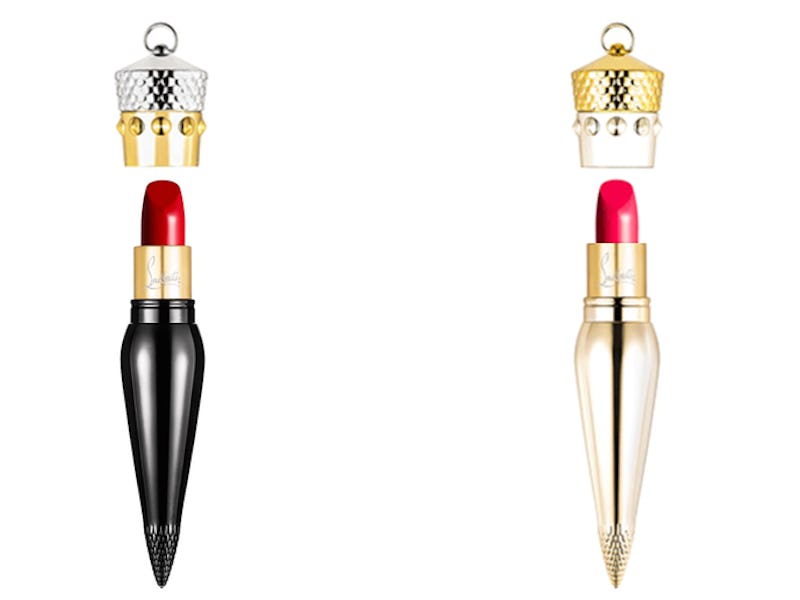 Christian Louboutin's red soles are not only noticeable and iconic — we've seen them on everyone from Carrie Bradshaw to Kate Middleton to Kim Kardashian — they're a major status symbol. A pair of classic black pumps may seem like nothing special until their wearer kicks up her heel and then *BAM* — instant shoe envy. But for those who don't want to dole out as much money, Christian Louboutin's new lip lacquer is guaranteed to be as much of a must-have as its shoes.
As of this year, Louboutin has started to expand its luxury brand slowly (but surely!) into the realm of beauty, and in the process have made their iconic red more accessible to those of us who don't want to spend $800 on a pair of shoes, but can somehow justify spending $90 on a nail polish (I will fully admit to having spent close to that on beauty products. Don't judge me.)
The newest beauty must-have product that Louboutin has added to its growing cosmetics line is a high shine, full-coverage gloss called "Loubulique." A press release from the brand promises that the glosses will deliver both color and shine. And the best part? The gloss comes in eight shades — including pink and oranges — so there are options for people who aren't convinced about the whole "red lipgloss thing." Plus, their packaging is specially made so that they can be worn as necklaces.
The only problem is that just like the shoes/nail polishes/lipsticks, the glosses are rather expensive — $85, to be exact.
For those people who are into wearing red lip gloss, but aren't willing to sacrifice eating for a month to do it, here are three drugstore options for much, much less.
1. Best Shimmery Red
Revlon Ultra HD Lip Lacquer in Carnelian, $8.99, Ulta.com
This Revlon gloss has a big, diamond-looking rhinestone on it, which will make you feel extra fancy for a lot less than $85.
2. Best Shiny Red
NYX Mega Shine Lipgloss in Plush Red, $4.95, HouseOfBeautyWorld.com
NYX's lipgloss will deliver high pigmentation and shine on a budget. Who wouldn't love that?
3. Best Full Coverage Red
Rimmel London Oh My Gloss! 520 Rebel Red, $5.49, Overstock.com
This red shade is so close to the Louboutin version, and is enriched with Vitamin E to moisturize your lips while you wear it.
Images: Courtesy of Brands