16 Summer Raincoats That Won't Burn You Up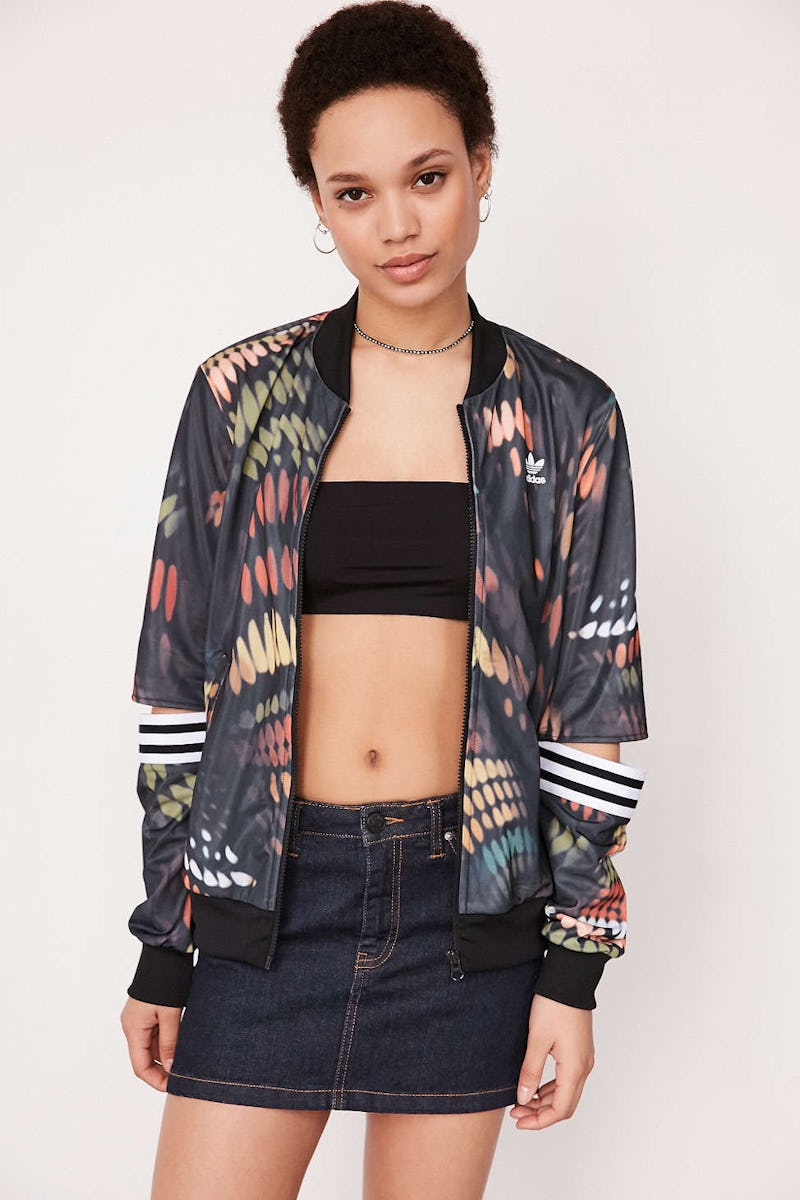 The weather is confusing: you never know what it wants, when it's going to throw a tantrum, and for how long its mood will last. Especially in the summertime, when one second, its unbearably hot, and the next, the skies start pouring. I'm here to tell you about summer raincoats, which are light enough to keep you cool, and waterproof enough to keep you dry, too. As a dweller of New York City, this is something I very much need.
This exact scenario has happened to me more than a handful of times: It's an unbearably hot day in the upper 90s. It's humid, everything in the city smells like a wet trash can, and every second spent not in the AC is cruel. With this intolerable heat, I can't even think of wearing something other than shorts, a tank top, and flip flops. And then the sky decides to rumble and completely drench you.
Being caught in the rain on a hot summer day is possibly one of the most unpleasant scenarios. Either you're completely drenched, or you're completely drenched (except this time, with sweat, since you're wearing a very heavy raincoat over your shorts and tee). Heat plus more hot water? Not cute. And this summer, I'm taking a stand against this. I'm talking weather-proof summer sandals and a summer raincoat that'll keep me feeling breezy.
If you're with me on this one, check out some of these protective beauties.
The Short Trench
H&M Short Trench Jacket, $49.99, hm.com
Keep those legs breezy.
2. The Fun Color
Stockholm Light Orange, $295, stutterheim.com
Stutterheim coats are amazingly lightweight and protective, and easily layered, making it the perfect raincoat for any season.
3. Army Green
Oversized Convertible Sleeve Raincoat, $79.90, express.com
The sleeves of this beauty roll up easily with a clasp, making it perfect for those hot days.
4. The Windbreaker
Columbia Flashback Windbreaker Jacket, $58, urbanoutfitters.com
Also obsessed with this color.
5. The Scuba
New Look Scuba Bomber Jacket, $49, us.asos.com
Love me a good summer white.
6. The Floral
Sam Edelman Hooded Rain Anorak, $72.99, 6pm.com
Another plus? Big pockets to hold everything you could need.
7. The Classic Nike
Nike Impossibly Light Hooded Jacket, $110, shop.nordstrom.com
The name says it all.
8. The Printed Windbreaker
Printed Windbreaker Jacket, $34.95, sierratradingpost.com
In black and white, this jacket is super easy to pair with everything in your wardrobe.
9. Ivy Park To The Rescue
Ivy Park Technical Bomber Jacket With Reflective Logo, $90, shop.nordstrom.com
Get the bra and shorts to match!
10. The Military Style
Military Jacket 2, $128, athleta.gap.com
Love how the collar makes this jacket look so polished.
11. The Blush Pink
Silence + Noise Kirra Swing Trench Coat, $89, urbanoutfitters.com
Blush pink is the color of the summer.
12. The Packable
ASOS Curve Pac-a-Mac In Floral Print, $40.44, asos.com
You can pack this cutie up in a little pouch!
13. The Classic Trench
Drape Front Trench Coat, $74.50, torrid.com
Nothing beats a classic.
14. The Asymmetrical Zip
Summer Rain Jacket, $48.50, shoptiques.com
You know it's good when it's called the summer rain jacket.
15. Bright Yellow
Loved&Found Rain Jacket, $112, us.johnlewis.com
For when you want to brighten up a dreary day.
16. The Cutout
adidas Originals By Rita Ora Cutout Track Jacket, $75, urbanoutfitters.com
Those cutouts will definitely keep you cool. A little rain drop here and there can't hurt!
The next time I see a weather forecast for over 85 and rainy, I know which jacket I'll be picking up. And the weather isn't going to bring me down ever again. Except when winter comes. Cause we all know winter can bring serious sadness.