Dr. Marten's 'TMNT' Boots Are Here For Summer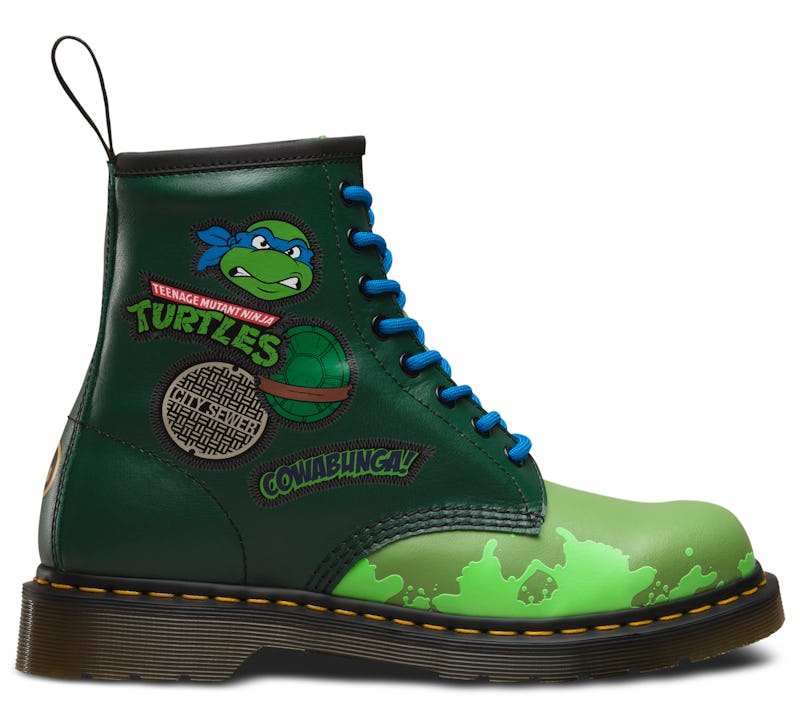 You've probably heard of the saying "wear your heart on your sleeve," but now you can wear it on your shoe instead! Just in time for the summer movie release, Dr. Marten's created Teenage Mutant Ninja Turtles boots that have enough personality for even the biggest fans. With four different looks in the collection, you can base your buy on your favorite character or your favorite style. Where can you buy Dr. Martens TMNT boots? Your best bet is shopping online.
If ever there was a time for two '90s cult classics to come together, it's now. Dr. Martens new line brings the pizza loving, crime fighting turtles and the classic boot style together for one fabulous comeback collab. Even better, they come in adult, child, and toddler sizes, so no one is left out of the fun.
Sold for $150 on the Dr. Martens site, each shoe is designed with self-expression in mind. That means four completely different styles to choose from. While Donatello and Michaelangelo play it cool with their signature accessory and catchphrases, Leonardo and Raphael have glow-in-the-dark elements to add a bit more personality. No matter who your favorite is, there's something quirky in store for the shoe.
While shopping online is probably your easiest bet, you can also grab these kicks at any Dr. Martens store as well. Now the hard part comes deciding which TMNT character you want to sport around town. Here's a breakdown of each style so you can choose accordingly.
1. Leonardo
Leo Boot, $150, drmartens.com
Standing for respect, courage, and killer moves, the Leo boot has the signature slogan "cowabunga" as well as glow-in-the-dark green slime all over.
If that's not a '90s inspired Docker, then I don't know what is.
2. Donatello
Donnie Boot, $150, docmartens.com
This guy is all about sleep, skate, and eat and so is this shoe. There are two different expressions on the boot as well as detachable face masks for whatever mood you're feeling that day.
Now that's a cool kick.
3. Raphael
Raph Boot, $150, docmartens.com
Combining two of his brother's accessories, Raph's style is all about being lean, mean, and green. That means a bold pattern and glow-in-the-dark ooze.
That shoe means business.
4. Michaelangelo
Mikey Boot, $150, docmarten.com
If your motto is "the more pizza the better," this is the style for you. The iconic character is all about the staple food and catchphrases, and so is the shoe.
Now that's something everyone can love.
The hardest part will be deciding which style fits yours the best.
Images: Courtesy Dr. Martens