As A Bi Guy, I Feel Less Safe With My Boyfriend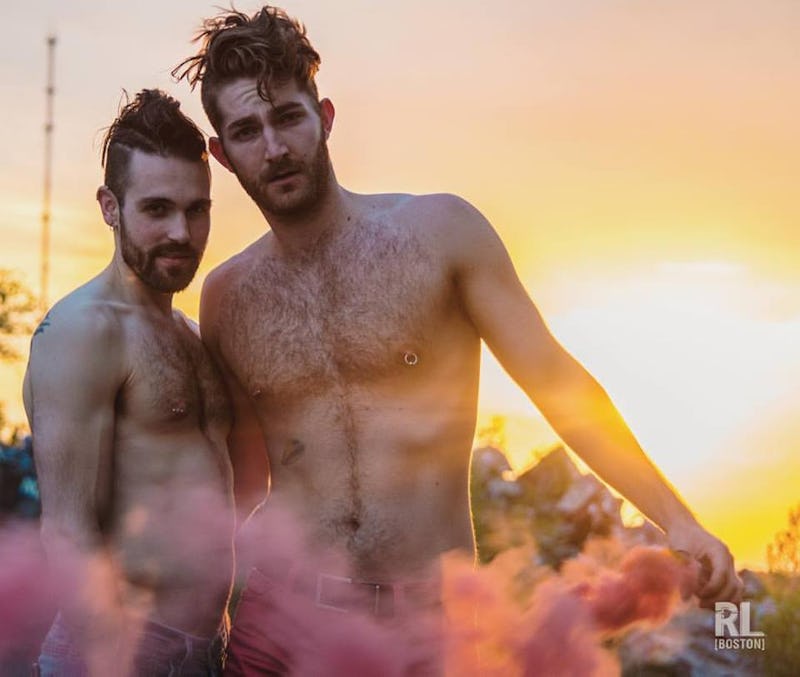 My cutoff jorts were bright pink, and my rainbow unicorn tank top was tucked into my back pocket as I pranced around Boston holding my boyfriend's hand. We screamed from rooftops, we kissed on the street, and we celebrated the one day a year that we, as queer men, don't have to be afraid to express our love in public. After the Pride Parade, we went to The House of Blues, where well over a thousand gay and bisexual men danced their hearts out.
Upon entering, my boyfriend commented that they didn't check my bag, which contained some power bars, my knees braces, shirt, and water. I hadn't even realized, but responded, "There really isn't any reason to. People always find ways to sneak in drugs." That was the end of our conversation. Another reason to check our bags hadn't occurred to me. That night, we danced. We made new friends. We drank. We felt safe.
After one of the best nights of my life — a night where I openly expressed, in public, my affection for the man I loved — I woke up this morning to see my Facebook flooded with news of a massacre at a gay club in Orlando. At least 20 people dead. I closed out of the article. I took a deep breath. I opened it back up again. The article updated. At least 50 people dead. Though ISIS has since claimed responsibility for the attack, the shooter's father told NBC News that he didn't think his son's actions were religiously motivated. He did say, however, that he knew his son had been upset a few months prior, when he saw two men kissing in Miami.
Immediately, I thought about last night. I was at the biggest gay event in the Northeast. They didn't check my bag, or anyone else's. It would have been so easy to bring a concealed weapon into the House of Blue's that night. Hundreds of people could have died if someone had opened fire.
When I'm with a woman, I don't think about mild acts of PDA. My body isn't in a constant state of fight or flight. That's why this Pride felt more special to me. For the first time since dating my boyfriend of six months, I wasn't afraid to be demonstratively affectionate in public.
This Orlando massacre may have happened over 1,000 miles away from me, but it could have happened anywhere. The false sense of security I felt was just that — a false sense, an illusion. The merriment from the parade caused me to forget that while LGBTQ+ rights have come a long way, many of us still have good reason to live in fear on a daily basis.
LGBTQ+ people are at a significantly higher risk of experiencing assault and violence, and in recent years, there has been a staggering increase in the number of homicides of transgender women of color. But it's more than just our fear for our safety; it's a fear that we'll never be accepted. That we'll never really be equal.
As a bisexual man, I've dated both men and women. Last Pride, I attended with my now-ex girlfriend. This Pride, I attended with my current boyfriend. The experience was undoubtedly different. It meant more to me this year, and looking back on it now, I know why.
Whenever I walk down the street with my boyfriend, he likes to hold my hand. I like to hold his too, but whenever I do, my pulse beats faster, and my eyes dart back and forth. I become immediately more aware of my surroundings. When he kisses me goodbye, I always check behind me afterwards to see if there are any nasty glances. More so, I look to see if I'm in danger, if someone is going to attack me because I stole a brief peck on the lips from the man I love. I can't help but think, What if? What if the guy behind me is an aggressive homophobe looking for an excuse to beat two queer men up?
My boyfriend is the first man I've ever been in love with. Sure, I've dated men before, but none so seriously — so PDA with a man is still in many ways new for me. Because of this, I'm hyperaware of the glances and looks of disapproval I now receive. It's unlike anything I've ever experienced before with a woman. The constant worry about what others think and the fear for my safety is all-consuming. It's made me constantly on-edge, scared. It's made me realize how unfair the world is.
When I'm with a woman, I don't think about mild acts of PDA. My body isn't in a constant state of fight or flight. That's why this Pride felt more special to me. For the first time since dating my boyfriend of six months, I wasn't afraid to be demonstratively affectionate in public. There, I was in a safe space, with hundreds of other queer folk who were also expressing their love for their same-sex partners. There's power in numbers. There's power in being surrounded by people who are like you — where queer is the norm and default assumption, not straight. Where, unlike most gay clubs or street corners, there's also substantial police protection.
As a bisexual man, I've found that many gay men fear I will leave them for a less resistant "straight path" with a woman. Why go through all the trouble, live with all the fear, face all the discrimination and harassment if I don't have to, if I can be happily married to a woman?
The answer is simple: because I need to be true to myself. I was in a state of chaos — of constant emotional distress — when I was only dating women. At the time, I didn't realize how much I needed to explore my attraction to men. I needed to be open about who I can love, and I needed to give myself the opportunity to love them in the first place.
That person could have been a man, a woman, or any genderqueer person. For me, it happened to be a man. So I will, as a bisexual man, continue to date my boyfriend — and I will continue to live in fear. My palms will continue to sweat harder when I hold his hand, and my adrenaline will continue to pump. Last night reminded me that we have a long way to go before my fear will subside; there may never even be a point in my lifetime where I can walk down a street holding my boyfriend's hand without glancing every which way.
But I will continue to date my boyfriend and hold his hand anyway, because I deserve to. Because I love him. Because I didn't choose who I fell in love with, but I can choose to stay with him.
Images Courtsey Of Rodrigo Larios