How To Not Mess Up DIY Cutoff Shorts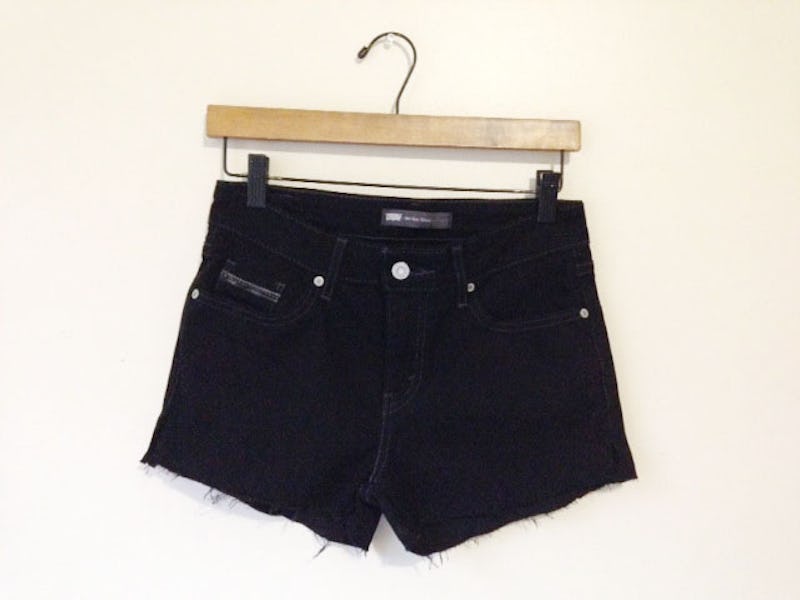 For what seemed like a wrinkle in time, Mother Nature graced the Northeast with a generous flash of spring weather. We shed our winter overcoats and did as many outdoorsy activities as we could squeeze in a day. Then the cold came back, and we retreated to our apartments and Netflix queues once again.
Even so, those two days of higher temperatures were enough to get us started thinking about our spring wardrobes. As we have seen season after season, no spring/summer wardrobe essential is more timeless than a perfect pair of cutoff denim shorts. Whether you prefer frayed, cuffed, or embellished, knowing the basics on how to make your own cut-offs is a great way to salvage unworn (or worn out) jeans. It's also an instant boost to your wardrobe at little to no cost. Follow our how-to slideshow guide and get ready to flaunt like Cindy Crawford in her iconic Pepsi commercial:
What You Need
A pair of jeans *Sharp fabric scissorsFabric pencil or tailor's chalkTape measure**Electric tapeSeam ripperThread and needle (optional)
*I recommend going a size up for cutoff shorts. It looks much better when the shorts sit a little lower on the waist and there's a little more room in the thighs. You also don't want a camel toe! Secondhand stores are great places to look if you want a vintage finish.
** You can substitute both tape measure and electric tape with a straight-edge ruler.
Step 1: Measure Back Pocket
Lay out the jeans with the back side facing you. Measure from the waistline to the end of the back pocket. Take note of the measurement.
Step 2: Measure and Mark Hem Line
Fold jeans in half symmetrically, so the front pocket of one leg faces you. Add half an inch to the back measurement you just took. Measure that length from the waistline down along the outside edge of the jeans and draw a horizontal mark at this new measurement. Along the inseam draw a horizontal mark two inches down from the crotch seams.
Step 3: Trace Across Hem Marks
If you have a straight-edge ruler, connect the two points and draw a slightly diagonal line down from the outer mark to the inner mark. Otherwise, improvise by taping a line with electric tape. No need to draw a line along the tape.
Step 4: Cut Below Hem Line
Make a cut about two inches below the hem mark.
Step 5: Carefully Cut Your Shorts
Carefully cut along the tape line only on the front side. Make sure you cut from the outer seam to the inseam without cutting the back fabric. Next, cut the back and gradually dip half an inch lower as you move towards the inseam. Repeat from step two on the other leg.
Step 6: Create Side Vents
Using a seam ripper, rip an inch into the outer seams to create side vents.
Step 7: Add A Little Fray
To create frayed ends, fold the end of your shorts into multiple layers. Roughly, and carefully, graze the sharp end of the scissors against the fabric until you have reached desired frays.
Step 8: Mission Accomplished
Voila! Perfect summer jean shorts. From here you can go further into customization. Throw them into the washer if you want your edges to really fray, then secure the hem by hand sewing along the fray. You can also distress the fabric with sandpaper or embellish your shorts with fabric or studs. Get creative — it's summer, y'all. Well, almost...