Cersei Could Be Ready To Play With Fire On 'GoT'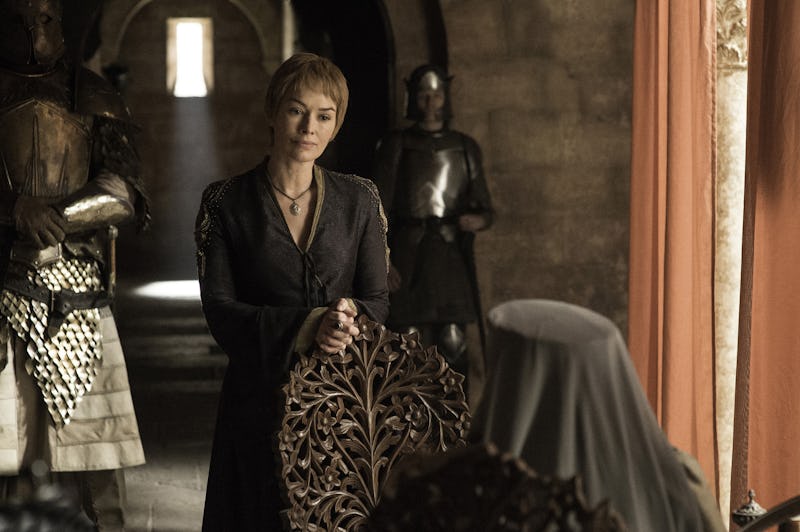 What do you do when your power is taken away from you? If you're Cersei Lannister, you do whatever it takes to get it back. And based on a mysterious rumor Cersei had Qyburn investigating on Game of Thrones , it looks like she's well on her way to making that happen. As you can imagine, the internet is currently working overtime to figure out what exactly it was Cersei and Qyburn were talking about during their cryptic discussion. And while there are many good ideas out there, the one I think makes the most sense is the theory that Cersei's rumor is about wildfire.
As reddit user MaskedAmeoba was quick to point out, wanting to know the location of all the secret wildfire hot spots currently residing all around the city is something that could prove vital to Cersei's cause. Don't get me wrong, having the Mountain as an ally has already become a vital drawing card for her to have, but now that the High Sparrow has aligned himself with the king, she definitely needs more than one man in order to take back the city as her own... or destroy everyone else in the process. Wildfire could accomplish all of those things.
Then there's Bran's vision reel to take into account as well. The young Stark boy saw the emerald green fire getting unleashed and spreading like, well, wildfire. And since the Mad King died before being able to release the dangerous substance onto the unsuspecting masses, this doesn't appear to be a flashback, but rather a glimpse into the future. And if you're wondering, but would Cersei actually be willing to burn everyone and everything to ground in order to take down her enemy, let me just leave this here...
I mean, need I say more? When it comes to this former queen, no risk is too great to get what she wants, and that's a lesson King's Landing is well on its way to potentially learning.
Images: Helen Sloan/HBO; claudiaboleyn/Tumblr