What Is The Song In The 'Moana' Teaser Trailer?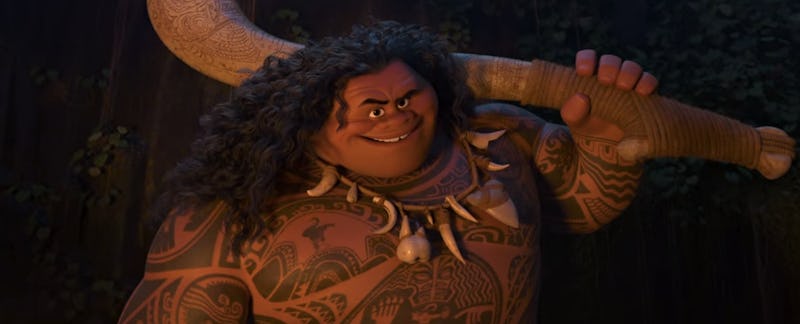 I have a pretty one track mind, so the moment I saw that the newest trailer for the Disney project everyone is waiting for, I had only one question — what is the song in the Moana teaser trailer? I'm super excited to see how Dwayne "The Rock" Johnson stretches his vocal abilities to inhabit the character of the demigod Maui, and to be introduced to newcomer Auli'i Cravalho as she voices Moana Waialiki, the first Polynesian Disney Princess — which is undeniably a huge moment. I mean, obviously. But is it so wrong that I have a laser focus on the music right now?
First of all, the music is arguably the best part of any Disney movie, and I still have months and months to wait until the Nov. 23 premiere, so I have to siphon out my excitement in manageable doses. Otherwise, I will truly never make it. So today, my limitless excitement is being directed at the song in the trailer. That's about as much as I can handle right now, and it's still a lot, because have you even heard it? Our first glimpse of the song (or should it be called something else when it's just audio, maybe an ear-peek?) sounds amazing, and gets me so hyped for the entire soundtrack. So what is this song?
Turns out it's an original song called "We Know The Way," and it was written by Lin-Manuel Miranda, who you might remember from winning a boss-ass amount of Tonys on Jun. 12, a man named Opetaia Foa'i from the New Zealand and South Pacific musical ground Te Vaka, and Mark Mancina, who composed The Lion King. Midway through the trailer, it comes swooping in with the melody and these inspiring lyrics: "We are explorers reading every sign / we tell the stories of our elders in a never-ending chain." Give yourself the gift of a little listen.
Isn't that perfect? It completely matches the beautiful visuals, the strength of the female-led storyline, and the rich Polynesian history that Moana draws on. With a start like this, I can't wait to see what else the soundtrack has in store for us.
Image: Walt Disney Pictures