Check Out The First Trailer For Disney's 'Moana'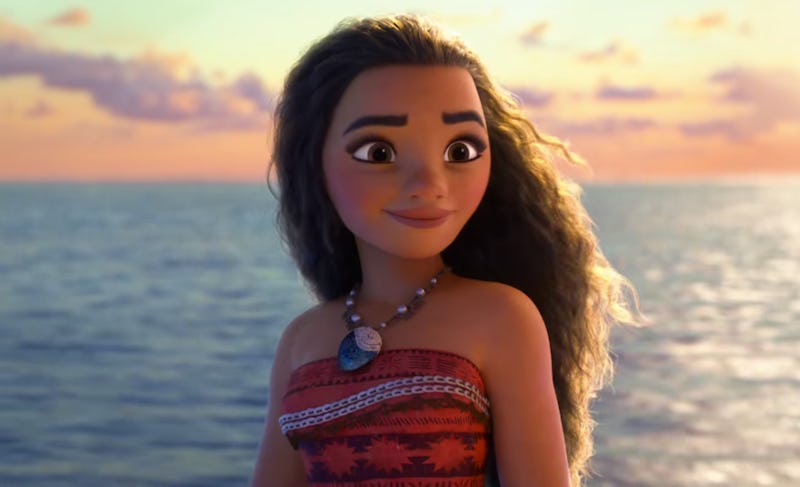 As only true Disney animated film lovers understand, the best Disney movies (and I'm not talking Pixar here) are the ones that feature Disney princesses, which makes the release of the first trailer for Disney's Moana super exciting. Although Disney gave the world two princesses in 2013 with Frozen, the character Moana is Disney's first Polynesian princess. Besides Disney embracing diversity, the film's humor and animation almost immediately reminded me of Hercules, so it's looking like Disney has another classic on its hands when Moana is released on Thanksgiving 2016. But a successful Disney movie does not rely on princesses alone and Disney made that clear by highlighting the talents of two major supporting men in the first trailer for Moana .
While I was looking forward to hearing newcomer Auli'i Cravalho's voice as Moana, Disney decided that was not meant to be just yet. Instead, the focus of the trailer is on Dwayne Johnson's Maui — a powerful demigod with storytelling tattoos. (For real, his tattoos move, thus reminding me of the urns in Hercules.) The princess and her animal sidekick — I don't know if you're ready to handle this information yet, but it's the most adorable-looking pig ever — listen to Maui explain his almighty powers of pulling islands out of the sea with his magical fishhook with dubious expressions on their faces.
Maui's inflated sense of self is a perfect fit for the artist formerly known as the Rock since Johnson has so much charisma and confidence in his voice. Maui also has an enormously ripped body like that of his real-life counterpart, which is the perfect canvas for his moving tattoos. Considering that Entertainment Weekly reported that Maui's tattoos were hand-drawn by the same Disney artist who drew the Genie from Aladdin, Eric Goldberg, and that Maui can back up his boasts since he transforms into an eagle, I'm expecting Johnson to infuse Moana with his own brand of magnetism like Robin Williams did before him in Aladdin. I mean, just check out Maui channeling his voice actor with Johnson's signature eyebrow arch.
Yet, another essential element of Disney movies that's not about the characters is the music and Disney did not hold back on that either since they recruited Hamilton creator and star Lin-Manuel Miranda to contribute to the soundtrack. If somehow you hadn't known by now, it's Miranda's world and you're just living in it since the Moana trailer was released during his massively successful night at the Tonys on June 12. Miranda's voice can be heard singing in the latter half of the teaser trailer to the original song, "We Know the Way," which was written by Miranda, Opetaia Foa'i of the New Zealand and South Pacific musical group Te Vaka, and The Lion King composer Mark Mancina. Did I already mention that Moana is gearing up to become a Disney classic?
With gorgeous animation of the Pacific Ocean and the fact that directors Ron Clements and John Musker of The Little Mermaid, Aladdin, Hercules, and The Princess and the Frog are also behind Moana, my only complaint is that the teaser trailer didn't give more of a voice to its leading lady. Yet, this is only the first of what I assume to be many trailers for the new Disney princess movie and since it is entitled Moana after all, I know that new actress Cravalho is going to have her time in the spotlight soon enough.
Images: Walt Disney Animation Studio (2)