When Do LGBTQ People Feel Unsafe?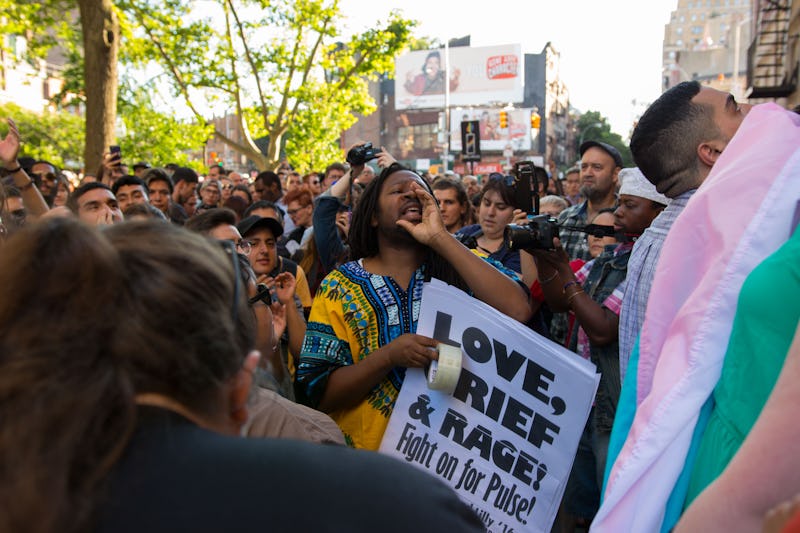 Sunday marked the worst mass shooting in U.S. history when a gunman unleashed fire on a gay nightclub in Orlando, killing 49 people and injuring 53. This hate crime and act of terror has deeply affected many Americans, but it is the LGBTQ and Latino communities specifically targeted in the attack that are truly reeling, scared and saddened by the brutal reality that there are still dangerous people out there who would choose to strike them down.
LGBTQ communities across the country held vigils on Sunday night to come together in solidarity, support, sadness, and anger following the weekend's events. In New York City, people gathered at The Stonewall Inn, a historic space in the gay community — the riots that broke out there in 1969, after police raided the gay bar, are considered a turning point in the fight for LGBTQ rights in the U.S. It is a place where the community goes to mourn tragedy and celebrate triumph, as they did after last summer's victory for gay marriage.
"This is our cradle, and this is our tomb," Ken Kidd, an organizer with Queer Nation, told the crowd. "This is where we come together. We are a community that will never be silenced again."
The scene at the vigil was at turns somber, sad, and furious. Heavily armed police officers patrolled the crowd, perhaps exacerbating fears that LGBTQ gathering places like Stonewall could be targets of a copycat attack. Bustle spoke to attendees in the crowd, asking them when was the last time they felt unsafe as a LGBTQ person. Their answers are striking.
Natasha, 36, & Phoenix, 34
Jarron, 36
Alexis, 55
Clenton, 28
Rainie, 65
Larkin, 32, & Tim, 29
Robert, 50, & Gerald, 47
Miranda, 19
Mark, 42
Danielle, 24, & Carson, 30
Jamie, 57
Jennifer, 38
Nicholas, 34
Here's how to help Orlando victims, their families, and the LGBTQ community.
Photos: Emily Geraghty for Bustle