What Time Can You Buy Rihanna's Puma Trainers?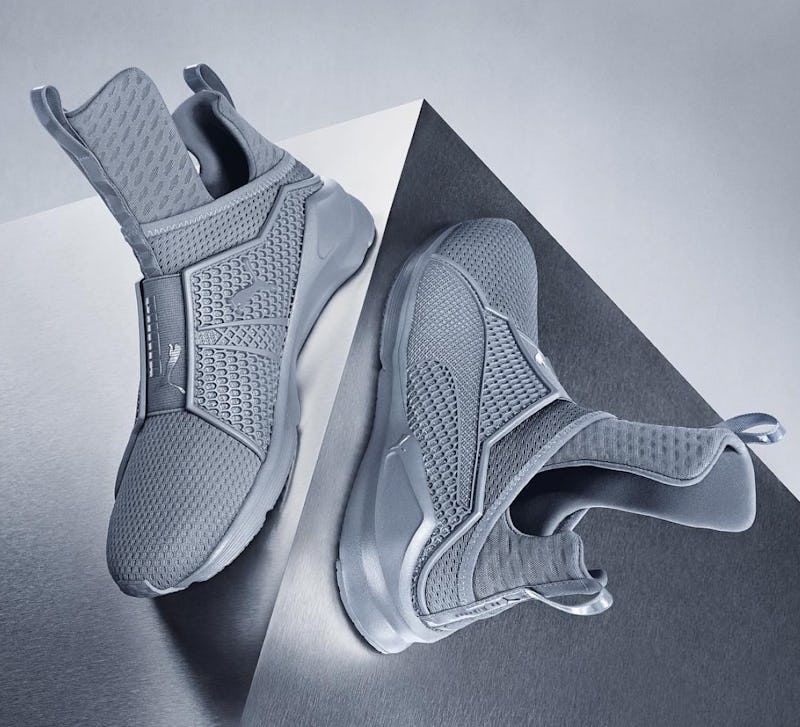 With the way cool Creepers and the summery Fur Slides completely sold out and still coveted, it's clear that the Rihanna x Puma shoe collab is serious biz. With no "official" further news or potential restock info for either of those shoes available or planned, Rihanna and the brand aren't remaining idle. Instead, the new grey Rihanna x Puma trainer is dropping on Wednesday, June 15. This shoe joins the previously released red, black, and white colorways and looks a bit like a wrestling sneaker, IMO. What time is the grey Rihanna x Puma trainer, which has such a spacey, futuristic silhouette, available for purchase? When can you shop?
According to a variety of sources, including the official Puma site, the kicks will go on sale at 10 a.m. ET/7 a.m. PT, which was the same time the Puma Creepers dropped last month before selling out in just 30 minutes. History is often an accurate indicator and hey! At least Puma is being consistent with its on-sale times.
Additionally, Madison, an L.A.-based store with multiple outposts and a confirmed, official Puma retailer, posted the same shopping time.
Observe the official Puma Instagram post revealing the shoe's June 15 on-sale date. Are you already starting to breaking out into an excited sweat over these kicks? It's OK if you have that reaction to the visual.
So insanely cool, just like Robyn Rihanna Fenty, right?
This is the screen grab from the Puma site, which is one of the online shopping destinations. There is the time, in grey and white!
And this is the screen grab from Madison's website, also pointing to the 10 A.M. ET shopping time.
Rise and shop, people! You can catch up on sleep later. Set an alarm and be online and ready to shop, since these sneakers are too cool to pass up.
Bustle also reached out to Puma reps for further and final confirmation of the 10 a.m. ET shopping time at Puma stores and the Puma site, as well. Puma reps confirmed via email that 10 a.m. ET is indeed the launch time in stores and online. This is also the only confirmed dropped for this colorway, per Puma reps.
While the Rihanna Puma trainers didn't appear to have the same deafening fashion buzz as the Creepers or her turnt up shower shoes, these kicks can certainly take you from the gym to the beach.
Since Kylie Jenner is also a Puma rep, I wonder if she'll be rocking a pair with her beloved uniform of leggings and a crop top.
Images: Puma/Instagram (1); Courtesy of Madison (1); Courtesy of Puma (1)