Kat Von D's Serpentina Palette Is Coming Soon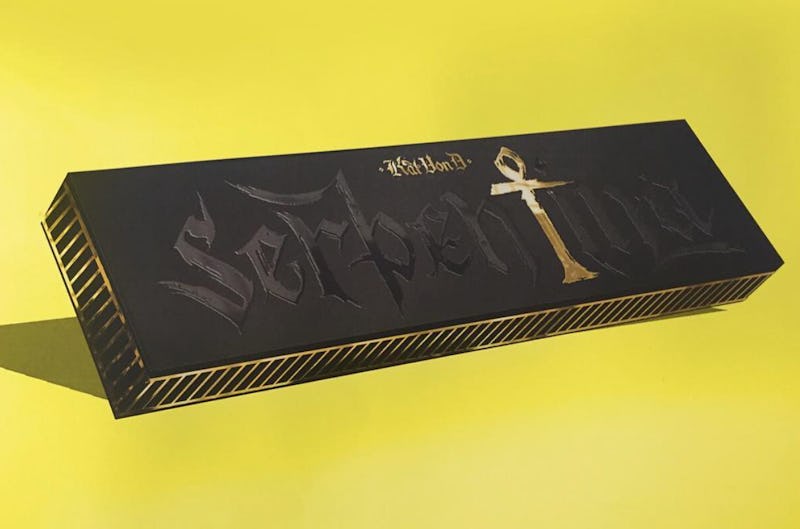 There's a new palette on the way and despite knowing next-to-nothing about it, I am already brimming with excitement, sight unseen. Kat Von D's Serpentina eyeshadow palette is landing in less than a month and the brand and its namesake have been parsing out tiny bits of teaser information regarding this latest addition to its adored family of products. With the palette set to arrive in July, Kat Von D-evotees are gobbling up every detail that KvDB is sharing. I've rounded up everything we know so far about this palette.
It's rare that I get this jazzed over a shadow palette without seeing the pans of actual product. However, I am able to look at the packaging, to know the name, and already understand that Kat Von D products hardly ever disappoint me! All. Good. Things.
The brand first teased the Serpentina palette a few months ago and then.... nothing. Now, the official Kat Von D Twitter account posted a tweet, updating its fans about when Serpentina will slither gloriously into our lives and onto our faces.
Let's go over what we know and what we can expect, cool? Cool!
ICYMI back in April, behold the packaging! It will leave you instantly wanting a look inside.
The case is that typical rock x gothic x tattoo aesthetic upon which Kat Von D had built her ever-expanding empire.
This tweet confirmed the palette's status as limited edition. That means you need to snatch it up the second it lands. Do. Not. Delay. You will be competing with other KvD-evotees, known to be a passionate bunch.
The brand only stated that the palette launches in less than 30 days. So by POE, we know it's coming in July. Bustle reached out to Kat Von D Beauty reps to confirm the official release date. We'll let you know if/when we hear back.
For those who are curious, Seperntina is vegan.... a status the brand always strives for.
Kat Von D herself shared this sketch of the lettering months ago! It was a true sneak peek. She also confirmed in the caption that Serpentina is an eyeshadow palette.
There is the caption, describing the case and confirming the fact that it's a shadow palette. Le sigh. WANT! NEED! NOW!
BeautyCon also posted that KvD said online that the Serpentina palette is inspired by a variety of things, such as peacock feathers, cleopatra's headress, and the Crimson Nile. BeautyCon reported that the palette will boast jewel tones, golds, and coppers. I guess we'll have to wait and see.
Expect a look at what's inside Serpentina soon. I can't wait to see what she is made of.
Oh, and don't forget that the new Kat Von D face brushes are dropping in July, too.
#ByeMoney.
Images: Kat Von D/Instagram (1); Kat Von D Beauty/Instagram (1)