15 Poetry Collections Romance Readers Will Love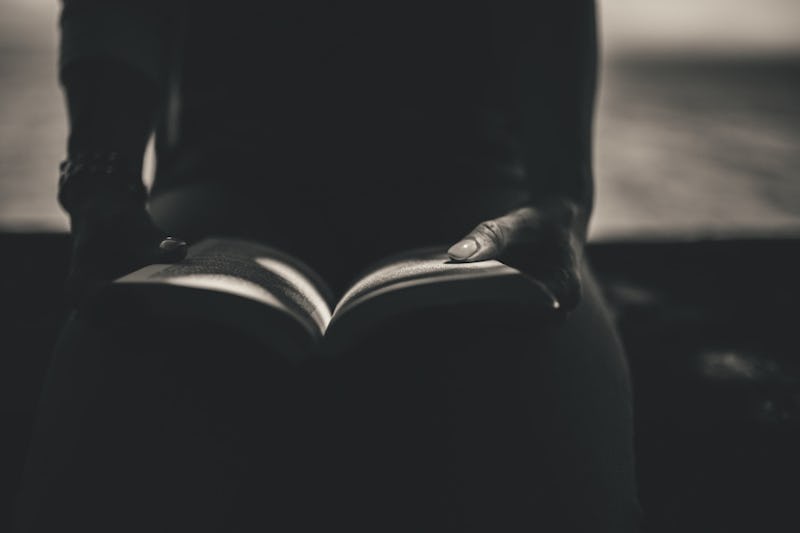 It's ingrained in us from the first cartoon we see, the first picture book we read, the first fairy tale we learn by heart: poetry is the language of romance. And while today's romance novels are obviously inheritors of a long, vaunted and — yes, prose — tradition, it's good to remember that, just like your food diet, your reading diet improves with variety.
Maybe there was a time when poetry was confined to a literature unit you struggled through in high school, but these days poetry is everywhere (hello, Warsan Shire), shared via gorgeous and handmade chapbooks, on avant-garde digital literary magazine websites, and iPhone commercials alike. Gone are the hours of scanning the metric feet of Petrarchan sonnets (though, of course, if that's your jam, have at it). Most readers of contemporary poetry will tell you what you've always suspected: there are no hard and fast rules in poems.
So though romance novels may follow a recognizable narrative arc (capped off, obvi, with a good HEA), poems steeped in romance aren't bound to the same conventions. In fact, these 15 collections are so diverse, so various in form and style, diction and even expressed orientation (i.e,. M/M, F/M, F/F, etc.), that you'd be hard-pressed to compare one to another. Unless, of course, you're a diehard romantic, someone who can find love in the most hopeless of places.
I love books that capture the entirety of something: a life, a career, a love affair. Hacker's 1986 sonnet sequence chronicles the love affair between two women.
2. Crush by Richard Siken
Siken won the 2004 Yale Younger Poets Prize and a Lambda Literary Award for this erotic collection that is a must-read for anyone who has ever felt possessed by their feelings for another person. This collection is filled with lines you'll want to take to your tattoo artist, like:
"Tell me how all this, and love too, will ruin us.These, our bodies, possessed by light.Tell me we'll never get used to it."
Described as "a fictional essay in 29 tangos," Carson — always slippery to pin to a genre — is at her best in this story (in verse) of a dissolving marriage. You'll find yourself quietly blown away by her insightful clarity:
"You used to say. "Desire doubled is love and love doubled is madness."Madness doubled is marriageI addedwhen the caustic was cool, not intending to producea golden rule."
Do you like your romance and sexiness with a dose of intellectualism? Are historical romances set in antiquity up your alley? If so, Brolaski's book, inspired by Ovid, is perfect for you.
Dense with imagery and unabashedly sexy, Shaughnessy's collection is perfect for when you want to be tangled up in the erotic.
If you're not into the gloom and angst of some poetry, Gay's bright, optimistic collection is for you. Catalog of Unabashed Gratitude, which won a 2015 National Book Critics Circle award and the 2016 Kinglsey Tuft prize, captures the hopeful joy of the best romance novels; these are poems that make you believe in the beauty of the world and the power of love.
Love is a many-splendored thing, yes, but it's also a thing that elicits lust, amity, jealousy, rage, confidence, doubt, and ... well, basically just about every feeling under the sun. Jordan's poems are personal and political encapsulations and, yes, nearly always about love.
Funny, juicy, and kind of a mystery, Fletcher's debut collection has characters: two people and the imperfect love story that is their marriage.
In this break from her earlier, more imagistic work, Modernist H.D. (aka Hilda Doolittle) gives voice to the internal struggle (so real) about whether or not to persist in a love affair in her long poem, "In the Rain."
If you've read The English Patient, you know how sultry Ondaatje's prose is (so sultry). His poetry, too, will have you in a swoon.
Admittedly, trying to choose only one book by Pablo Neruda that would appeal to romance enthusiasts is about as futile as trying to count raindrops. Pablo Neruda is one of history's greatest love poets; if you're into traditional (i.e., formal) poems, than this collection of sonnets (to his wife, Matilde) is a great place to start.
Because affairs (with married men) are love stories, too.
"What is the best we leave behind?/Certainly love and form and ourselves," writes Gilbert in "The Cucumbers of Praxilla of Sicyon," one of the many spare, romantic poems in this decade-spanning volume.
This investigative book-length poem, circling back on an Arkansas drama from Civil Rights Movement era is an engrossing reminder that every love story is at once a ghost story, a mystery, and a personal history.
Reading Eileen Myles is like taking a long, long walk with a friend whose heart is on her sleeve, in the trees, on the manhole covers--everywhere. These poems are chatty and welcoming, story-like and perfect for anyone who might be poetry-phobic; I recommend "Holes."
Beginning on August 1, Bustle will host Romance Novel Month, a celebration and examination of the romance novel genre. But don't worry, romance readers: the coverage won't end in August. We're proud to support romance novels, and we will continue to do so all year long.
Images: Pexels