The Kylie Cosmetics Majesty Packaging Is Stunning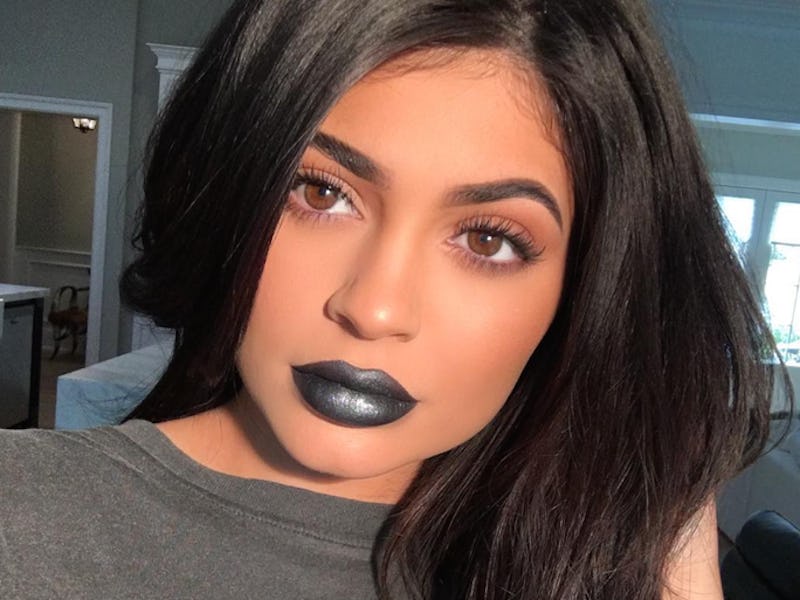 It seems as though Kylie Jenner is hell bent on expanding her Kylie Cosmetics empire as much as possible, making her fans incredibly happy in the process. A few shorts weeks ago, Jenner announced her metal matte black lip, Majesty, and it's been pandemonium since. Case in point: Much to fans' delight, Kylie Cosmetics' Majesty packaging made its Snapchat debut, and it's even more beautiful in its classic Kylie Cosmetics tube than imagined. While the Majesty swatches were gorgeous, the product inside the packaging is even better.
Majesty has been one of the most anticipated shades in the Kylie Cosmetics family. While colors like the nude of Exposed and shimmering matte gold of Heir, have all been fan favorites, Majesty is set apart for its specifics design for Jenner's fanbase. When the reality star and Kylie Cosmetics owner polled her millions of followers regarding the shade they'd most like to see, black was the clear winner, and Jenner noticed. That may be why she's held off giving every view of Majesty until close to its launch date.
Typically, Jenner showcases the packaging when she debuts swatches of her new shade. That wasn't the case with Majesty. The stunning black metal matte features a gorgeous blue undertone that Jenner debuted in both a swatch and on herself, but until Tuesday night, no one had yet to see it in its classic Kylie Cosmetics packaging.
In its packaging, Majesty takes on a near steely gray hue that's particularly stunning. While fans know that the shade comes as a more blue-black hue, the different in packaging and application just show its dimension. Majesty is full of tonal shifts that make it perfectly unique.
While Jenner has since announced and launched Dead of Knight, her all matte, black lip kit, Majesty still holds a special place in fans hearts. After all, the hue had Twitter going insane. Despite the popularity that Dead of Knight had, Majesty is sure to rival it during its launch.
The black metal matte is set to debut on June 16 at 11am PST, and it's just a matter of time until fans get to see if the shade rivals the popularity of dead of night. If the Kylie Cosmetics Majesty packaging is any indication, this gorgeous metallic is Jenner's edgiest, most versatile shade to date, and if I had to bet, it's going to sell out faster than any of its predecessors.
Images: Kylie Jenner/Instagram; Kylie Jenner/Snapchat