Here's 9 Ways To Make DIY Pore Strips At Home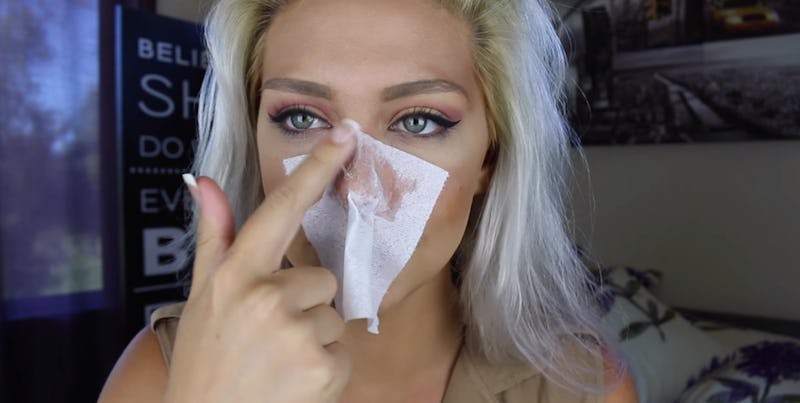 It can get overwhelming to walk into a store and try to pick out a skincare item. There's so many different options that sometimes it's easier just to just do it yourself. You've probably heard of homemade face masks, but it turns out you can make your own pore strips at home too. It's actually pretty easy and a whole lot cheaper than buying them.
Sometimes it's easier (and a lot less messy) to just run to the store and pick up your favorite skincare products, but not this time. It turns out it's pretty darn easy to get rid of blackheads at home using things that you probably already have on hand. It doesn't matter if you're the best DIY-er in town or you're a first timer, making these masks is super easy. All you have to do to make pore strips is mix two ingredients together. It's fool-proof!
Even better than how easy it is are how many different recipes are out there. Between the nine different recipes, odds are you have the ingredients already in your kitchen to make at least one of these at-home pore strips. If you've got household staples like an eggs, milk, or honey, then your halfway to a spa day.
Before you recreate any of these DIY strips, make sure to rinse your face with warm water to open up your pores. That way you can get the most out of your skincare concoction. Here are some of the top recipes for you to recreate on your next at-home spa day.
1. Toilet Paper & Eggs Strips
If you can crack an egg, you can make this pore strip. All you have to do is separate the yolk from the whites and wipe it on.
2. Gelatin & Milk Mixture
Just mix some unflavored gelatin with milk and you're good to go!
3. Active Charcoal Mask
Charcoal masks are huge right now, but I bet you didn't know how easy it is to make them at home.
4. Glue Strip Remover
Remember when you used to put glue on your hand, let it dry, and peel it off? Well, it turns out that you can use the tactic on your face too.
5. All-Natural Oils
This one is for all you vegans out there. Eucalyptus Oil and Xanthin Gum combine to create one high-powered pore strip.
6. Milk & Honey Napkins
Two everyday ingredients combine to make an affordable pore strip option.
7. Mod Podge Facial
If you're a master crafter, odds are you have some Mod Podge lying around your house. This product works just like the glue mask. Just put it on, let it dry, and peel it off.
8. Backing Soda & Toothpaste Brush
Huda Kattan of Huda Beauty learned this recipe from one of her subscribers. It's a super simple (and minty) way to get rid of blackheads.
9. Agar Agar Calming Peel
Using Agar Agar, Camomile, and Calamine, this could be the most soothing DIY pore strip of them all.
It't that easy, people!
Images: Nicole Skyes/YouTube (1), Dan Watson/UnSplash.com (1)