Luann's Engagement Isn't Well Received On 'RHONY'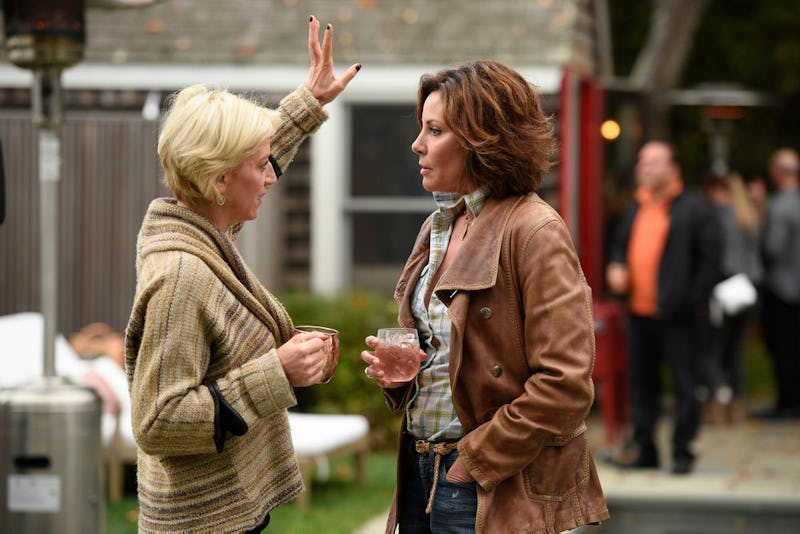 We've seen a whole life cycle of Luann de Lesseps. In Season 1 of Real Housewives Of New York, she was a happily married mother of two… then she got divorced. Next, she started sowing her wild oats (the pinnacle of which was the "don't be all… uncool" episode), and now, it seems like Luann is about to settle down with beau Tom D'Agostino. Luann is engaged, but the other women on Real Housewives Of New York are not that happy about it.
I know, you're supposed to be happy for your friend and everything, but Luann could be walking into a bad situation here. From the beginning of her dating Tom, Ramona and Sonja both said how Tom had dated and bedded them, respectively, rather recently. At the beginning, Luann was nonplussed by that, saying that she was dating other people too and Tom told her all about it. Now, six weeks into their relationship, Luann told all of the girls that she and Tom wanted to get married and everyone's like, "huh?" Luann isn't that impulsive a person, but damn, that's soon. When Ramona told Luann that Tom still sends his ex-wife jewelry and tells her he loves her, she didn't want to hear it. You can lead a horse to water, Ramona, but you can't make her drink.
Should Ramona have delivered that news a little more gently? Probably. But this is something that Luann needs to know should she want to spend the rest of her life with this man. Sonja didn't say much of anything, and she should have, especially if she was sleeping with him during the time that Luann was dating him (unknowingly, of course). This can go one of two ways — Luann can blow off her friends, marry Tom, and end up heartbroken someday, or Luann can listen to the housewives, dump Tom, and move on. I wonder which she'll choose?
Images: Matthew Eiseman/Bravo; Giphy