5 Ways To Celebrate LGBTQ Pride On Facebook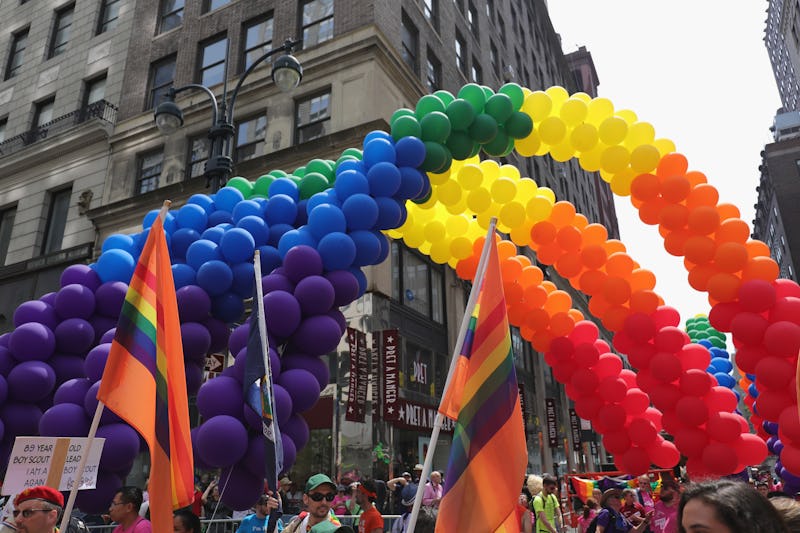 Neilson Barnard/Getty Images Entertainment/Getty Images
We're smack dab in the middle of Pride Month, and if two weeks of festivities have left you too exhausted to move — or if you're an introvert to whom parades are akin to drawn-out medieval torture — you may have one topic on your mind: How to celebrate LGBTQ pride on Facebook. After all, it's simultaneously the easiest and most public way to let your LGBTQ flag fly. All your friends and family are pretty much guaranteed to see it pop up on their newsfeeds, but updating Facebook doesn't even require you to leave the comfort of your Orange Is the New Black marathon in preparation for the new season. What's not to love?
However, it's important to note that Pride Month isn't just about celebrating the LGBTQ community, although that's a large part of it; it also involves educating the public about the obstacles still facing LGBTQ people. The celebration itself only exists after decades of advocacy and perseverance — in fact, June was chosen as Pride Month in honor of the Stonewall riots, a series of demonstrations in 1969 spurred by a police raid on the popular gay bar in New York's Greenwich Village. It's easy to assume that things are better now, and in some ways they certainly are, but events like the recent, tragic Orlando massacre have made it clear that challenges remain ahead for the LGBTQ community.
This isn't to say you can't enjoy yourself during Pride Month (by all means, go forth and happy hour to your heart's content), but it is important to remember those who came before us. With that in mind, here are five ways to celebrate LGBTQ pride on Facebook.
1. Change Your Cover Photo
Cover photos are the first thing you see on someone's profile page, and using a giant honkin' rainbow as your cover photo is a great way to make sure people know you're celebrating Pride Month. However, you can totally get creative — you can use a quote by an LGBTQ historical figure, upload a picture of you and your friends at a Pride parade, or whatever else floats your rainbow-colored boat.
2. Share LGBTQ Media
Facebook is far and away one of the easiest options for making sure your friends see articles or videos, and sharing LGBTQ-focused media is the perfect way to support the community.
3. Talk About Your Sexuality
If you're already out, there's no better way to chip away at prejudice than by being yourself, openly and without apology.
4. Filter Your Profile Picture With A Rainbow
I know, I know. Everyone and their mother (literally) changes their profile picture in support of the LGBTQ community, but it's still a nice gesture. To get the filter pictured above, head over to RainbowFilter.io, where you can upload your photo and save the filtered version or simply log in through the website to have the rainbow filter added for you.
5. Filter Your Profile Picture To Support Orlando Shooting Victims
If you're looking for something a little more political than just a rainbow, there's another option: Filtering your profile picture to support gun control in the wake of the Orlando massacre. LGBTQ rights and gun control may not seem related at first glance, but the LGBTQ community, and particularly LGBTQ people of color, face disproportionate violence in the United States. Restricting civilian access to weapons can only help curb such violence.
After the Orlando shooting, the Brady Campaign to Prevent Gun Violence created a filter reading "#EnoughGunViolence" for Facebook profile pictures. If you're interested in supporting gun control and the LGBTQ community, there's a tutorial on how to filter your profile pic here.
Images: Getty Images (3); Claire Warner/Bustle (2)