The Sweetest 'Charmed' Reunion Finally Happened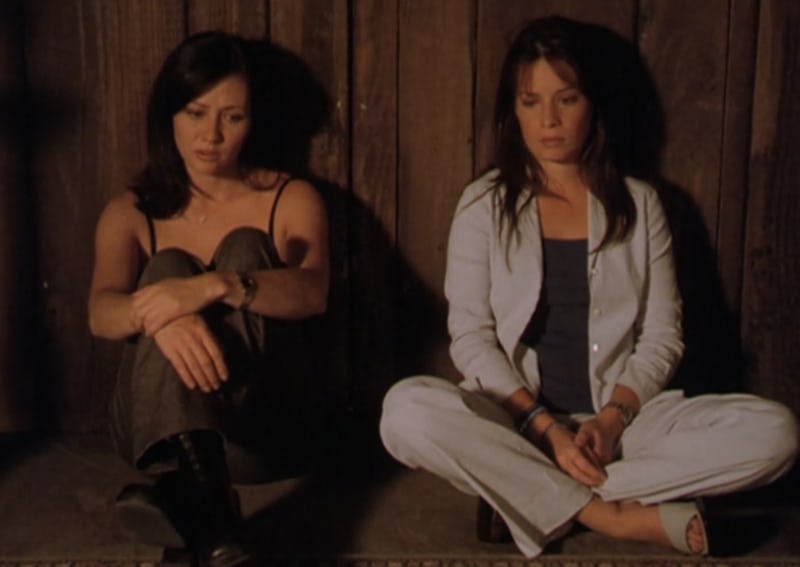 Magic is in the air. In a current era of revival rebirth, the question of whether or not the Halliwell sisters will return to the small screen to conjure up even more spell-bounding twists is on everyone's minds. Though nothing official has been recited from any spell books yet, a recent Charmed sisters reunion between Prue and Piper has even more fans craving for a resurged '90s cult obsession. While attending opening night of Bizet's Carmen Wednesday, Holly Marie Combs and Shannen Doherty reunited at the Sydney Opera House. Ugh, the feels.
After running on the WB for eight seasons from 1998 to 2006, Charmed bewitched fans everywhere when it became one of the most famed supernatural shows on television. During a spark of vampire and witch fascination, the show curated a religious following off of feel-good romance and intense sibling dynamics. Though Doherty's character was killed during the Season 3 finale and replaced when actress Rose McGowan assumed the role of a third sister, seeing the two costars spoke on the red carpet with nothing but smiles and laughter, I can't help by be overcome by the nostalgic feelings of sisterhood, powerful women, and demonic livelihood quickly crept on me.
And guys, it makes me want to see Piper, Prue, Phoebe, and Paige conjure up even more fervor in a revival special, am I right? I mean, if shows like Boy Meets World, Full House, The X-Files, 24, and Gilmore Girls can make comebacks, then why should we count Charmed out?
Luckily, most of the cast is on board. Back in April, before the sweetest '90s show reunion of all time, Combs spoke to Us Weekly about the likelihood of a reboot and remarked: "People keep talking about it. CBS has the rights to it," she said. "I heard they tried to do a pilot a few years back. I know all the girls would like to do it, too." Can I get a heck yeah?
Alyssa Milano, who played the youngest of the full Halliwell sisters, Phoebe, for all eight seasons, has also been campaigning for a revival since March on her personal Twitter: "#Charmed fans! Nothing has been confirmed. CBS is developing a reboot without the original cast. That's all I know for sure," she wrote. "With all the reunion shows it seems like #charmed would be a great choice since we have the most loyal and best fans ever. But I would imagine until CBS makes a decision on their reboot a true reunion type of show will not be happening due to CBS owning the rights."
She also mentioned to Entertainment Tonight even earlier in February that she was ready for a reunion. "It seems like that's going to happen any second," Milano told ET. "I just feel like, with all these reunions, and we still have such a cult following, that I feel like someone's going to put that together at some point, and we're all totally on board for that!" Not to mention, Doherty also confirming her willingness to the idea tweeting to Milano back in 2013.
Despite no authoritative green light on a resurrected Charmed series, if this Halliwell sister reunion even between the living and the dead is any indication of a possible reboot, reunion, or movie — it's amazing to know everyone will be on board. Here's hoping Netflix picks up the opportunity.
Images: Warner Bros. Television