Kat Von D-evotees React To Serpentina On Twitter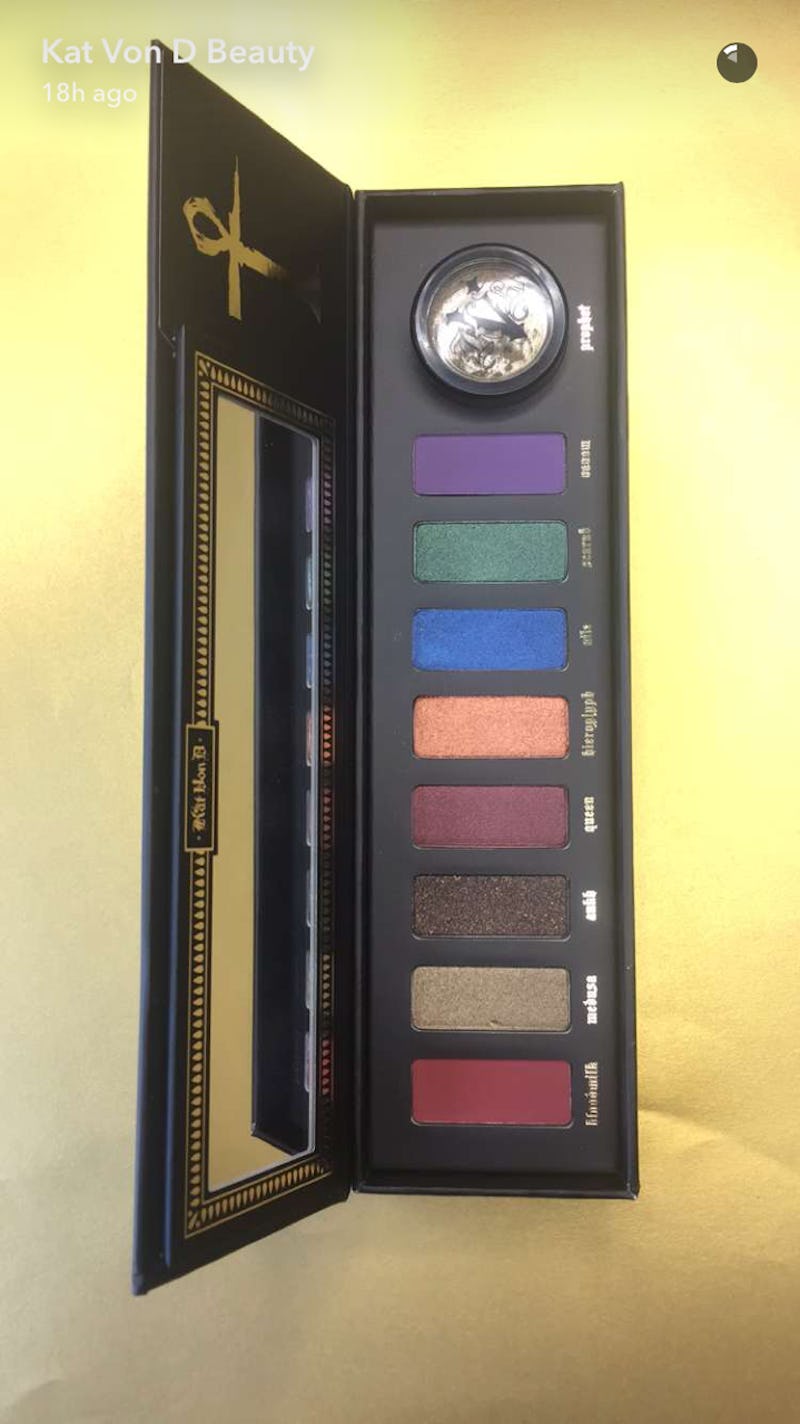 Beauty brands can usually look to Twitter or other forms of social media to gauge legit customer reaction to a product tease. Kat Von D Beauty revealed the colors of the Serpentina eyeshadow palette via Snapchat and fans have erupted, happily so, on Twitter. The palette was already a source of social media buzz, since the KVD Beauty team debuted the shadow shades but obscured them with a grey filter. It was a major tease that made it appear as though Serpentina was comprised of shades of grey and it came before the day before they shared the actual jewel tones that comprise the palette. Once the tease and the wait were over and the official, gem-like hues were revealed, fans headed to Twitter to express their excitement and their joy.
Kat Von D-evotees were passionate in their response and that is to be expected. The brand has a seriously diehard following. The palette, which lands on July 5 at Sephora, is vegan, and limited edition, comes in a long, slim, black case and holds eight pans of shadow and a pot of loose pigment. So. Many. Eye. Looks. Are. Possible.
Below is a look at Serpentina via a screen grab from the Kat Von D Beauty Snapchat reveal.
Precious gems, right?
Here is the packaging, which is equally as beautiful as what's inside.
Straight from the source, yo!
Now that you have finished shaking and crying with excitement, let's see how everyone else reacted.
Priorities! #ByeMoney
This makeup junkie is ready to sell a major organ for Serpentina.
I can't disagree with this fan.
I am experiencing a similar emotion and response.
This fan pledged to purchase without even seeing Serpentina. Kat Von D products inspire and have earned that sort of loyalty.
Same here! This user tweeted back before we even saw the tease or the actual colors.
The budget struggle? It's real.
But the green shade that is in the palette is so pretty!
The brand effectively generated excitement with the teases.
Definitely a "need!"
So cute! All the feels!
Images: Kat Von D Beauty Snapchat (1); Kat Von D Beauty/Instagram (1)