9 Hacks For Feeling Fresh Right After Work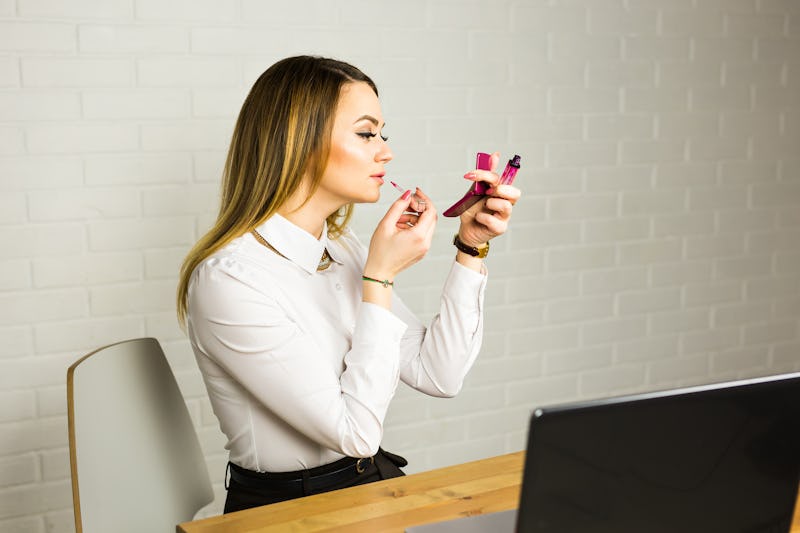 I shower every single day, even when I'm sick as a dog and plan to leave the house only to pick up a pack of tissues at the drug store. For me, it's really important to have beauty products that help you get ready faster and feel fresher, so I can be where I need to be, when I need to be there. Having a few smart ways to feel fresh and get ready faster can make your work-to-home-to-happy hour much more seamless.
Even if you work from at a desk, a full eight hours of thinking can make you feel less than fresh and make getting ready quickly seem impossible. Not only do high levels of cortisol (the stress hormone) cause excessive sweating and oil production, but a recent study just emerged that explains how networking actually has the ability to make people feel physically unclean. What? Yes. That study happened. Forget it if you've got a physically-demanding job, a two hour commute in a sweaty train, or a workout routine that you shove between work and socializing. Here are some of the best and most natural ways to freshen your hair, de-oil your face, and deodorize your body in a pinch.
Spray Essential Oils Everywhere And Anywhere For Instant Freshness
Indigo Wild Zum Mist Aromatherapy Spray , $11, Amazon
Essential oils are a wonderful, wonderful thing, as they interact with the body and mind like an all-natural medicine, and some are super effective at cleansing the skin thanks to their antimicrobial properties. Indigo Wild Zum Mist Aromatherapy Spray is made from pure essential oils like eucalyptus, which has antibacterial, antiseptic, and deodorizing properties. It's safe for use all over the body, too.
Make Your Hair Appear Freshly Washed With Absorbent Ingredients
Organic Mermaid Dry Shampoo , $19, Amazon
It's so rare to find a dry shampoo that actually freshens hair without clumping, discoloring, depositing a gritty residue, or leaving the dreaded oily-again-in-two-hours sheen. Organic Mermaid dry shampoo works because it uses all-natural and super absorbent ingredients that make your hair look and smell freshly washed, so a quick sprinkle after work and before your evening out is all you need.
Cleanse With Towelettes The Natural Way
Herban Essentials Towelettes , $16, Amazon
Tons of people use antibacterial wipes as a quick and easy way to clean up, but most of them are filled with chemicals and astringents that irritate and dry out the skin, as well as alter your pH and natural skin flora. Herban Essentials towelettes use all-natural essential oils to cleanse the skin and give you a fresh, just-washed feeling, all while smoothing and moisturizing. This bag comes with three different scents (lemon, lavender, and peppermint), so you can choose your favorite way to revive.
Clean Up Your Makeup With One Simple Dusting
Physicians Formula Organic Matte Finishing Powder , $10, Amazon
Sometimes there's just no time to touch up your makeup, but a quick dusting of this Physicians Formula organic matte finishing powder will make it look like new again. It's an entirely translucent powder that absorbs excess oils and evens skin tone, all without affecting the look of your makeup. It's easy to apply, as the bottle evenly distributes the powder through a goat hair brush. Plus, the cap comes fitted with a mirror, so it's great for on-the-go.
Cover All Your Bases With A Five-Minute Shower
Organic African Black Soap , $13, Amazon
For the quickest shower of your life, lather up with organic African black soap, as it covers so many bases at one time — this little bar exfoliates, cleanses, and moisturizes everywhere from your body to your face, and it does so with great, all-organic ingredients that cleanse and nourish skin. It's amazing for all different skin types (even the most sensitive) because it's natural and jam-packed with nutrients and health-giving oils.
Remove Excess Oil From Your Face And Body
Premium Facial Oil Blotting Paper , $12, Amazon
I'm entirely in love with this Premium facial oil blotting paper because it has two simple ingredients: hypoallergenic natural linens and bamboo charcoal to soak up any and all excess oil, sweat, and dirt that collects on your face during the day. It works beautifully with or without makeup, and because it's all natural, it won't clog pores or cause breakouts like other brands.
Upgrade To Rose Water For Clearer, Fresher Skin
Organic Rose Water Facial Spray , $19, Amazon
If you're in a huge rush, a splash of water might be all the freshening you've got time for. Upgrade your water to this organic rose water facial spray, which is just as easy, but it's antibacterial, anti-inflammatory, balances the pH levels of your skin, cleanses and shrinks pores, is loaded with antioxidants, and smells incredible. People are obsessed with this brand because it's USDA-certified organic and contains no fillers or additives — just the effective solution that is rose water.
Use An All-Natural Full-Body Deodorant
Thai Deodorant Crystal Stone , $7, Amazon
This Thai deodorant crystal stone is made up of one ingredient: mineral salts, which interact with the sweat and bacteria on your skin to overcome odor and create freshness all over. This reviewer sums it up pretty nicely: "It does not sting, it leaves no visible traces on my skin, it is not sticky or goopy… all on top of the most fundamental and key quality: I do not develop any stinky body odor *at* *all*, all day, in all climates."
Wipe Up Excess Moisture With A Great Travel Towel
ECOdept Journey Towel , $25, Amazon
For instant hygiene, a towel can be your best friend — but not if it collects a mildewy smell when it's kept in your car or in a bag. This ECOdept Journey Towel is naturally antimicrobial, super fast-drying, extra absorbent, and weighs next to nothing. Combined with its complimentary bag and free hand towel, it's one of the best travel towels available. Give people the choice of five great colors, and no wonder it's got a five-star rating.
Bustle may receive a portion of sales from products purchased from this article, which was created independently from Bustle's editorial and sales departments.
Images: Fotolia (1); Amazon (9)