Early Signs That Jordan Will Win 'The Bachelorette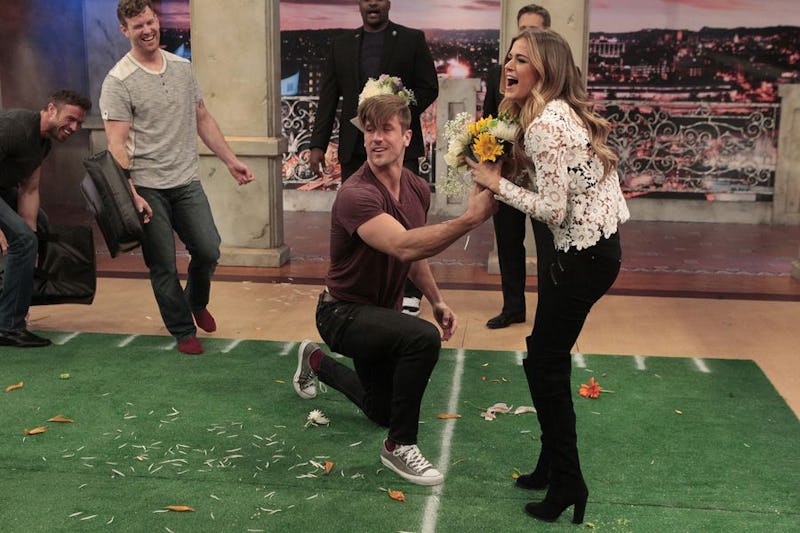 There are always those few contestants on The Bachelorette that fans just know will make it to the end. There is a clear handful of dudes that make their presence known and make a seriously incredible first impression on the show's star. This season, Jordan Rodgers is a Bachelorette frontrunner. His chemistry with JoJo is extremely clear to us at home. And, chemistry aside, there have been some very obvious, early signs that Jordan will win this season of The Bachelorette.
I kind of feel like the season could end now and Jordan would easily walk away with JoJo's heart. It seems like the other men in the house may be getting that vibe as well because they have started becoming a little more catty towards him. That's usually a clear signal that the other contestants are feelings the heat between a contestant and the star, and the other contestants are now in survival mode tossing out any allegation they can to away JoJo's mind. Fortunately for Jordan, it doesn't look like JoJo is turning on him anytime soon. These two could go all the way.
Here are some signs that point to a Jordan and JoJo love story in the end.
Their Initial Chemistry
These two hit it off right off the bat. It was like fireworks when they sat down to really chat for the first time. It seemed like they were both nervous and like they were talking to their first crush. It was pretty adorable. There is certainly something to be said about chemistry.
The First Impression Rose
It's not science, but the First Impression Rose has to mean something. It's not given to just anyone and Jordan received JoJo's this season. She clearly was smitten from the jump.
He Was Her First Real Kiss
JoJo had to endure a pretty rough kiss with another contestant on the first night. It was quite possibly the most awkward kiss I have ever seen on the show. Luckily, she got to erase that foul memory with a lovely kiss from Jordan. You can tell a lot about a relationship from a kiss and theirs was sweet as hell.
He Took Initiative
Speaking of that kiss, Jordan took the initiative to steal JoJo away a second time to plant it on her. He made sure he got some face-to-face time with her as much as he could that night, and those guys are usually the ones who go far.
She Kind Of Admitted It
JoJo told Entertainment Tonight that she already had her top three guys in mind. Of course, she spoke of Jordan. She insisted in the article that she didn't know much about him before he was on the show, so the fact that his brother is Aaron Rodgers, the quarterback for the Green Bay Packers, has nothing to do with her choices.
Basically, there is little to no reason why these two wouldn't fall and love and live happily ever after. I think we will see Jordan at the very end, and I honestly believe he will walk away with JoJo by his side.
Images: Rick Rowell (3), Craig Sjodin/ABC