13 Signs That Jordan And JoJo Will End Up Together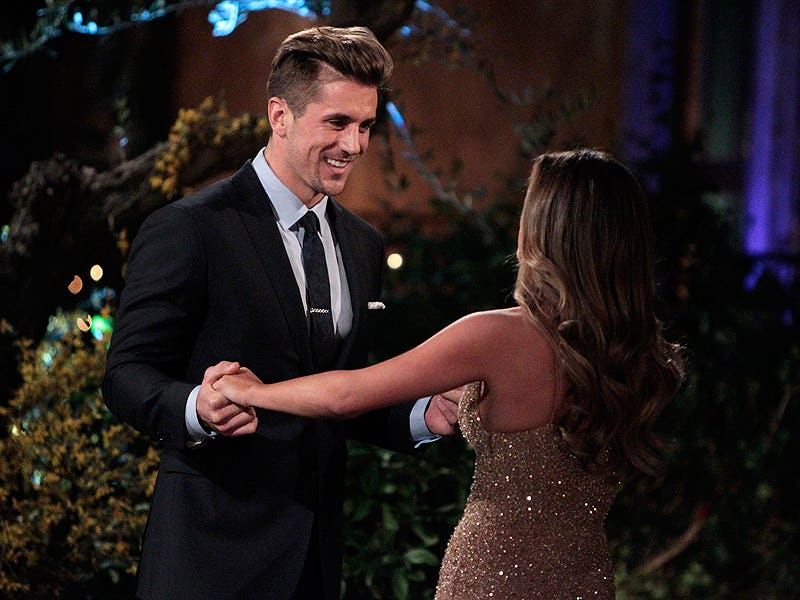 It's really no wonder that some people say they can tell who the winner of The Bachelorette will be from the very first episode. With just a few weeks to find and secure love by the season finale, things like first impressions, initial interactions, and instant connection matter a lot on a show like The Bachelorette. When it comes to who will win, it often is all about who makes the best initial impression on the main contestant. And for JoJo Fletcher this season, Jordan Rodgers has made a memorable first impression. From the first impression rose to the first kiss, Rodgers has laid a lot of groundwork already to becoming the winner of JoJo's heart on this season of The Bachelorette. But there are other signs that he is the one for her, too. In fact there are a lot of signs that Jordan and JoJo will end up together on this season of The Bachelorette.
Whether you believe in it or not, when it comes to a show where people are falling in love within days of meeting each other, having great chemistry matters. But that initial spark is just one of the signs that Jordan and JoJo are made for each other. Take a look at all the signs that these two lovebirds are going to end up together.
1. She Gave Him The First Impression Rose
And while this might not signal that he's definitely going to win the game, anyone who has ever been on a date (or spent two seconds on Tinder), knows that first impressions are super important.
2. He Was Her First Kiss
Given that she was less enthused about the half kiss that she got earlier in the night, JoJo was super into swapping spit with Rodgers.
3. She Knew About Him Ahead Of Time
Even though she denies being in touch with him before the show started filming, JoJo admitted in an exclusive interview with Entertainment Tonight, JoJo admitted she knew that Jordan Rodgers would be on her season before filming began. She said that there was no contact between the two of them before he got out of the limo on night one, but the fact that JoJo knew about Jordan ahead of time could mean that she's already set her sights on him. And we all know that it's hard to shake those initial desires, no matter how many other men come your way to distract you.
4. He Was The First Contestant She Saw
It could have just been because of editing, but when the first episode aired, Rodgers was the first man to step out of the limo and introduce himself to JoJo. Being the first guy that JoJo saw will likely make a very lasting impression in the Bachelorette's mind.
5. He Got Two Private Moments With Her The First Night
The first night in the Bachelorette mansion often lasts until all hours of the morning, mostly because a lot has to happen, including one-on-one time between JoJo and her 25 men. The fact that Jordan scored two one-on-one moments with JoJo in the first night definitely bodes well for their future.
6. He Went With Her On The First Group Date
So did Lauren B. in Ben's season. That first group date often includes some of the season's top contenders, so it's a pretty good sign that in pictures from the second episode, JoJo seems to have included Jordan on her first group date.
7. He's In Her Top Three Already
In an exclusive interview with Entertainment Tonight, JoJo admitted that she already had three top contenders in mind. And you better believe Jordan Rodgers was one of them.
8. They Have Amazing Chemistry
It really is impossible to deny.
9. The Guys Are Super Threatened By Him
As much as guy drama might be a warning sign that something is up with Jordan's intentions, it could also mean that the men are threatened by him because he's a top contender. Remember, the girls were super threatened by Lauren B. during Ben's season, and that was largely because Ben was giving her all of his attention.
10. They Had An Immediate Connection
In an exclusive interview with Entertainment Weekly, JoJo admitted that she felt an "immediate connection" with Jordan Rodgers, which sounds a lot like what past Bachelorettes have said about their final picks.
11. They Were Like Boyfriend And Girlfriend On Night One
In the same exclusive Entertainment Weekly interview, JoJo says that she and Rodgers were like boyfriend and girlfriend from night one. Ummm, sounds like a sure sign that these two are MFEO.
12. They Kind Of Look Alike
Remember that study that said that people are most attracted to people who look like them? Well the fact that these two strike a strong resemblance to each other could be a good sign that love is in the air.
13. He's Totally Her Type
If you put Ben and Jordan side-by-side, they don't seem that similar, but the fact that JoJo fell for Ben — a tall and handsome former football player — could be a good sign for Jordan, who is all of those things, too.
So there you have it, folks. All the proof anyone needs to be convinced once and for all that Jordan and JoJo are totally going to end up together on this season of The Bachelorette.
Image: ABC/Craig Sjodin; ABC/Rick Rowell (9)