'Swiss Army Man' Has A Crazy Origin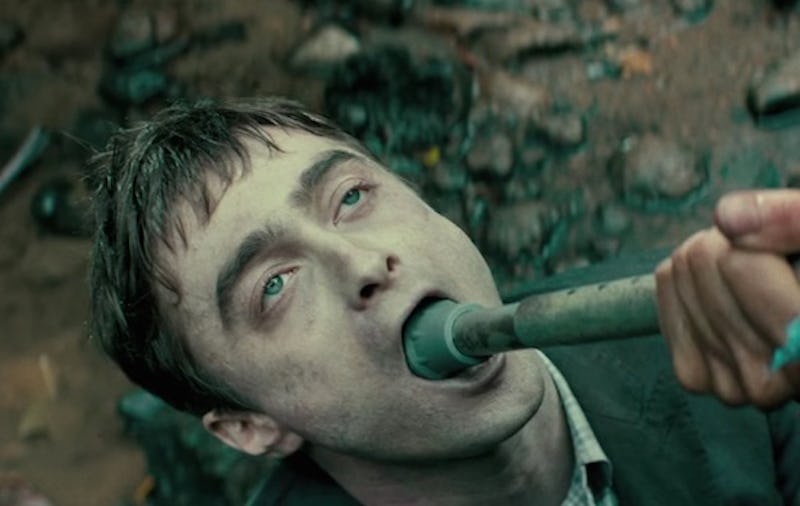 Stop me if you've heard this one before: A man on a deserted island is about to kill himself when he notices a corpse on the shore. The corpse (Daniel Radcliffe) farts a lot, has lots of handy abilities, and eventually talks, so the man becomes friends with the corpse and rides it back to civilization. No? Doesn't sound familiar? Well, that's the plot to the new film Swiss Army Man, and it's probably the most bonkers thing I've ever heard of. So what is Swiss Army Man based on?
Believe it or not, the movie where a guy rides a farting corpse like a jet ski is not based on a true story. Hard to believe, I know. Instead, the wild film is the brainchild of the creative team Daniels, made up of writer/directors Daniel Kwan and Daniel Scheinert. The team are well known for their highly unusual and inventive brand of humor in their music videos and short films — they're the brains behind the DJ Snake/Lil Jon gem, "Turn Down For What" — and their debut feature is no exception. But even when compared to their previous work, Swiss Army Man is especially unusual. So where did the concept for the film come from? Like all great movies, the idea began as a single fart joke.
"Originally it was just a fart joke that Dan made to me," Scheinert said during the pair's Q&A at this year's Sundance Film Festival, as reported by Julie Miller of Vanity Fair. "And then, just joking along the way about how the man riding a farting corpse could be a feature, I think we stumbled on something personal. It was an opportunity to express mortality and big ideas but with fart jokes so we don't feel too self-conscious about it being a full-on drama." Kwan then added, "It was like the dumbest idea mixed with the most personal ideas and we kind of splashed them together to see what happens." So from the simple idea of a man riding a farting corpse, Daniels somehow ended up creating a deeply existential movie. Funny how creativity works.
Scheinert goes a bit more in depth about how the original fart joke evolved into the film in an interview with Erin Whitney of Screen Crush. "I think that the endless problem of this film is what kind of kept us going at it," the filmmaker said. "This is not something you could ever solve. Us being like, 'How can you make farts meaningful? How can we make body humor something profound?' We had no idea going into it how we would ever do that or how it would exist, but every step of the process we had to rewrite and rethink and re-invent a new problem. Every time we solved something, something else came up and f—ked everything up. I think that's why we chose these projects, because we know we'll never be able to solve them. Part of the reason is it's funny to us to tell people it started as a fart joke. To us it's funny to bring that up because it's been years since that fart joke made us laugh."
The pair go on to describe their film not as a comedy, but as a "very personal fart drama", which is weird since that's how I've always described Citizen Kane. Just kidding. There has never been a movie like Swiss Army Man before, and it's all because of a fart joke... followed by a ton of philosophical thinking.
Images: A24; Giphy