Meet TV's Newest Megachurch On 'Greenleaf'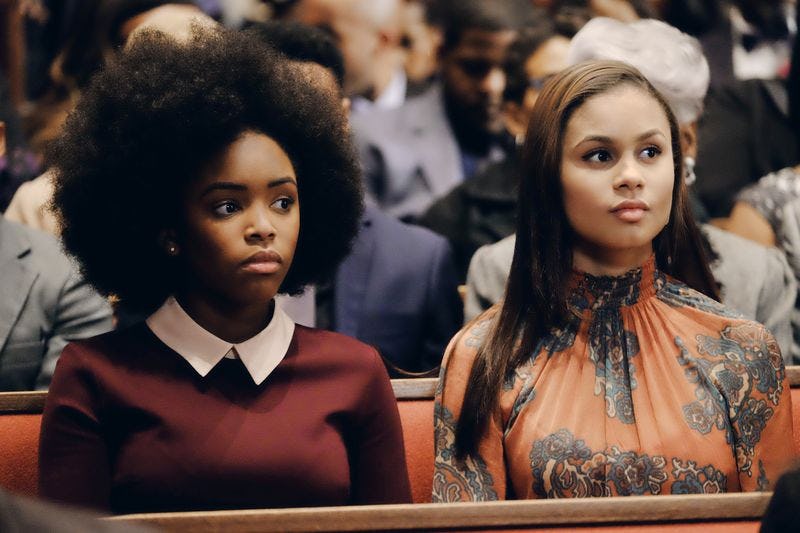 Oprah's back! She's acting again! According to the OWN Network, Oprah 's role on Greeleaf will be her first recurring scripted television role in two decades. (It's not clear if they mean her recurring role on 1990's Brewster's Place, or her two-episode run on Ellen in 1997.) Whatever the role, Oprah's back to TV acting, and the return will be met with much fanfare during a two-part season premiere of Greenleaf on June 21 and June 22. The show is about a Memphis megachurch and the tensions that run between the family who operates it after the mysterious death of one of the family members. Oprah plays Mavis — the aunt of the main character, Grace — who is estranged from the Greenleaf family and the church and wants to use Grace to bring the church down. Sounds tense. Is all that drama based in real life? Is Greenleaf a real church?
The history of this church is not gospel. Oprah said in a press release: "When I first read the script, I instantly felt an affinity for the characters and loved [writer/producer Craig Wright's] creative vision for a fictional drama on an epic scale." (Emphasis mine.) So, if you can't expect facts, what can you expect from Greenleaf?
Intense Family Relationships
Keith David, who plays patriarch Bishop James Greenleaf, told The Root, "This is really about the reality of what happens in a family where the church is the family business." Of course that's a recipe for melodrama. "This whole subject matter has rarely … been broached, and certainly not in this way," David said. Who says that faith can't be a cut-throat business?
Lots of Sex
Just because the story is about a church doesn't mean the subject matter will be squeaky clean. Oprah told the Atlanta Journal-Constitution the church "was a perfect foundation from which to build stories about sinning and the multiple ways we can sin with each other: Adultery. Divorce. Betrayal. Disrespect. Stealing. All those things." Sounds fun!
Salacious Backstories
Was Mavis exiled from the family by Bishop James' wife, Lady Mae, because of history between the two of them? "But there was possibly some action between her and the bishop long ago," Oprah told Us Weekly. "That is part of the tension between Mavis and Lady Mae. That will be revealed at some point." Juicy! But, in the same interview, Oprah adds that she won't be doing her own steamy scenes. "Aunt Mavis don't want that kind of action!" she told the outlet.
Cookie Better Watch Out
If Mavis did run afoul of Lady Mae, she better watch her back, because Mae is going to be TV's new hard-ass. Lynn Whitfield, who plays Mae, told The Root in the same interview that she's happy with the role, because, "People love seeing a bitch they love to hate." They sure do.
Music
Aunt Mavis owns a jazz bar. The series takes place in Memphis. There's no way they couldn't incorporate music into the series. Oprah told Us Weekly that, before the show, she wasn't actually a fan. "I've never listened to jazz. It's just not something I ever paid attention to. But I thought, If I'm gonna run a jazz club, if I've got Miles Davis' posters in my bar, I should at least know what his horn sounds like." Hopefully, the Greenleaf audience will be more appreciative of the music.
Image: Courtesy of OWN: Oprah Winfrey Network (2); Guy D'Alema/OWN (2)