See IRL Swatches Of Kylie's Dark Blue Lip Kit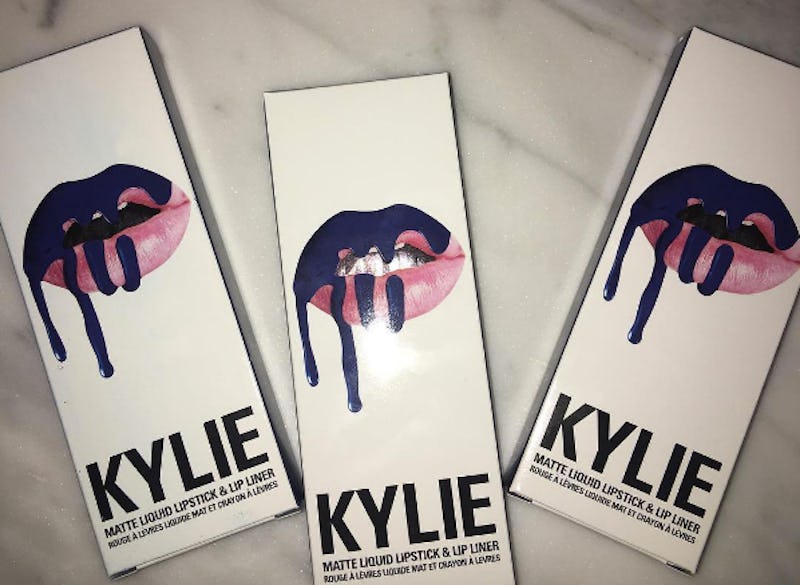 In case you missed it, Kylie Jenner created two blue Lip Kits just in time for Fourth of July. Before you go all "I can't wear unconventional hues" on me, you need to see the swatches. Believe it or not, the dark navy Freedom Lip Kit is actually pretty wearable. Just one look at this gorgeous shade and you'll be setting an alarm for the upcoming Kylie Cosmetics launch.
Jenner might be best known for her nude hues, but she's coming out with some pretty awesome bold shades as well. First, she surprised everyone with a matte black Lip Kit and now she's got not one but two blue lip launches coming. So basically she's a master at every lipstick shade under the sun. While her light blue Skylie Lip Kit is definitely the bolder of the two new colors, they're both completely wearable.
I know, I know. How can a blue lip color be wearable? Well, considering that Fourth of July is right around the corner, there's no better time to stock up on a few patriotic hues. You might just fall in love and wear it all year 'round! But don't just take my word for it, see from the Lip Kit Queen herself.
That looks pretty darn good, if I do say so myself. Jenner opted for minimal makeup loot to show off her new shade on Snapchat. There's no doubt in my mind that it would look just as good with a heavy glam look as well.
Freedom is the darker of the two shades, but they're both equally as gorgeous. I'm loving that she made two options for all her fans looking to sport a patriotic shade in time for Fourth of July. According to her Snapchat and Instagram, both colors will be launching on June 24 — aka just in time for the holiday.
Unfortunately, these two beauties won't be added to the permanent line though. According to Jenner's hashtags, it looks like the two blue Lip Kits could be limited edition. That means you'll need to act fast to get your hands on the lip colors.
There's no exact time of the launch just yet. Odds are Jenner will share that info on her social media as it gets closer to the launch. No matter when it is, you should probably be waiting by your computer, because the unconventional hue will go fast.
Image: KylieCosmetics/Instagram