PSA To Anyone Looking To Buy Blue Wine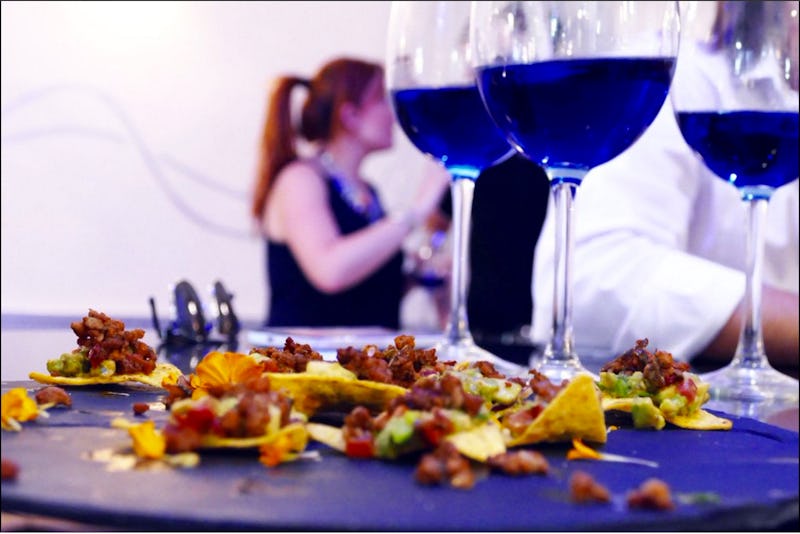 The color options for avid wine drinkers has been pretty universal — red, white, and pink. No matter how much you dreamed of another color appearing on your wine rack in the middle of the night, the wine gods haven't answered you prayers. Until now. A company called Gik has unveiled their blue wine creation, leading many to wonder how to buy blue wine for your own enjoyment. Buckle up, friends, because it'll be worth the wait.
The tale of this blue wine starts like any other amazing tale — six young entrepreneurs from Spain decided to tap into the forever reaching and highly profitable Millennial market with an idea for different colored wine. After all, their website manifesto states that the company believes in creative rebellion and want to innovate and build new things by breaking with the past and inventing the future. A pretty tall order that they fill with this new and inventive product. By using a pigment in grape skin called anthocyanin and indigo, a plant dye, Gik is able to produce the blue hue we all want to take a sip of right away. The rest is just the timeless process of wine making from a blend of red and white grapes sourced from wineries around Madrid.
What truly sets this wine apart from others is not just the eye catching color — it's the recommended food pairing. Instead of the traditional meat, fish, and dessert options that we've heard a thousand times before, this wine pairs best with Millennial staples: sushi and nachos with guac . How's that for innovation?!
Can't you just see yourself with a glass of this bad-ass wine? Well, unfortunately the company is not selling to the U.S. just yet — right now it's only available to consumers in Spain, France, the United Kingdom, the Netherlands, and Germany, and they're only shipping in bulk to businesses. So tell your friends and relatives across the sea to get on it, because just look at this.
In case you have trouble seeing the picture on the label — that is a man's body with the head of a dog, holding two glasses of blue wine. You're welcome.
Good news, though, blue wine-os who are stateside — the Gik creators confirmed that they definitely have plans to expand to the U.S., although they are not certain yet what the time frame on that will be. So keep your fingers crossed, and check in on Gik's website for updates. Hopefully we'll all be living our best, most Instagrammable Smurf-iest lives soon.
Images: giklive/Instagram