11 Must-Know Tips For People With Curly Hair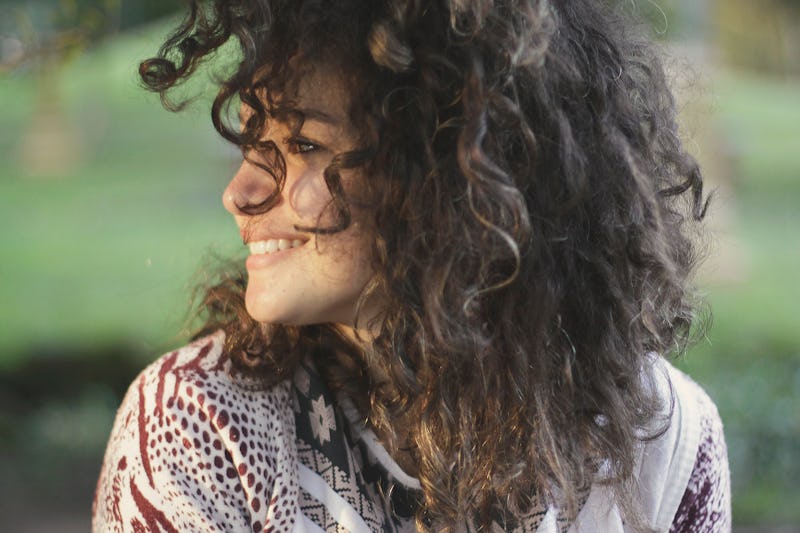 Curly hair is majorly gorgeous, but it can also sometimes be a major pain — especially when it comes to trying to achieve certain hair styles. But worry not; there are a few life changing hacks for curly hair that will kind of change your life.
A ton of women out there with wavy and curly hair spend a lot of time trying to straighten and "tame" it with heat and products. This is pretty ironic, considering a ton of women out there with straight hair are doing the exact same thing in order to get waves. At the end of the day, a lot of us — no matter what our hair's natural texture is like — end up damaging it in the long run because we spend so much time trying to alter the way it looks.
I recently got to a point where I was tired of the look and feel of my my dry, damaged hair and decided I was going to prioritize hair health above all else. I stopped dyeing it, and did some majorly deep internet research on the tools and products I needed in order to bring my hair back to it's naturally healthy state. And one thing I noticed is that while a lot of tips overlapped for all hair types, there were a few that were super specific for curly hair.
So if you're a curly haired goddess and are looking for some maintenance advise, here are 11 simple hacks that everyone with curly hair should know.
1. Dry With A Microfiber Cloth
Turbie Twist Microfiber Hair Towel, $13, Amazon
A compilation piece for Cosmopolitan highly recommended only drying your hair with a super absorbent microfiber cloth as opposed to a regular towel. And always pat and twist, never ruffle!
2. Condition — The Right Way
OGX Organix Conditioner - Nourishing Coconut Milk, $11, Amazon
In a piece for POPSUGAR, stylist Stylist Eladia Lebron said to squeeze moisture our of your hair and to then squeeze in conditioner from mid shaft to ends. Detangle with your fingers, and then rinse with cool water to lock moisture in.
3. Leave-In Conditioner Is A Must
Garnier Fructis Sleek & Shine Intensely Smooth Leave-In Conditioning Cream, $12, Amazon
The same Cosmo piece also stressed the importance of a quality leave-in conditioner, especially if your curly hair is prone to dryness. This will seriously be a game changer in terms of your hair health and texture if you don't already use this.
4. Use A Silk Or Satin Pillow Case
Betty Dain Satin Pillowcase, $12, Amazon
The Cosmo piece also highly recommended sleeping on a satin or silk pillowcase over a typical cotton one. Cotton ruffles the strands and cuticles of our hair more, meaning we'll wake up with frizzer texture in the morning.
5. Invest In A Diffusor For Curly Hair
Conair Hair Diffuser, $10, Amazon
If you've ever wondered what that weird hair dryer attachment thing is, wonder no more: it's for drying curly hair! It makes drying the various layers and tendrils so much easier by evenly distributing the heat. Seriously. Game changer.
6. Use A Wide Tooth Comb
Swissco Wide Tooth Wet Comb, $14, Amazon
A Gurl.com piece by curly-haired author Jessica Booth strongly recommended using a wide-toothed comb over a regular brush when working out knots and tangles. It will drastically reduce frizz and keep your waves and tendrils in tact.
7. Avoid Touching Your Hair
Booth also stressed the importance of touching your hair as little as possible. Touching your hair increases frizz, which makes pretty waves and curls harder to see. I'd especially recommend this on humid days when we need all the anti-frizz help we can get.
8. Tease Strands With A Pick
Grand Trunk Portable Chopsticks, $20, Amazon
For wavy hair that easily frizzes when you use a brush, you might want to try using a pick, or any thin, pointed object to separate the waves. This can help keep your individual tendrils separate and in tact.
9. Steam Your Hair
This tip from YouTube beauty vlogger AlexandraGirlTalk is specifically for those out there with super dry curls. She recommends steaming your hair over a bowl of boiling water in order to let the moisture pentrate your curls, and following up with a moisture serum. She noted that this is a great way to maintain curls and moisture between washes.
10. "Co-Wash" Your Hair Once A Week
Alexandra also recommended a process known as "co-wash," which just means using conditioner on your hair without washing it once a week. This simple addition to your weekly beauty routine can make a huge difference to the health and texture of your locks.
11. Lather, Rinse, But Don't Repeat
OGX Biotin & Collagen Shampoo, $9, Amazon
And finally, on her website, skincare expert Paula Begoun recommended skipping the "repeat" step in your shampooing routine from now on. "For most hair types, shampooing once is truly enough," Begoun noted, which means you won't be unnecessarily stripping your curls of natural oils that keep it soft and moisturized.
Curly hair can feel hard to handle, but just know that there are definitely a few hacks out there to make it more manageable. So go forth, and own it!
Images: Pexels (2)