'American Gothic' Has An Exciting Premise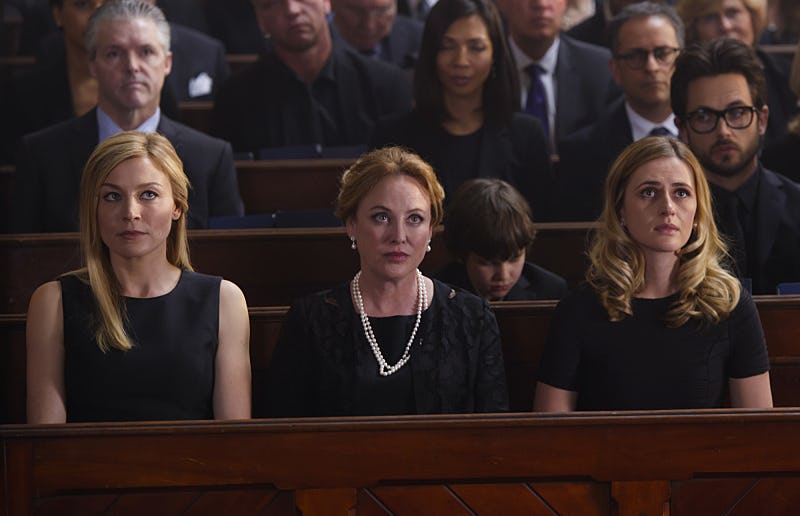 If you love TV shows about prominent families harboring seriously dark secrets, you won't want to miss the premiere of American Gothic on CBS. The thriller focuses on the members of Boston's prominent Hawthorne family who realize that a serial killer may be walking among them. Although the family's now-deceased patriarch is the prime suspect, it seems likely that he had an accomplice within the family. For those of us who love a good mystery, the series looks promising thanks to its intriguing premise and stellar cast (which includes Oscar nominee Virginia Madsen and Megan Ketch of Jane the Virgin). Like most TV thrillers, American Gothic is not based on a true story — but executive producer Corinne Brinkerhoff got the idea from a real-life case. As she told The Los Angeles Times:
"There was a case about a serial killer who was finally caught after going dormant for some time, and he turned out to be a fully functional family man... I was always fascinated and haunted by the duality of that man, and fascinated by the consequences of the people close to him."
According to the show's official synopsis on CBS, the serial killer plotline will cause "shocking secrets from the past and present" to come to light — and members of the Hawthorne clan will become paranoid when they realize the killer may be one of their own. It's anyone's guess how this scandalous plot will unfold during American Gothic's freshman season — but, while we're waiting to find out, let's take a look at what we do know about the show's setting and characters.
There's A Mysterious Prodigal Son
Garrett, the oldest Hawthorne son, returns to Boston after 14 years away. In an interview with The New York Post, Antony Starr says that his character is central to the show's main mystery and he carries many secrets. He teases that his character just happened to disappear right after a string of murders, saying that: "We don't know how he's involved or if he's involved. He inserts himself back into the family and is a cat among pigeons."
A Mayoral Campaign Is Central To The Plot
It's a rule of TV mysteries that families realize one of their own may be a killer at the most inconvenient times. So, the drama will unfurl as Alison Hawthorne-Price campaigns to be Mayor of Boston — which means that her opponent and the press will be digging for any possible skeletons in her closet.
Brinkerhoff tells Entertainment Weekly that Alison is "a very driven, very ambitious political figure" who "looks at the opportunities her family's stature affords her and wants to take full advantage and make an impact for the better." Of course, if one or more of her family members turn out to be killers, that could definitely put a wrench in her plans.
It's Full Of Complicated Characters
In many murder mysteries, literally everyone on the show is a suspect. In American Gothic, all the suspects are members of the Hawthorne family. It's a big family so this doesn't narrow it down that much, but Brinkerhoff also tells Entertainment Weekly that showrunners carefully constructed complex, mysterious personas for each character. "Each one of them has a pretty major secret or demon, as it were, to grapple with... It's a family, so it's not the entire world as a suspect, so you've got to really have many layers to these people."
Art Is An Important Theme
Art lovers, rejoice! Each episode's title and theme will be inspired by a famous American painting, as reported by TVLine. James Whistler's "Arrangement in Grey and Black," Georgia O'Keefe's "Jack-in-the-Pulpit," and Edward Hopper's "Nighthawks" will all get the American Gothic treatment this season.
And, of course, the show's title is a nod to one of the most iconic pieces of American art. As Brinkerhoff tells The Los Angeles Times in the previously mentioned interview: "The painting seems to be this portrait of benign domesticity... But on closer inspection, it's unnerving and a bit awry." So, the show's subject matter echoes the theme of the famous painting.
American Gothic promises to be full of mystery, family secrets, and beautiful art. What more could you ask for?
Images: Christos Kalohoridis (2); Ben Mark Holzberg (3)/CBS