How To Style Your Hair While Your Sleep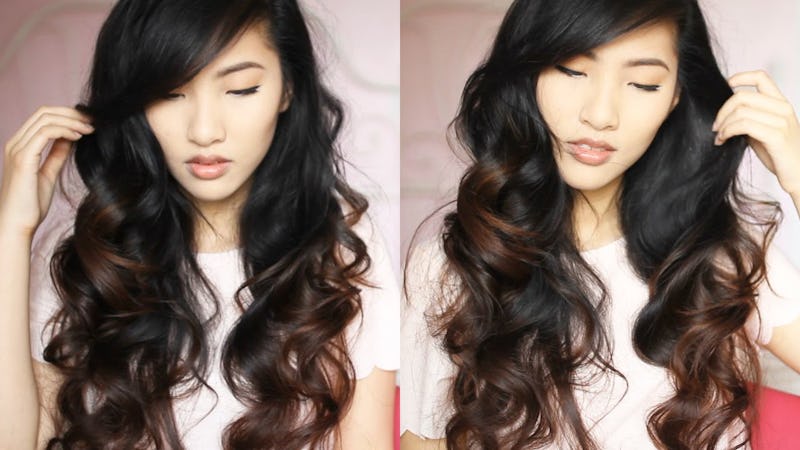 Getting out the door in the morning is a real pain. Styling your hair, makeup, and outfit while still trying to get out of a zombie-like sleep daze is seriously a challenge for all of us. Luckily, there are ways you can style your hair in your sleep that will cut your morning in half.
Yes, you read that correctly. There are actually ways to make your hair look decent while you sleep. While time with your pillow is normally associated with either bed head or sex hair (depending on what kind of night you had...) there are a few simple tricks you can try that will help you wake up with gorgeous locks. Considering not all of us have a Kardashian-style army of hair and makeup people to help us with our glam every morning, we can use all the help we can get.
Especially for those of us who are nighttime showerers, these tricks are, as DJ Khaled would say, a major key. Make sure you wash and condition well before trying them out so your hair is clean and damp enough to hold the style. You can thank me later for the extra 15-20 minutes of sleep.
1. For A Bouncy "I Swear I Just Blew It Out" Look
Wrap your hair in a "sock bun," which is quite literally a bun fastened with a sock, and secure with a bobby pin. Tousle it out when you wake up and spray with shine spray, like this one from Oribe (which I personally swear by) to maintain the look all day.
Oribe Shine Light Reflecting Spray, $39, Amazon
2. For Beachy Waves
Style two loose, french braids on either side of your hair. When you wake up, take them out, toss your head around and spritz generously with salt spray. Hello, surfer girl.
Try: Coolway Beachy Salt Spray, $12.95, Amazon
3. For Smooth, Straightened-Looking Locks
Secure your hair flat on your head with bobby pins and wrap it in a scarf. Not only will you wake up with straight hair, but what is more luxurious than sleeping with a silk scarf on your head? I see you, Liz Taylor.
Try: Stay-On Satin Hair Bonnet, $9, Amazon
4. For Glamour-Girl Curls
Want to wake up looking fresh off the pages of a pinup spread? This one's a bit more complicated. Part your hair on the side and spritz it with a curl-enhancing spray. Then, take torn up pieces of paper towel (or, more eco-consciously, scraps from a cut up old T-shirt) and roll one-inch sections of your hair around the paper towel toward your scalp. Once you reach the root, tie the paper ends of the paper towel together to secure the roll. In the morning, remove the paper towels (obviously) and separate the fingers with your curls. Use hairspray to hold in place.
Try: DevaCurl Set It Free Curl Spray, $16, Amazon
5. For Kinky Curls
Take small sections of your hair and twist them into teeny, tiny buns all over your head. I can't promise it will be comfortable to sleep in, but I can't tell you that even the straightest-haired lady will wake up with some serious ringlets.
6. For Natural Hair
To wake up with flawless looking natural hair, you need to embrace "pineappling," which earned it's name because it makes your head look like a pineapple. Simply gather all of your hair in a high ponytail on the top of your head and secure with an elastic to protect your curls while you sleep and wake up with gorgeous second-day hair.
7. For Total Moisture
Spectrum Naturals Expeller Pressed Organic Virgin Coconut Oil, $12, Amazon
OK, so this isn't actually a style tip, but it's super important. Every few weeks, give your hair a break and deep condition it over night to make sure it's staying hydrated and doesn't dry out? My personal favorite is plain old coconut oil, because it's cheap, works well, and tastes delicious if I need a midnight snack (Kidding!)
Images: Emily Liu/YouTube; Getty; Courtesy of Brands
Happy shopping! FYI, Bustle may receive a portion of sales from products purchased from this article, which were added independently from Bustle's sales and editorial departments after publication.