Makeup Geek Has New Lip Products In The Works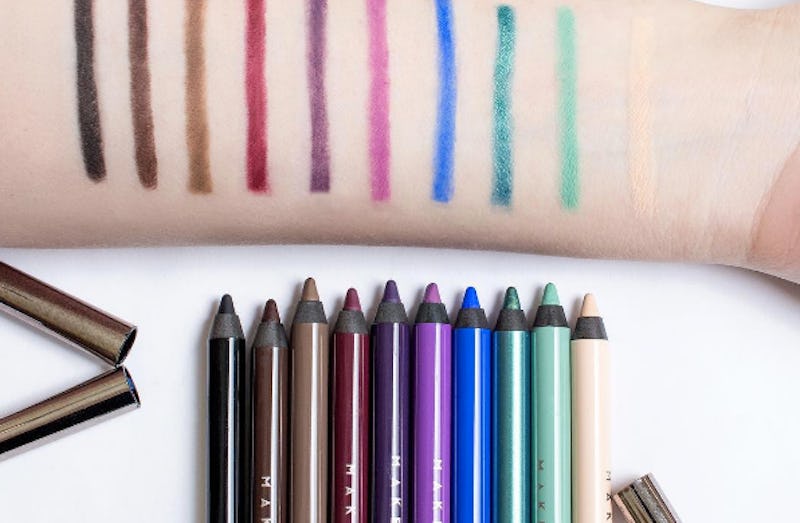 After mastering eyeshadow, blush, and eyeliner, one online company is dabbling in a brand new beauty territory. Makeup Geek is launching liquid lipsticks in addition to a line of highlighters, and you have to see the gorgeous swatches for yourself. The full details to the release haven't been shared yet, but one look at these new products and you'll be instantly excited.
If you're a true Makeup Geek fan, you might remember that the company tried their hand at lipsticks once before. While the lip products were unfortunately discontinued, they're making up for it with their latest venture into the liquid lip territory. CEO of Makeup Geek Cosmetics Marlena Stell posted a sneak peek of some of the new lip shades to Snapchat for all her fans to see. It's not completely clear if these are a liquid lipstick or just a really thick gloss, but either way, it's pretty exciting news.
The photo shows 10 different shades ranging from sparkly nudes to darks purples and even a silver. Not every shades is the most wearable, but it's Makeup Geek's way to throw in some bold colors as well. There really is something for everyone. Just look how gorgeous these swatches are all lined up.
They're all so beautiful that I don't even know which one to focus on first. As you can tell, Makeup Geek is launching highlighters as well. The photo was also posted on Stell's Snapchat. While she put #comingsoon over the entire image, there's no telling if the glosses will be out around the same time or not.
Makeup Geek is already great at their color selection, so it doesn't surprise me that they would branch out. They even created colorful eyeliners as a part of their line. AKA one step towards lip liners.
The makeup brand always does a great job of creating products for a variety of different skin tones, and their newest venture is nothing different. There might only be 10 lip hues shown as of now, but they're pretty darn versatile. I can't wait to see even more sneak peeks!
Images: MakeupGeekCosmetics/Instagram (1)