Twitter Reacts To Cersei's Victory On 'GoT'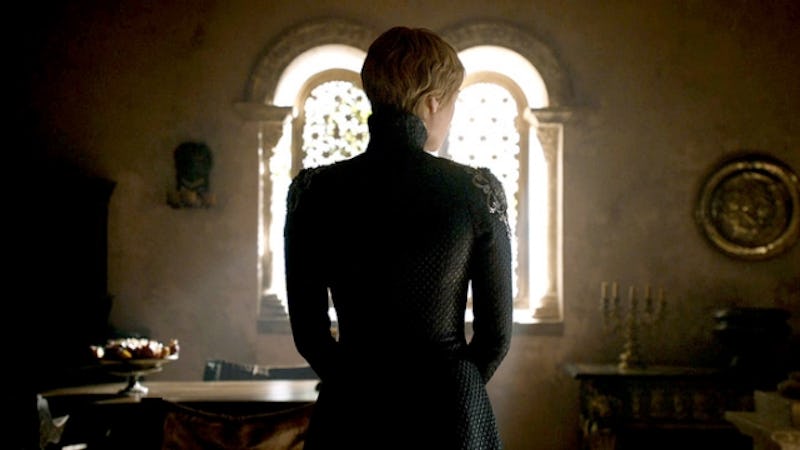 Cersei finally did the damn thing and made the Sept of Baelor go boom on tonight's season finale of Game of Thrones. In one of the most amazing openings to an episode of this show that I have ever seen, a series of events unfolded before us that led to Cersei staying put in the Red Keep and watching out her window as the Sept of Baelor, which held an insane amount of random citizens of King's Landing, as well as a handful of main characters, blew sky high from the cache of wildfire that was set ablaze on Game of Thrones. The moment was epic on so many levels and fans tweeted their shock at Cersei's savagery and made memes in her honor almost immediately.
Unfortunately, not everything went according to Cersei's plan. She made sure Tommen stayed behind, so he would not die in the wildfire blaze, but she didn't account for the fact that he truly loved Margaery and watching the explosion that she died in from his window was not something he was going to live with. Tommen removed his crown and took a leap out of his tower to his death.
It was a busy night for Cersei. Not only did she inadvertently contribute to her son's suicide, and blow up The High Sparrow, Queen Margaery, Mace Tyrell, Lancel Lannister, Loras Tyrell and her uncle Kevan, but she also made sure to get her revenge on someone who had humiliated and tormented her during her stay at the Sept under the Sparrow's control. That's right, Septa Unella, better known as "The Shame Nun" was chained up and left with Zombie Mountain as Cersei closed the door muttering, "Shame, Shame, Shame." Oh yeah, and then she climbed the steps to the Iron Throne and was crowned Queen. I literally can't, and Twitter can't either.
Here are some of the best reactions to Cersei's best episode yet.
Most Were Simply Impressed At Her Ruthlessness
She is not here to play.
For Some, It Brought Nostalgia For The Old Days
Yaaas.
Some Were Just Shocked
I mean, same.
There Was Appreciation For The New Queen
All hail.
Most Were Worried
Could this spell her end?
Some Predicted Her Greatest Foe
Lady Mormont is basically a tiny Cersei in training.
And Of Course, Queen Cersei Herself Chimed In
Can't wait to see what's next for Cersei in Season 7.
Images: HBO