These Are The Two Kat Von D Brushes You Need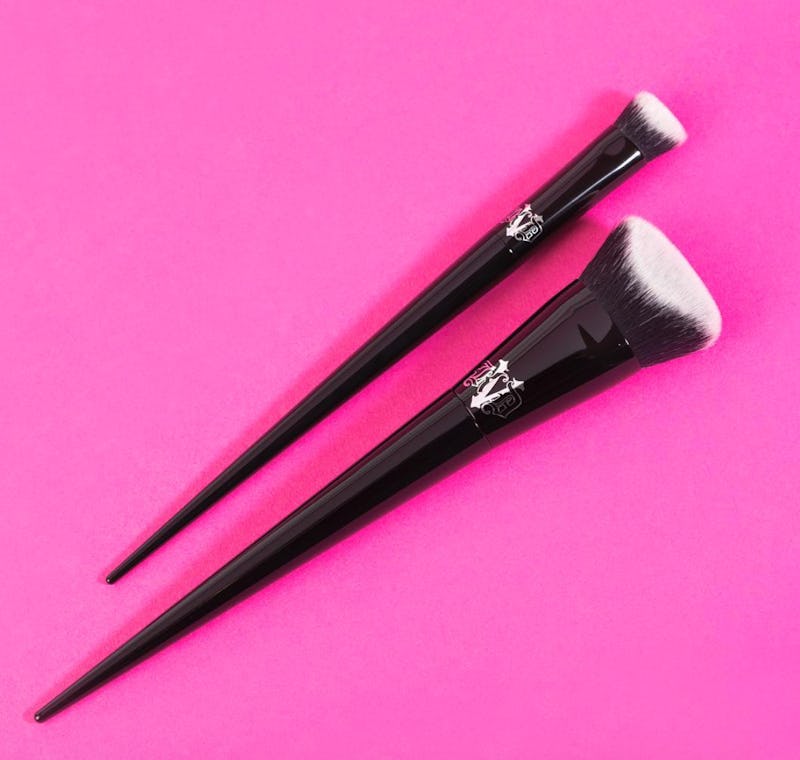 You can spend tons of cash on high-end makeup products but it can be futile if you don't have the right tools with which to apply said product. Kat Von D-evotees who worship the brand's Lock-It Foundation, which is getting a packaging revamp and including 13 new shades, are rejoicing. That's because the Kat Von D Lock-It Brushes are coming on July 12 and they are face-focused wands (or weapons, depending on your perspective) that were designed to be used in conjunction with the Lock-It Foundation and Lock-It Concealer. The pairing pretty much guarantees proper and foolproof application. If you are on a budget, you may need to make some tough make choices here. Which Kat Von D Lock-It Brushes do you absolutely need?
Well, two of these sculpted brushes are total essentials and "must own" if it's complexion perfection that you seek and if you prefer to use cream products.
The Lock-It Edge Concealer brush, with its tightly packed head, will allow you to get into the corners and dot and dab concealer without wasting product. The Lock-It Edge Foundation brush is sculpted and wide, which allows for more controlled dispersal and blending of product.
Let's have another look at these glossy black tools with stiletto-like handles, which can be used to mix product or as a guide for liner! Those are legit multi-tasking options. I love the black and white ombre brush hairs, too.
Lock-It Edge Concealer Brush, $24, Sephora; Lock-It Edge Foundation Brush, $34, Sephora
These two are quite the pair. The concealer brush is $24, while its "big sis" foundation brush is $34. There are four brushes launching next month, including a $38 Lock-It Setting Powder Brush and a $32 Precision Powder Brush. Those can be used for applying, highlighting and setting your powder products.
Lock-It Setting Powder Brush, $38, Sephora; Lock-It Precision Powder Brush, $32, Sephora
I fully understand the desire to want all four of the brushes. If you and your wallet can swing it, scoop them all up. But if you are a Lock-It Foundation diehard, you really should go with the Foundation and Concealer brushes first. They ensure you will get the most out of the product you adore so much. Cream products really do need to be accompanied by the right brush and KVDB just eliminated the guesswork.
Images: Kat Von D Beauty/Instagram (1); Kat Von D/Instagram (1)