What You Should Know About Lightening Dark Hair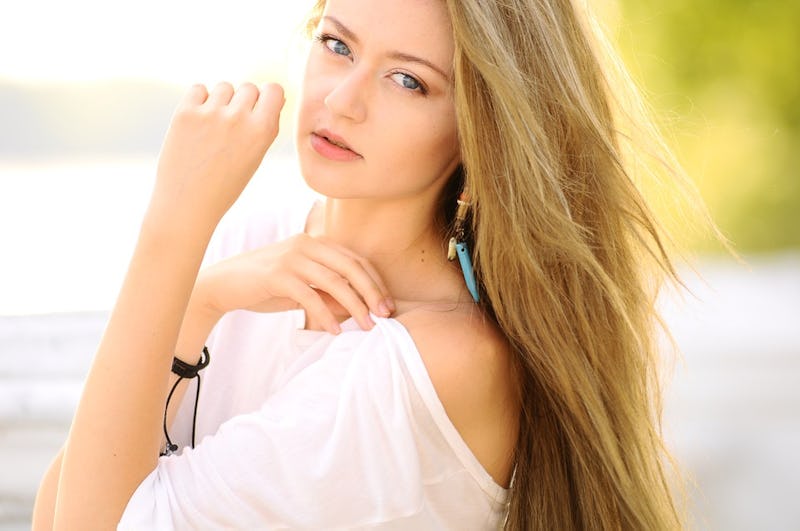 Despite what you may think, lightening darker hair colors isn't exactly an easy process. In fact, it can take multiple sessions in order for your hair color to lighten to your preferred shade. While that may not sound like the most ideal scenario, according to the colorist Aura Friedman in an interview with Fashionista.com, it's the best thing that you an do for your hair in order to get your hair to the exact shade that you're looking for. "A misconception is how long and how much work it actually takes," Friedman said. "It takes a really long time. Most colorists can't do it in just one shot."
Now, the amount of times you have to visit the salon all depends on the shade that you are attempting to reach. If you're looking to go from black to a more golden brown, then it might only take one visit. However, if you're looking to go from black to blonde, then definitely expect at least two to three visits, according to Friedman.
Also, if your hair has been dyed black, then the colorist might have to use a color remover to strip away the older dye. This process in turn will help to remove the pigment leaving behind a brassier, more orange or yellow toned shade behind. Unless this is your desired look (which often times it isn't), the colorist will then either further bleach the hair or use a toner to adjust the shade, according to Bellatory.com.
While lightening black hair is possible, be aware that it will cause damage to your strands. Always be sure to use a leave-in conditioner and hydrating hair products to help keep your locks looking and feeling luscious ink-between salon visits. Otherwise, you may ends may up looking fried. Wondering what products you should be reaching for to keep your strands healthy throughout the process? Here are few products that will help to lighten and hydrate your strands.
Redkin Blonde Idol Mask, $18, Amazon
Keep your hair feel silky smooth with this hydrating and brightening hair mask.
Aveda Camomile Color Conditioner, $21, Nordstrom
Highlight your highlights with this chamomile-infused conditioner. It's perfect for smoothing and perfecting lighter hair.
John Frieda Sheer Blonde Colour Cleansing Treatment, $8, Amazon
Beat back an residual brassiness with this handy cleansing treatment.
Going from pitch black strands to lighter roots isn't impossible. The process just requires extra TLC to get your hair to your desired shade.
Images: Pixabay (1)