Kate Mara's Latest Role Is Everything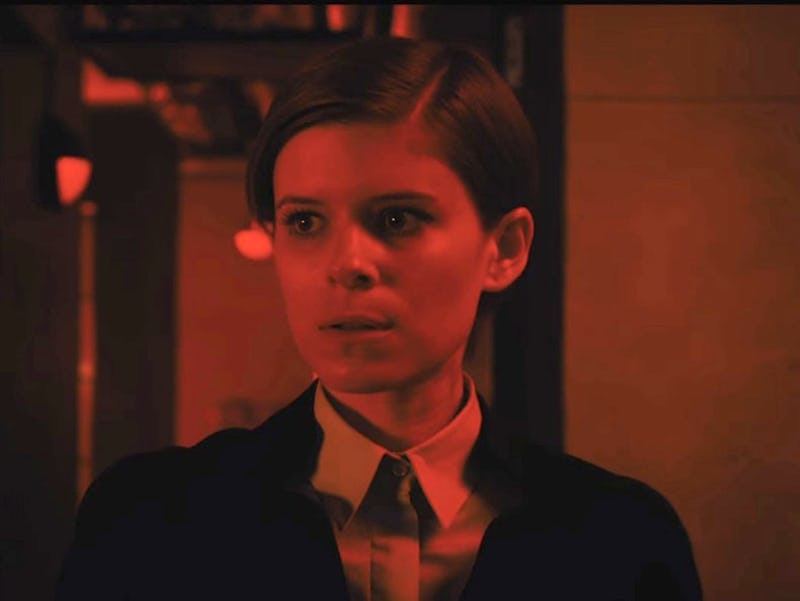 Over the course of the past couple of years, Rooney Mara's sister has proved time and time again just how talented she is. From her role as a member of the Mars mission set out to save a fellow crew member in 2015's The Martian to her super hero stint in Marvel's Fantastic Four and, of course, her role as Zoe Barnes in Season 1 of House of Cards, Kate Mara is in a league of her own. That's why it's only fitting to finally see her taking on yet another major lead role in the trailer for the upcoming sci-fi film, Morgan .
In the latest sneak peak of the film, Mara is seen working to understand and find out more about the synthetic DNA experiment gone wrong: Morgan. However, as expected for any sci-fi thriller, her research is met with horrors, danger, and a lot more than just discussions on the past. And, if you are an avid House of Cards fan, then Mara's role may even seem familiar. As, once again, it seems like we're seeing the story of someone who pushes all of the limits to get the story — even if it might put her own life and safety at risk. Yep, it's the follow-up Kate Mara role you've been waiting for. Just take a look at the film's latest trailer for yourself.
And the trailer is just the beginning of the excitement. The thriller — directed by producer and director Ridley Scott's son, Luke Scott — appears to also be as challenging as it is familiar for the actress. Because while Mara's role may remind you of Zoe Barnes, this time the actress' character is being held in a position of higher power. According to the official synopsis for Morgan , Mara played a "corporate troubleshooter" sent to "investigate and evaluate a terrifying accident." Which means that, this time around, I wouldn't be surprised if Mara had tougher skin, fewer enemies, and the ability to actually get through to what she's after. In other words, there's no Frank Underwood around to throw her off-track. (I couldn't help myself.)
So get ready for Mara like you've never seen her before in a role still so beautifully connected to what you have seen her in before. Morgan hits theaters Sept. 2.
Images: 20th Century Fox/YouTube