Kat Von D + Too Faced Majorly Teased Their Collab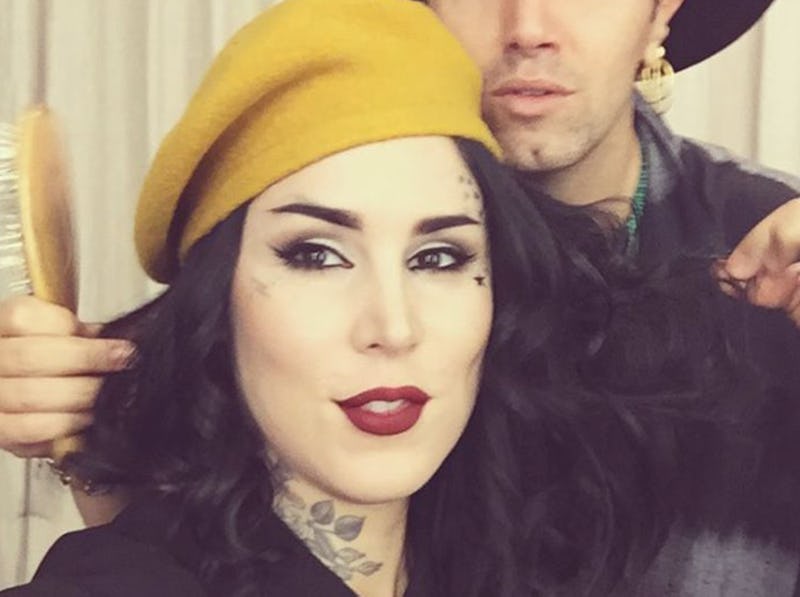 Few makeup partnerships have been as shrouded in mystery as the upcoming Kat Von D Beauty x Too Faced collab. There have been many teases, plenty of visual confirmations that "It's happening," and lots of photo posts of Kat Von D and Too Faced co-founded Jerrod Blandino, with the #BetterTogether hashtag. Both Von D and Blandino posted behind-the-scenes shots from their recent campaign photo shoot on their individual Instagram accounts. Von D looked like an edgy, tattooed version of Bonnie of Bonnie & Clyde fame in some of the images, thanks to her marigold beret. Blandino sparkled in a black blazer and trousers.
Sadly, there were no product shots or teases of that sort. Don't be bummed, though. What we can surmise is the fact they just shot the campaign means that the products really are coming soon.
All we know is that both brands, which are sold at Sephora, are teaming up and the fruits of these meetings and photo shoots are on the way. It's agonizing to wonder what the collaboration will entail, since both brands have unique and polar opposite aesthetics. There is no way this mashup can't be wonderful and unexpected.
Could Kat be wearing the products from the collab on her face in these shots? Perhaps!
Here's Von D and Blandino having fun on set.
Those lips, though!
I mean, that's how I feel when I think about this collab. I want to jump for joy. At this point, I don't care what it is. I just care that it's happening.
Pay attention to Blandino's caption. It's filled with key information — coming soon and to Sephora. It appears this will be a Sephora-exlusive collab. Both Kat Von D and Too Faced are sold at Sephora. Other retailers, like Ulta, carry Too Faced, while KVDB is only available at Sephora and the brand's website.
The products have to be as much fun as Von D and Blandino had during the shoot.
Isn't this perfect? They have been teasing us for almost a year. If the products end up being of this sort, OMG, kill me. It'd be too perfect.
While KVDB is edgy and rock 'n' roll, and a quite goth, Too Faced is good-girl-about-to-go-bad. There is no way this can disappoint.
Your main takeaway here is that it's coming soon. We will of course keep you updated as we learn more. Hopefully "coming soon" means "this fall!"
BTW, Kat Von D-evotees, the brand's new Lock-It brushes are coming next month.
Images: Kat Von D/Instagram (3); Too Faced/Instagram (1); Jerrod Blandino/Instagram (3)